So how much does a garden office cost?
Our expert buying guide for garden rooms, garden offices and garden office pods reveals the differences between the designs, prices and what you need to know before you buy.
Did you know that we have been rated as the BEST VALUE company when you compare garden office prices on the independent website that compares Garden Office Prices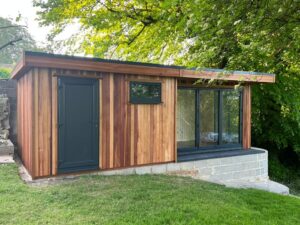 Garden buildings of all types became the latest luxury home addition thanks to the lockdowns of 2020. They can give you extra living space fast, provide a tranquil space for relaxation out of the house or be a distraction-free working space.  Bespoke designs can be pricey, so if you're seriously considering one, finding a manufacturer that makes modular designs can seriously reduce the costs. Bearing in mind that you will need to allocate budget for groundwork, and decoration… how much are they?
Garden Room Prices – What We Offer and What to Expect
Each garden room has its own unique style and can be built in a size that best fits your garden space. As each design is different, the prices vary a little. All rooms are fully insulated and include wiring within the cavity, ready for the finishing touches and decoration to take place.
All garden rooms come with laminate flooring, skirting and trims, and the laminate floor  that we provide is well known for being hard-wearing and very stable, making it the perfect choice for a garden room.
Insulated Garden Office Costs – What should I expect to pay
You would expect to set a budget at around £10,000 for a year round use garden room, taking into account the costs for groundwork – which are in the region of £150 per square metre – which some companies include within the cost of the building. Whilst it sounds good to have the base included within the price, make sure the groundwork is a fully ground supported concrete base, as this dramatically reduces any bounce that piled or framed foundations are prone to.
If the budget is tight, you can save money by choosing a building without insulation or internal lining, and do the internal fitting out yourself. This is a good way to save money because the main structure will be up and watertight, and a few simple DIY skills are needed to add insulation, wiring, wall cladding and paint. If however your budget is around the £10,000 mark, then a good starting point is,
The Box Office
The Garden Office Pod is more of a set model that comes with a UPVC sliding door and a UPVC opening window. However you have plenty of choice when it comes to the cladding options, door and window colour, laminate floor and so much more. Plus its unique roof structure gives a streamline visual appearance.
Prices start from £10,000 – Configure yours now
I need space for two people – What are my options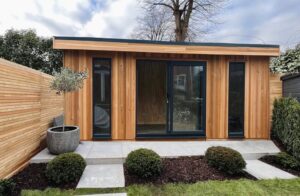 The Contemporary range
This is by far the most popular model for utilising as a home office, as it offers the most flexibility in both design and size. We offer you have plenty of choice when it comes to the cladding options, door and window colour, laminate floor and so much more.
Prices start from £10,000 – Configure yours now