The Elegance
Simple and sophisticated - that's the Elegance Garden Room. The perfect choice for the customer who is looking to have a modern contemporary design with it's extended front porch and vertical cedar cladding.
Price configurator
Elegance Garden Room
Elegance Garden Room
Starting from £13,000
UPVC French Double Doors
Two UPVC Side Screen Windows
500mm Front Recessed Porch
Vertical Cedar Cladding
Choice of internal lining
Fully Insulated with either Rockwool or PIR insulation
Internal Spotlights, Exterior Spotlights in overhang, Consumer Unit, 3 Double Sockets & Switch
Choice of Laminate Floor
Assembled by our fully trained staff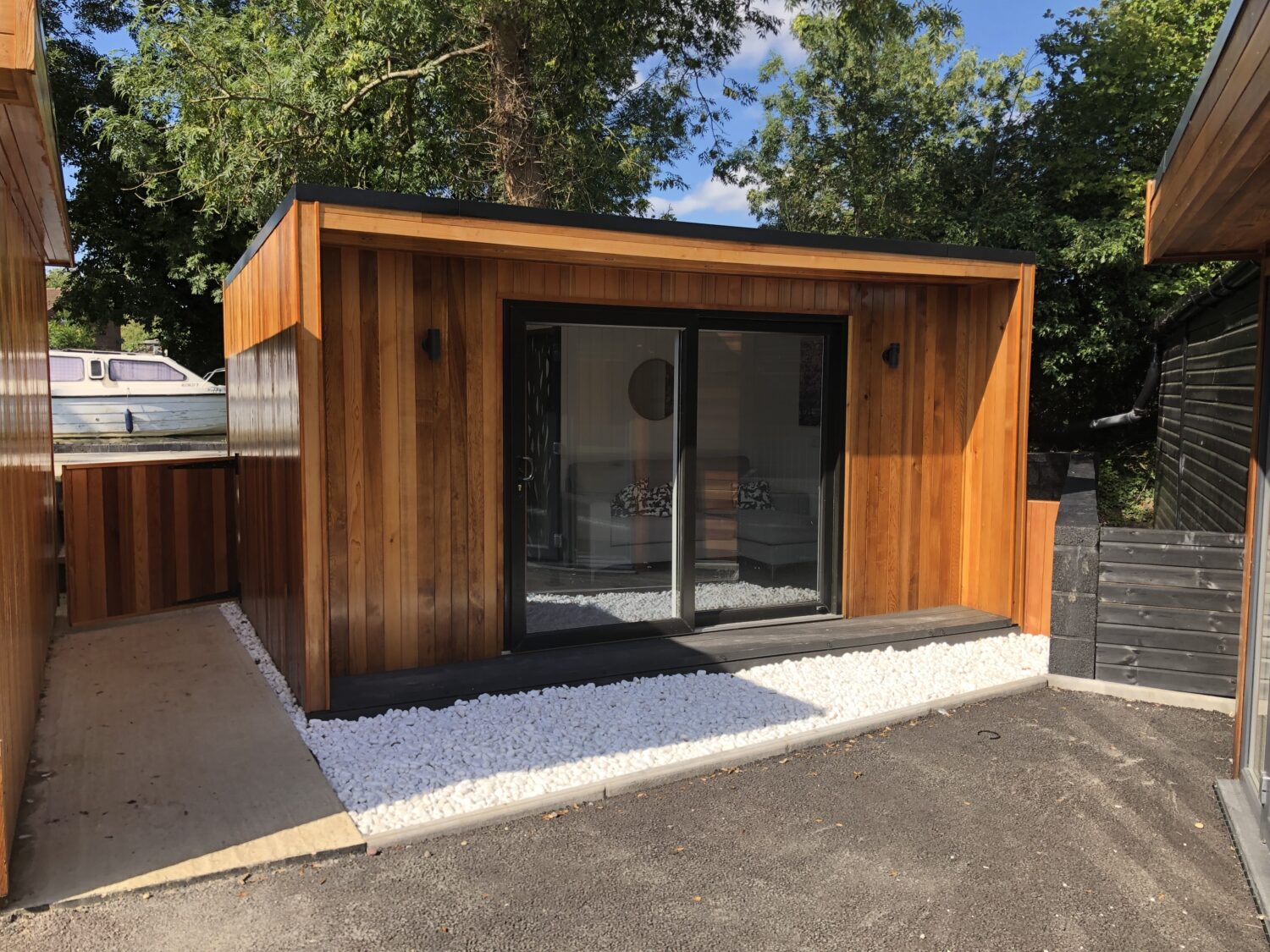 Tell me more about the Elegance Garden Room
The Elegance garden room, is designed to be a symmetrical building with the doors and screens in centre of the front elevation. Protected by the 500mm deep veranda, the recess really enhances the design, giving it a modern look to our range of garden office pods, and the inclusive lights in the overhang makes the Elegance twinkle at night.
Vertical cladding gives it that sleek finish with a cube type shape, making it popular for those who like a minimalistic design.
Additional windows and screens can be added, and the doors can be moved to the side if needed.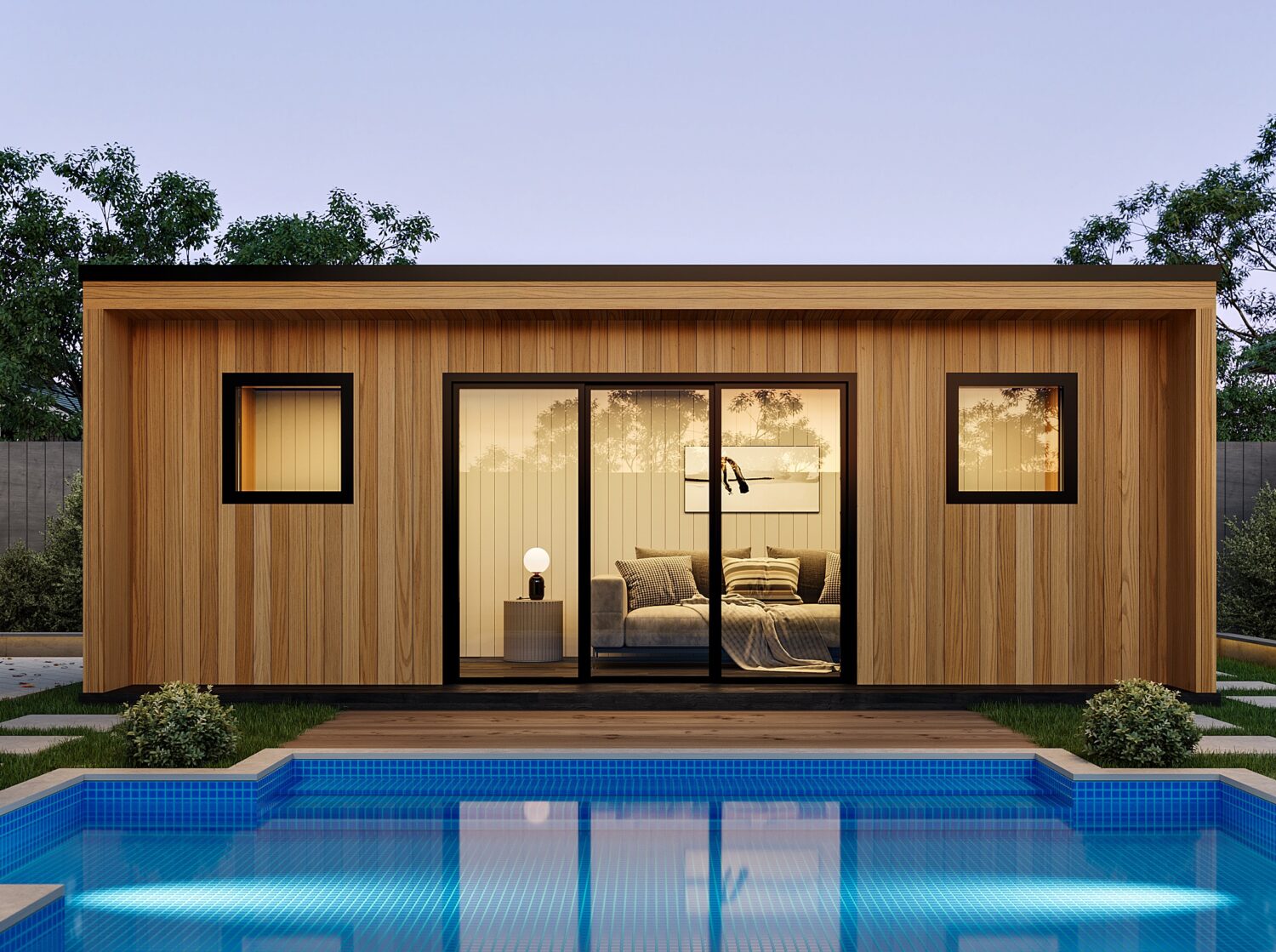 It could be a Home Gym
The Elegance garden room works beautifully as a garden gym, due to it's symmetry and front aspect glazing.
Leaving the back wall free for a TV screen or mirrors gives you the option of either looking out towards the garden, or taking part in a Peloton… the choice is yours.
If you've made the Elegance your choice for the home gym, then the next thing to do is to use the configurator.
Get a price online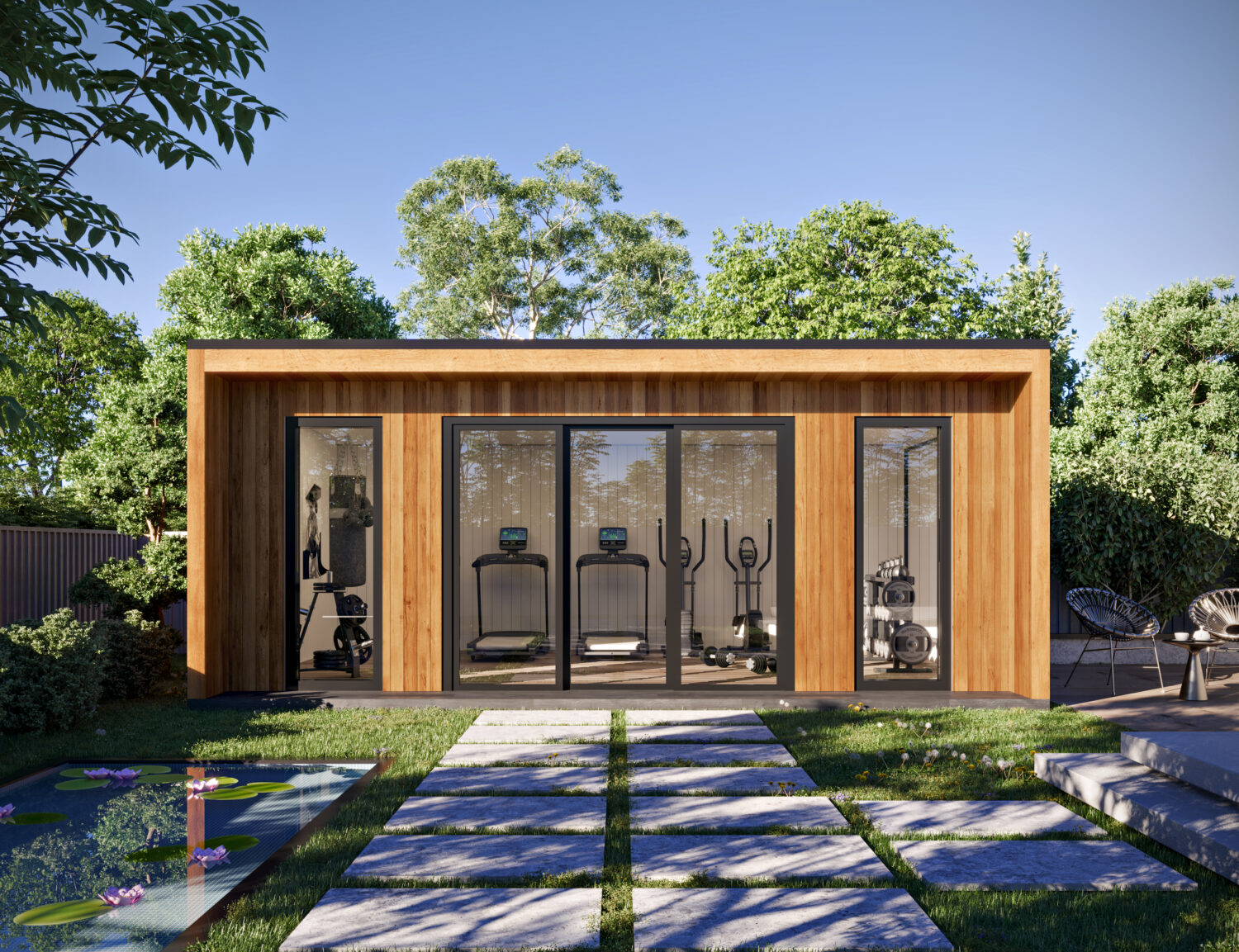 Can I change the look?
Yes you can.
Your new Elegance building could look like this one if you wish, with the doors offset to one side.
Whilst the configurator can't currently design it for you, this building from The Landscape Artisan shows exactly how the Elegance building can look with an offset design.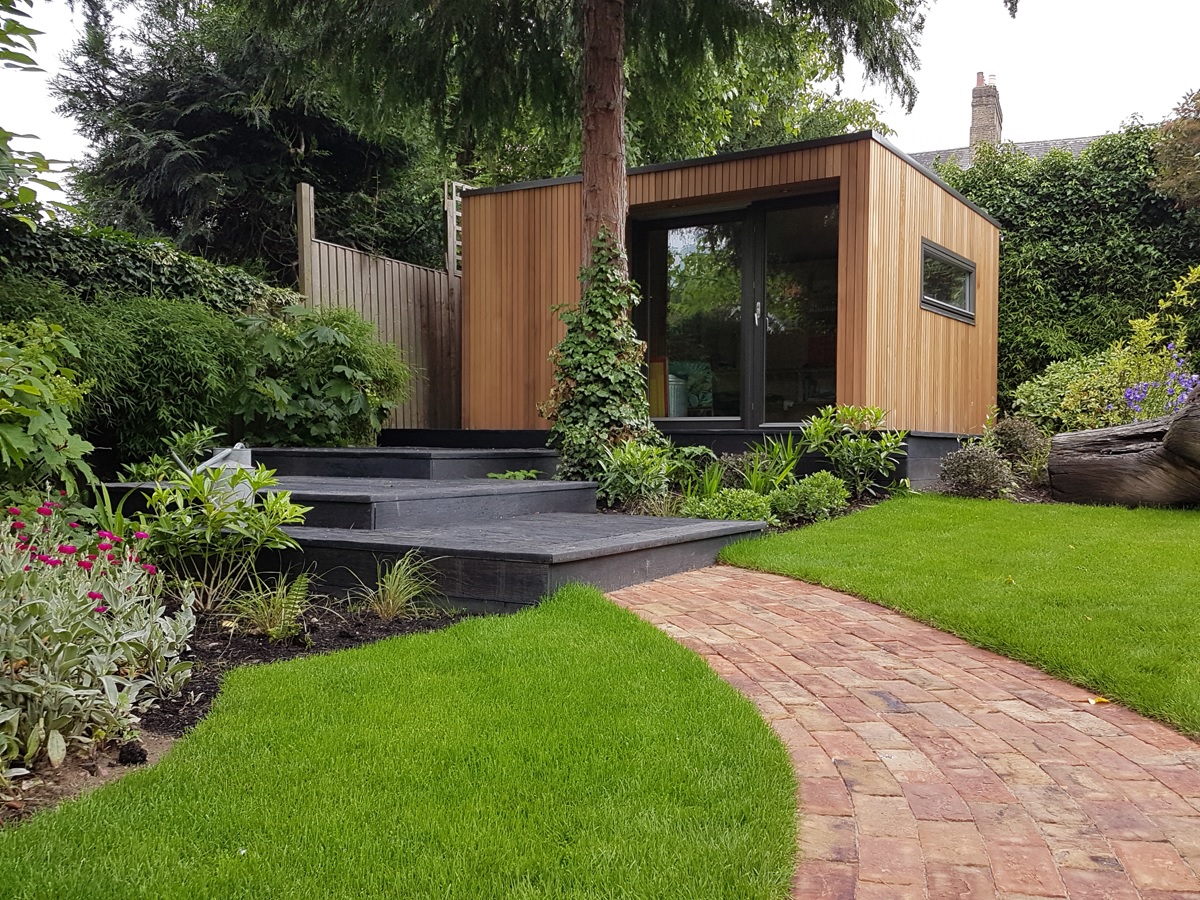 Specifications
| | |
| --- | --- |
| Vertical cedar cladding | Western Red Cedar cladding to the exterior of the building is included as standard |
| Recessed front porch | The recessed front has decking to the floor and lining to the walls and roof overhang. Outdoor lighting is included in the lined overhang. |
| Fully insulated floor | walls | ceiling | Choice of Rockwool or Celotex internal insulation |
| Choice of internal lining | Walls are lined with either vertical T&G lining boards, or birch faced plywood. The birch plywood is the standard ling to the internal ceiling |
| Flooring | Laminate floor is included within the price - a choice of colour is available. |
| Electrics | The Elegance features the standard wiring and includes a Fuse Box, 3 x Double Sockets, Switch, Choice of spots or LED panels, and outdoor lighting to the front overhang. |
| Groundwork | A concrete pad or paving slab base will need to be the size of the building PLUS 500mm to accommodate for the front porch area. |
| Assembly | Assembly by our trained staff is included within the price - based on suitable access and the standard distance from CV47 |
Build your Elegance Garden Room
Please use the button below to start designing your Contemporary Garden Office. In the configurator, you will be able to choose the style and position of doors & windows, along with all the optional extras you require.
If the size you have in mind is not listed, please use the closest size up.
Once you have designed your Contemporary Garden Office this will give you a total cost that is inclusive of VAT, Delivery & Installation.
Build your Elegance Garden Room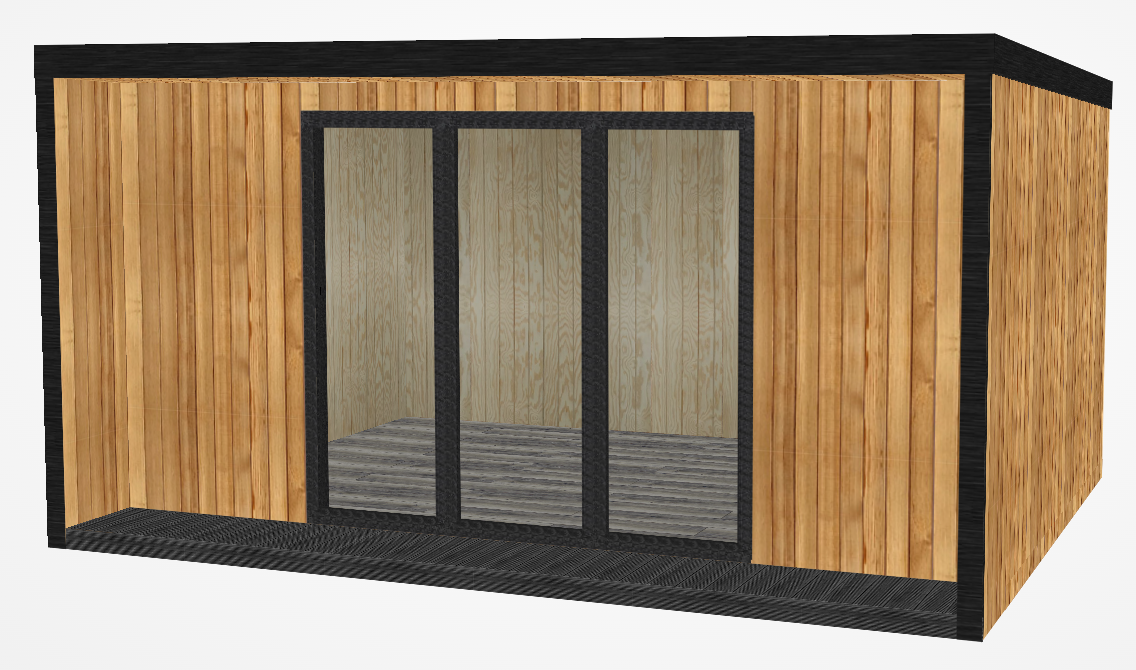 Dimensions
| | |
| --- | --- |
| External Height | 2.5m sloping to 2.2m |
| Internal Height | 2.3m sloping to 2.0m |
| External Width | 2.4m - 4.8m |
| Internal Widths | 2.2m - 4.6m |
| External Depths | 2.4m - 3.0m (plus 0.6m recess) |
| Internal Depths | 2.2m - 2.8m |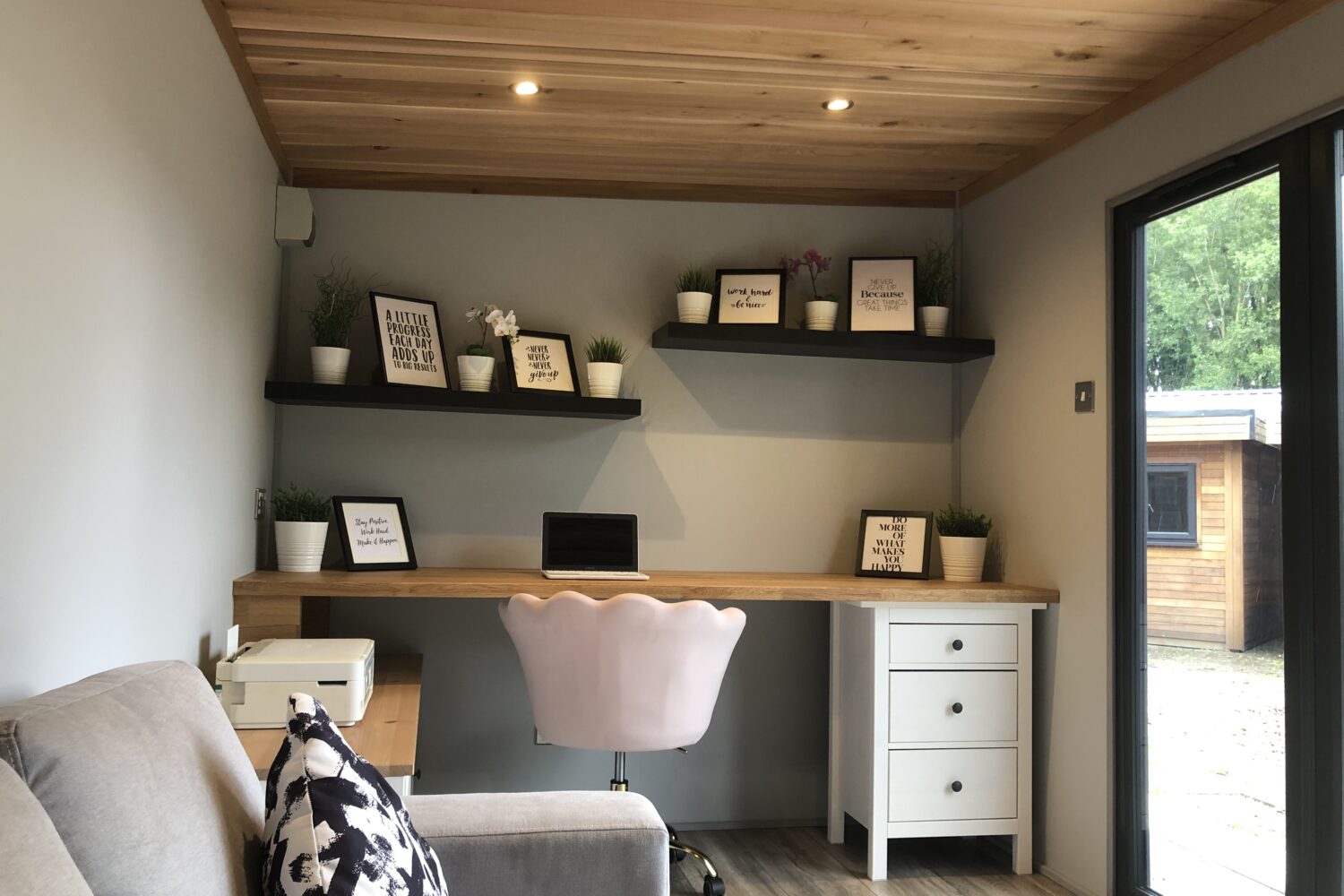 Plan the inside
The Elegance is perfect for a dual purpose garden room, combining an office and a relaxation area within one building. Given that the doors are in the centre, one side can be set up for work, and the other side for a hobby, either with simple furniture, or with an open screen separating the two.
Using the Ikea design tool will give you an insight as to where the furniture can be sited, so you can make the most of the building.
PLAN YOUR GARDEN ROOM WITH IKEA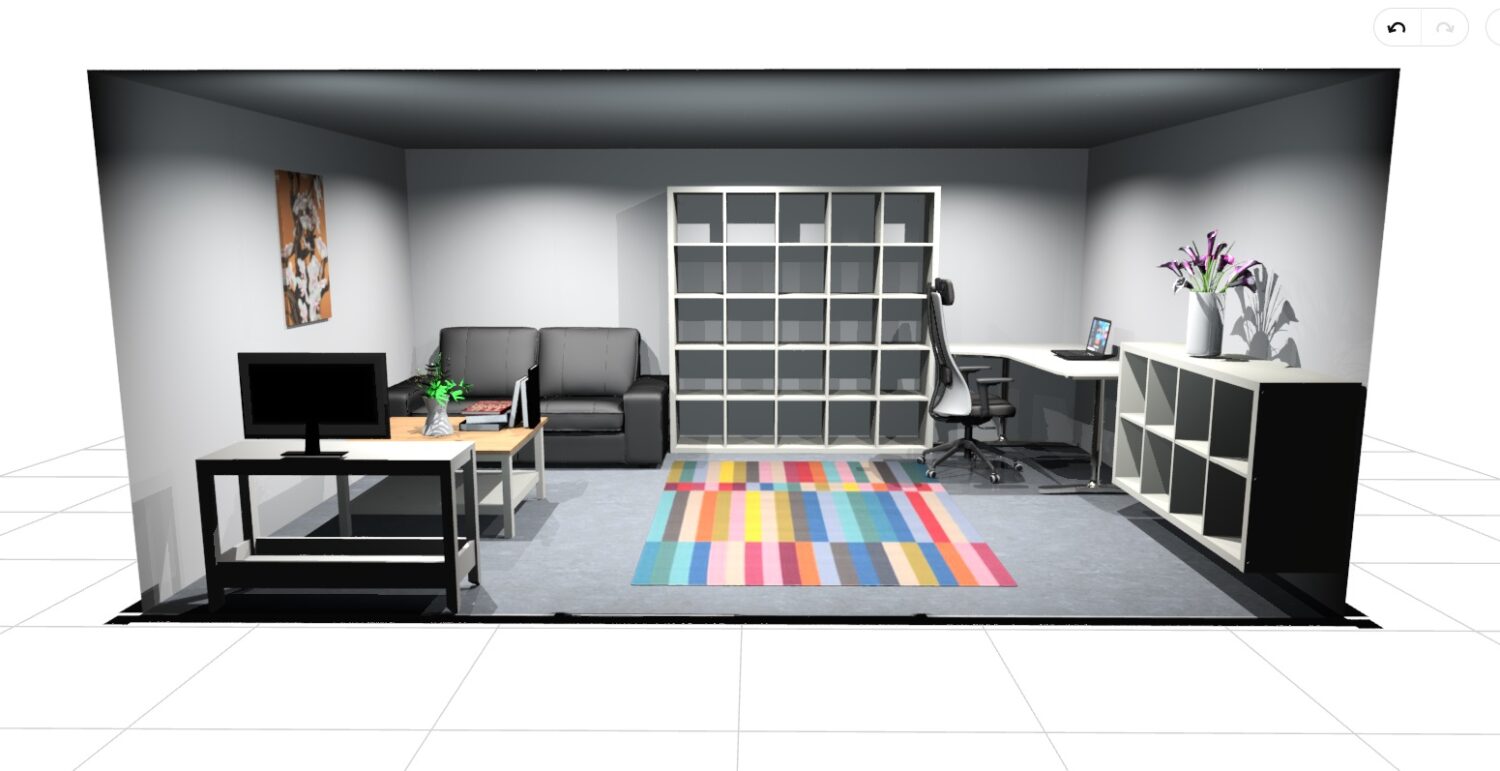 Internal Lining
All offices come with the choice of unpainted* T&G lining boards or unpainted* 12mm plywood boards with joining strips.
*Please note, these buildings have been painted by the customer after installation. 
If you would prefer to plaster your office after installation we would recommend choosing the non-insulated, non-lined and no electric option on the configurator. Alternatively you can add your own plasterboard on top of the lining provided.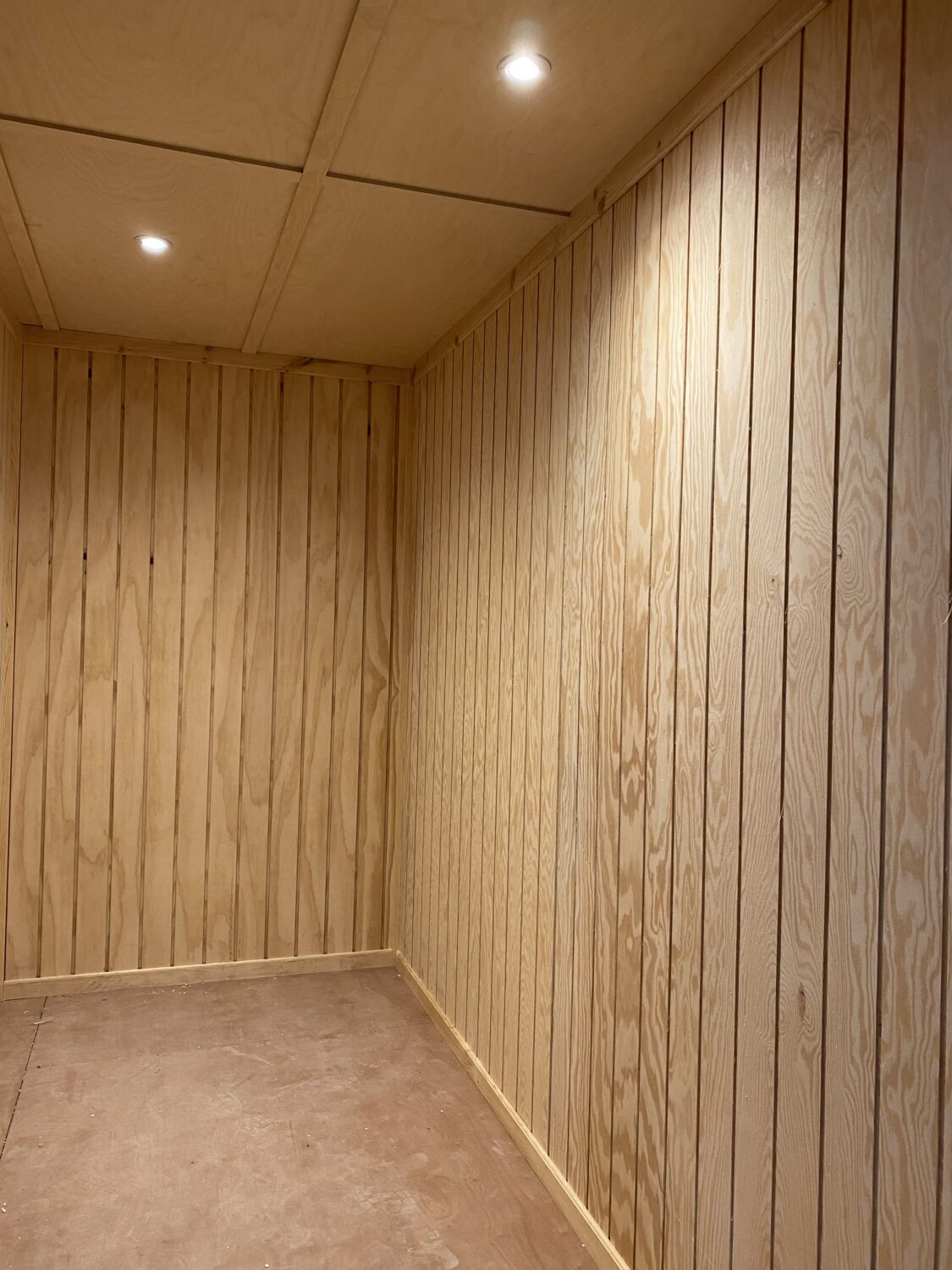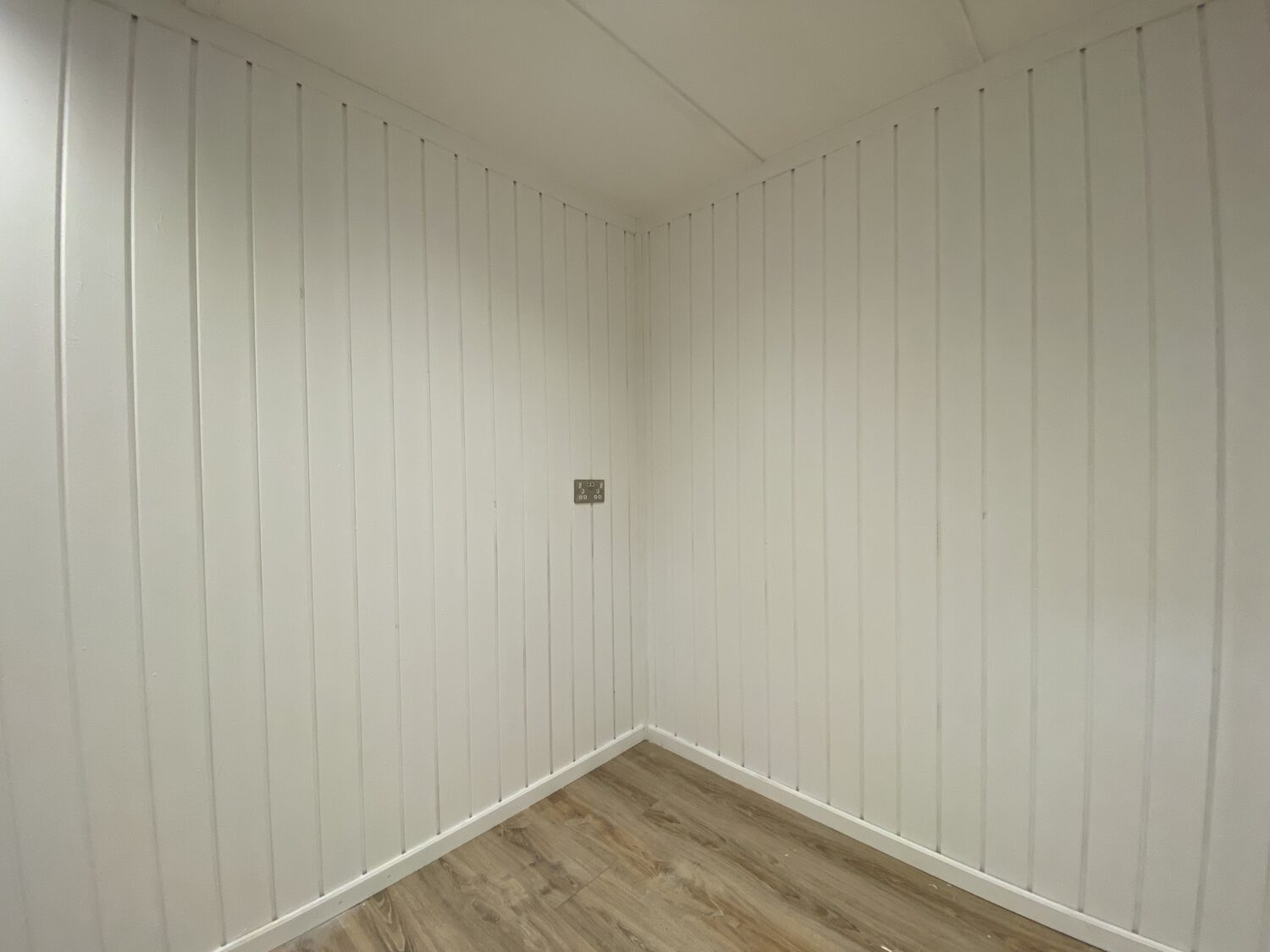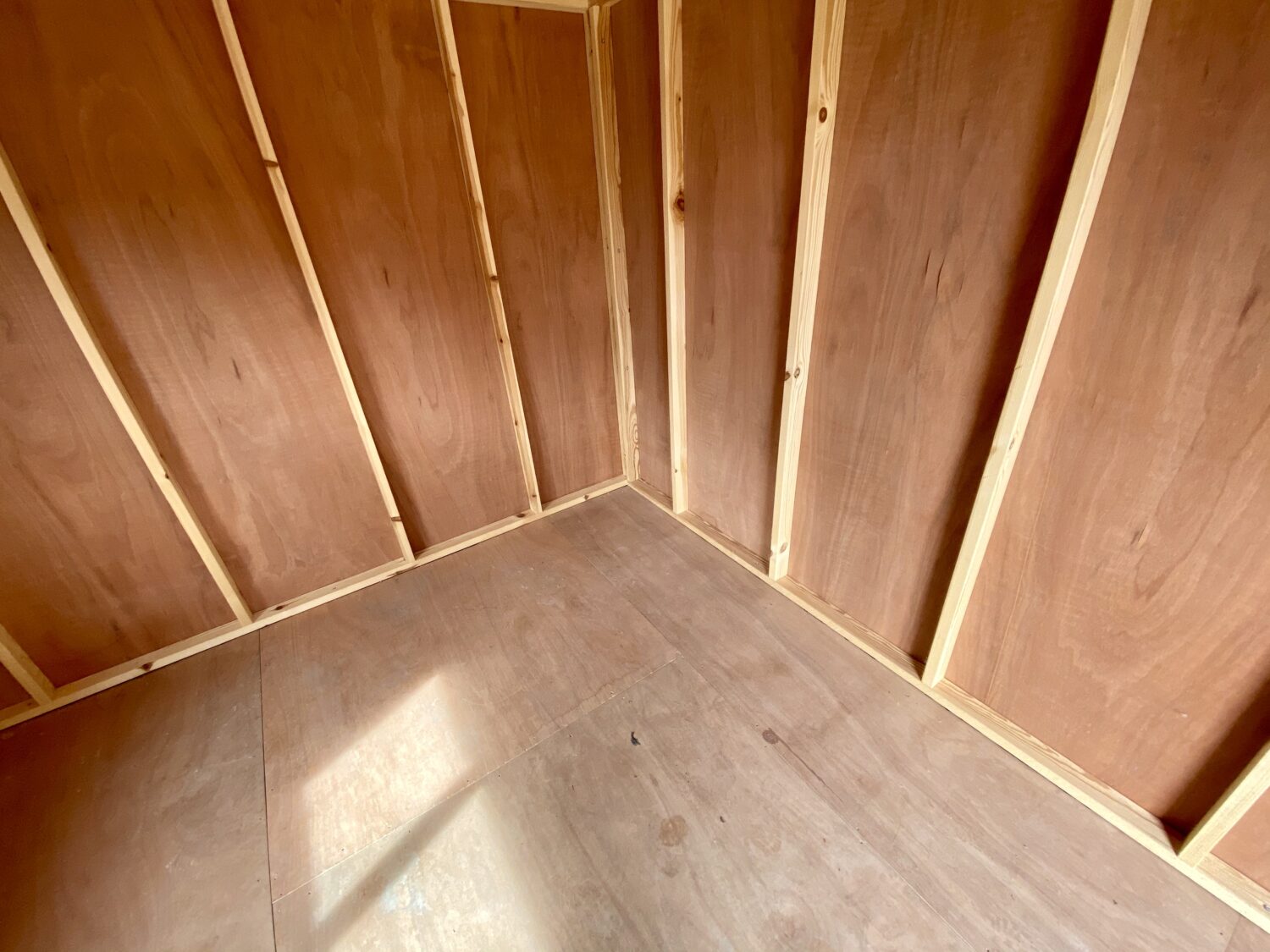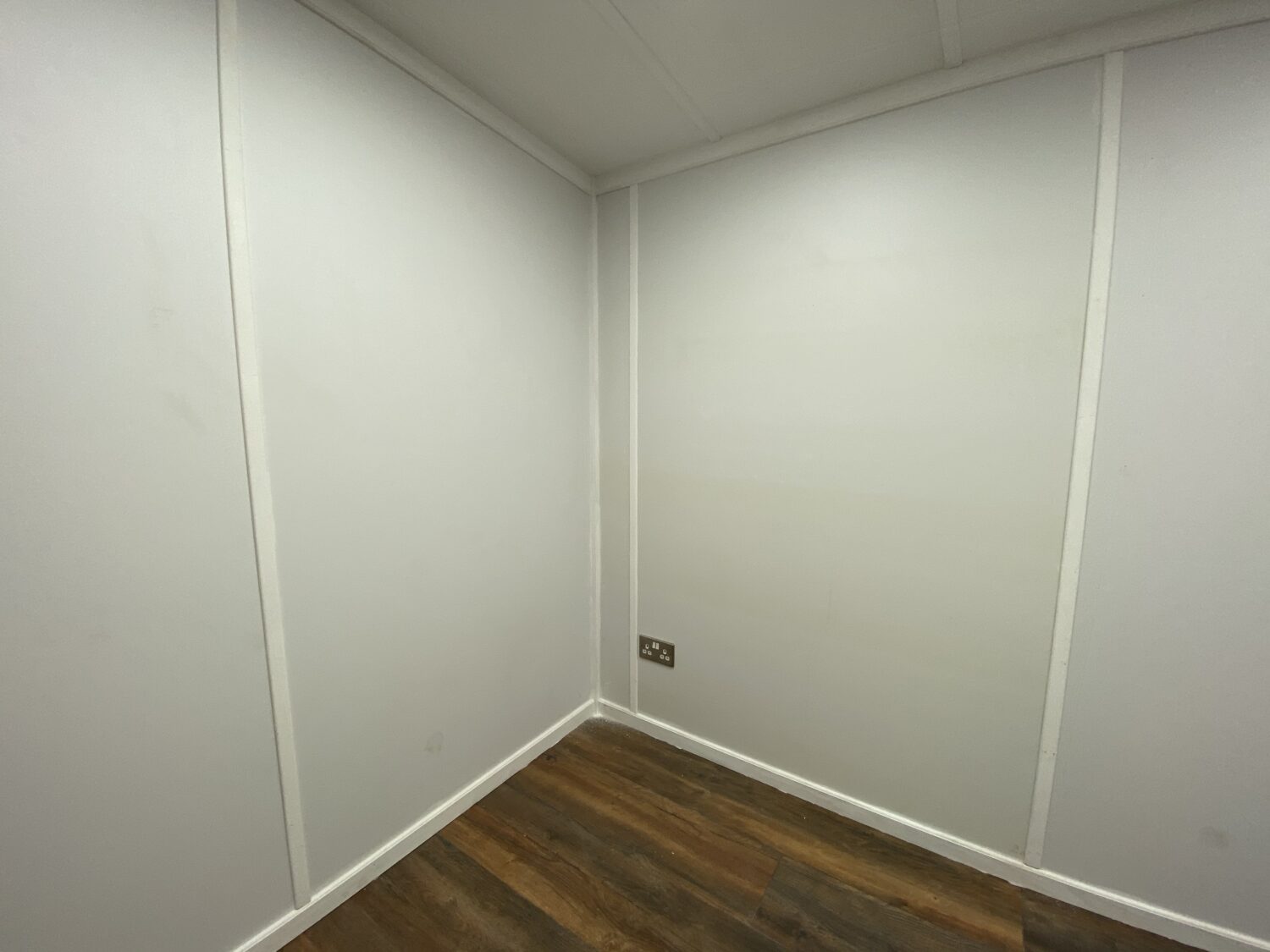 Doors and Windows
The Elegance Garden Room Range comes as standard with high quality UPVC double glazed doors and windows. UPVC doors and windows are available in 7 different colour options with 4 choices of colours for the handles and hinges.
The doors are fitted with a multi-point lock that is insurance recognised. The windows are fitted with standard residential locks.
The windows and doors come as standard with 28mm thick double glazing but can be upgraded to triple glazing at an additional cost.
Black

Anthracite Grey

Agate Grey

Chartwell Green

Irish Oak

Cream

White
Options
Casement Window

600mm x 900mm

Double Casement Window

900mm x 900mm

Picture Window

900mm x 900mm

Vent Window

900mm x 500mm

Screen Window

600mm x 1950mm

Screen Window

750mm x 1950mm

Double Screen Window

1200mm x 1950mm

Double Doors

1200mm x 1950mm

Sliding Door

2400mm x 1950mm

Bi-Fold Door

2400mm x 1950mm
Flooring
All offices come with a 15mm plywood floor which sits on floor joists. The floor is insulated with 70mm PIR insulation and has a DPM built in. We offer 4 different colour options of laminate floor which are included in the overall cost of your Elegance garden room. Alternatively, you can choose to supply and fit your own flooring on top of the 15mm plywood.




Groundwork Requirements
For the last 30 years, we have tested the various options that are available for the garden building groundwork – remember… this is not a garden shed.  The available solutions are a concrete or paving slab base, ground-screws with a timber frame, suspended floors on piles, or timber decks above ground level.
The conclusion is… the best solution for the building is a ground supporting base.
A ground supported base is either a concrete pad or a paving slab base, and requires the soil to be dug out, and shuttered around the perimeter. The shuttering has a damp proof membrane, half filled with compacted hardcore, and finished with either concrete or smooth slabs. The slab needs to be flat and level, constructed to the same size as the building, and can either be done by your local builder or by one recommended by us.
The easiest solution is often a ground screw base, as this requires less man power, machinery and raw materials. It is also something that we can provide as a option for  majority of cases. This would only be suitable on sites that are clear of debris, solid surfaces, and level within 200mm.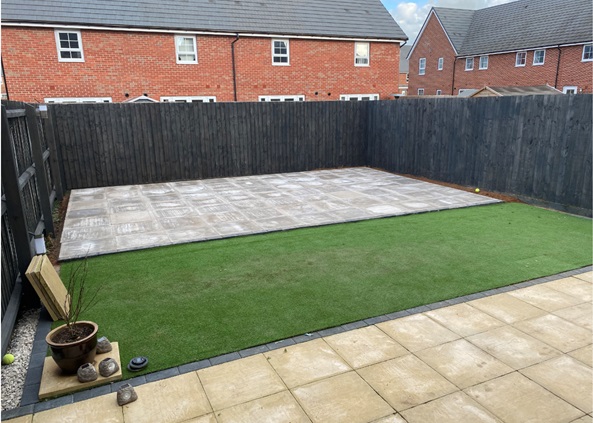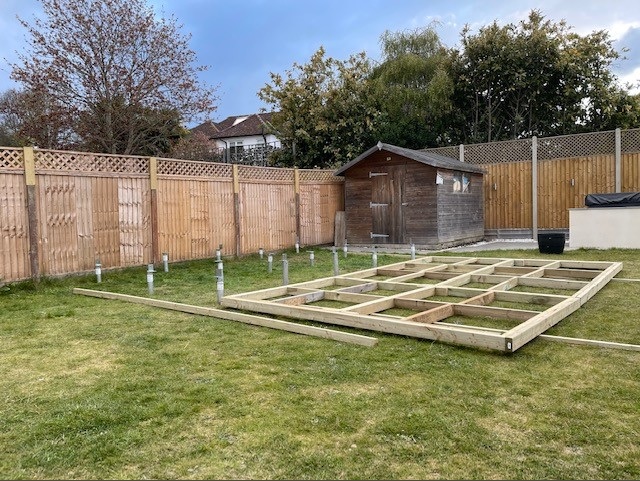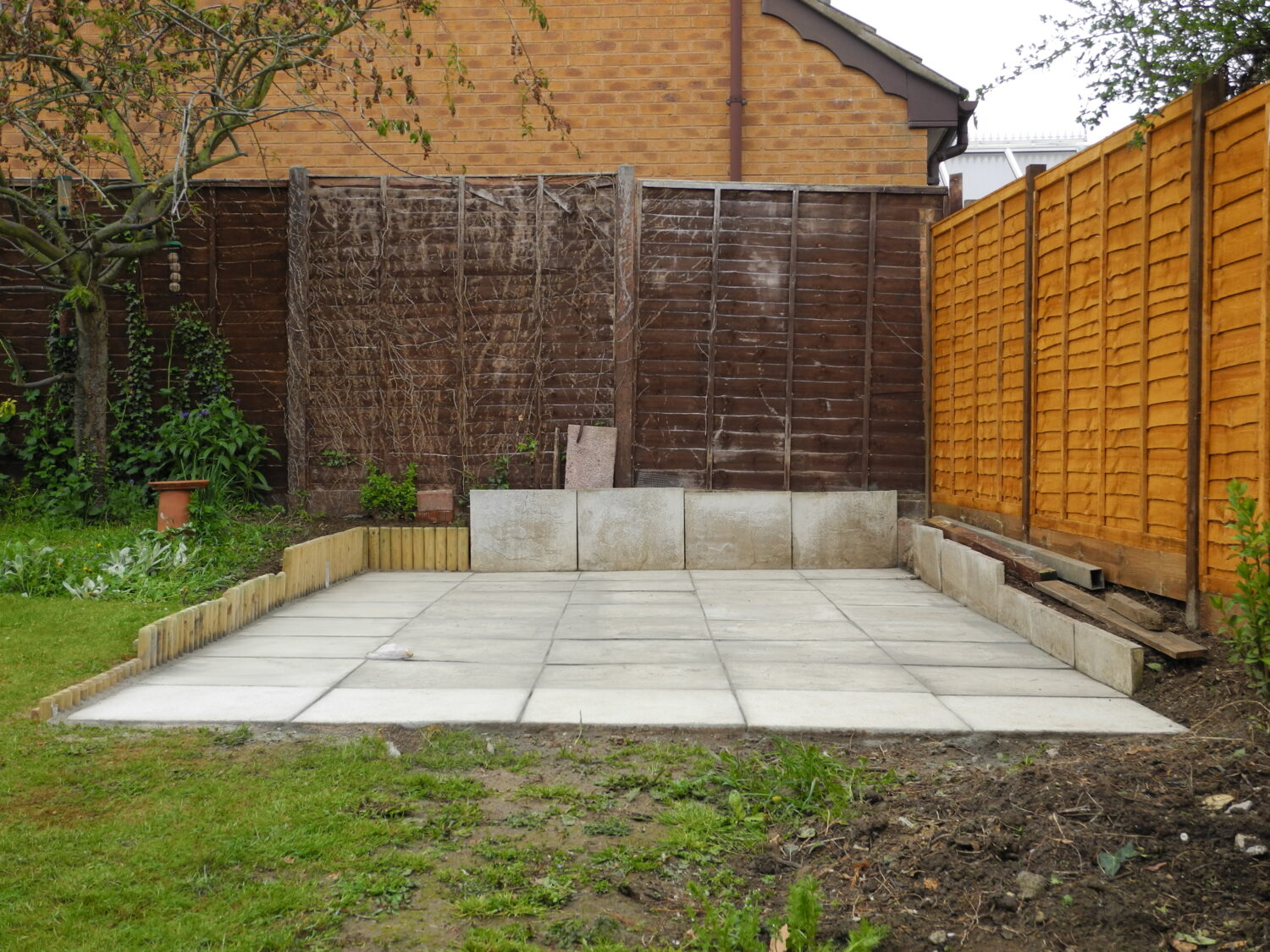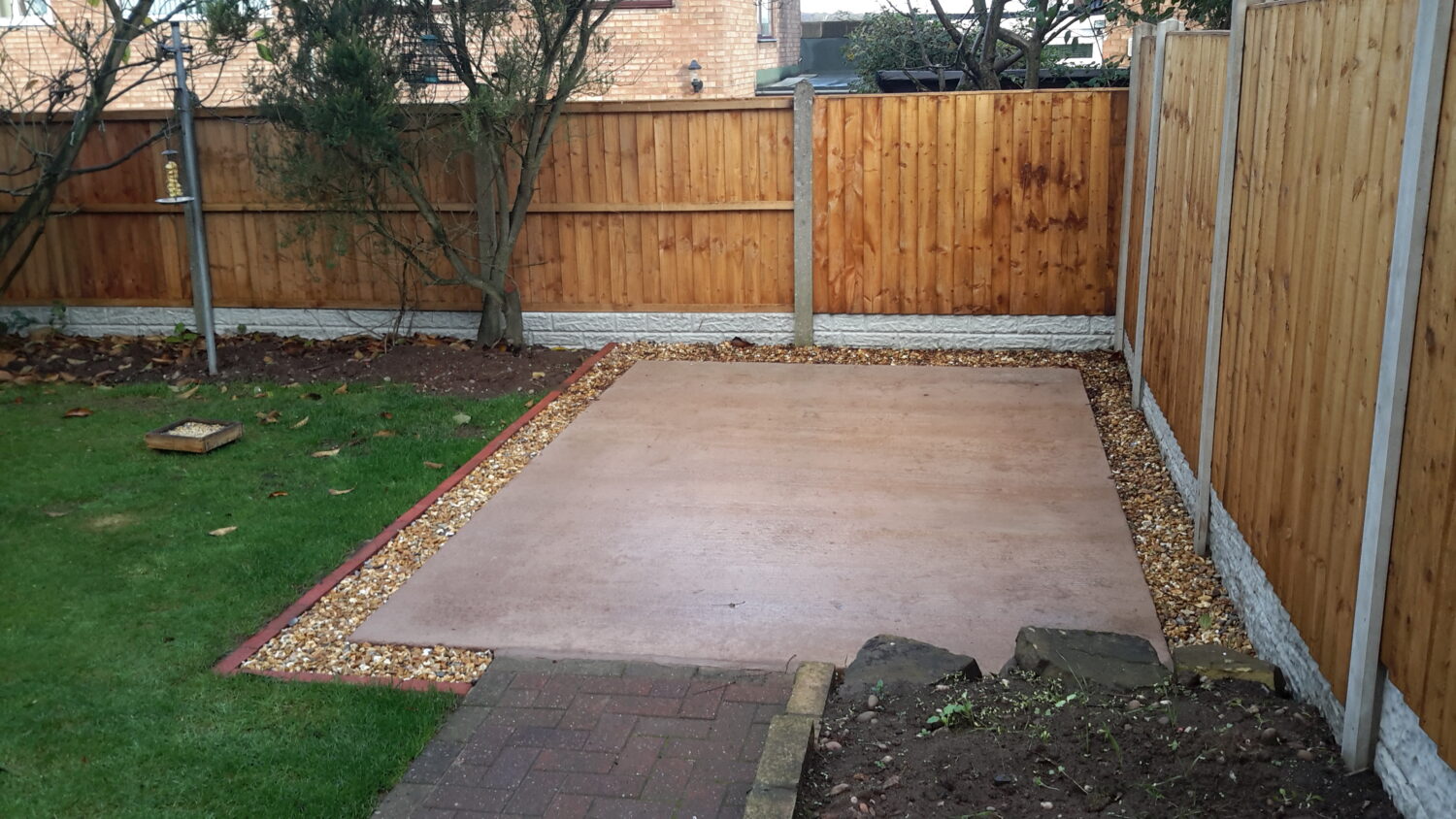 Testimonials
They were excellent

Just to commend your onsite team - they were excellent

Mrs Johnson

Fantastic service from a very reputable company.

Fantastic service from a very reputable company. I would strongly recommend them to anyone looking for a garden office.

Jamie Dorrance

Fantastic service

Fantastic service from start to finish - a job well done. Thanks!

Mr Burnett

Excellent on site team

Local customer and was recommended. The on site team were excellent, as were the office staff. 5 stars too for the showroom and website. Would certainly use you again if I moved house.

Mr N Taylor

Superb customer service

Super customer service. 5 Stars to all aspects of the purchase - many thanks. Just for information - I was recommended.

Mr Denby