Garden Room Groundwork
We guide you through the process of how to create a ground supporting base, that is suitable for a garden room or garden office.
Why do I need a base?
The first question to answer is why a base is needed for a garden room.
Our pre-fabricated garden buildings are designed to located on a ground supporting base. This is either in the form of a concrete or paving slab base. The slab should cover the entire area of the floor so that it provides a solid foundation, which in turn increases the longevity of the garden room.
As these buildings are a considerable step up from a garden shed, we suggest you stay away from the plastic shed bases that sit directly onto the ground, as these will not provide a suitably flat and level surface to start from.
As you can see from the image, the floor sections are constructed in cassette format and will need to sit on a flat and smooth slab base.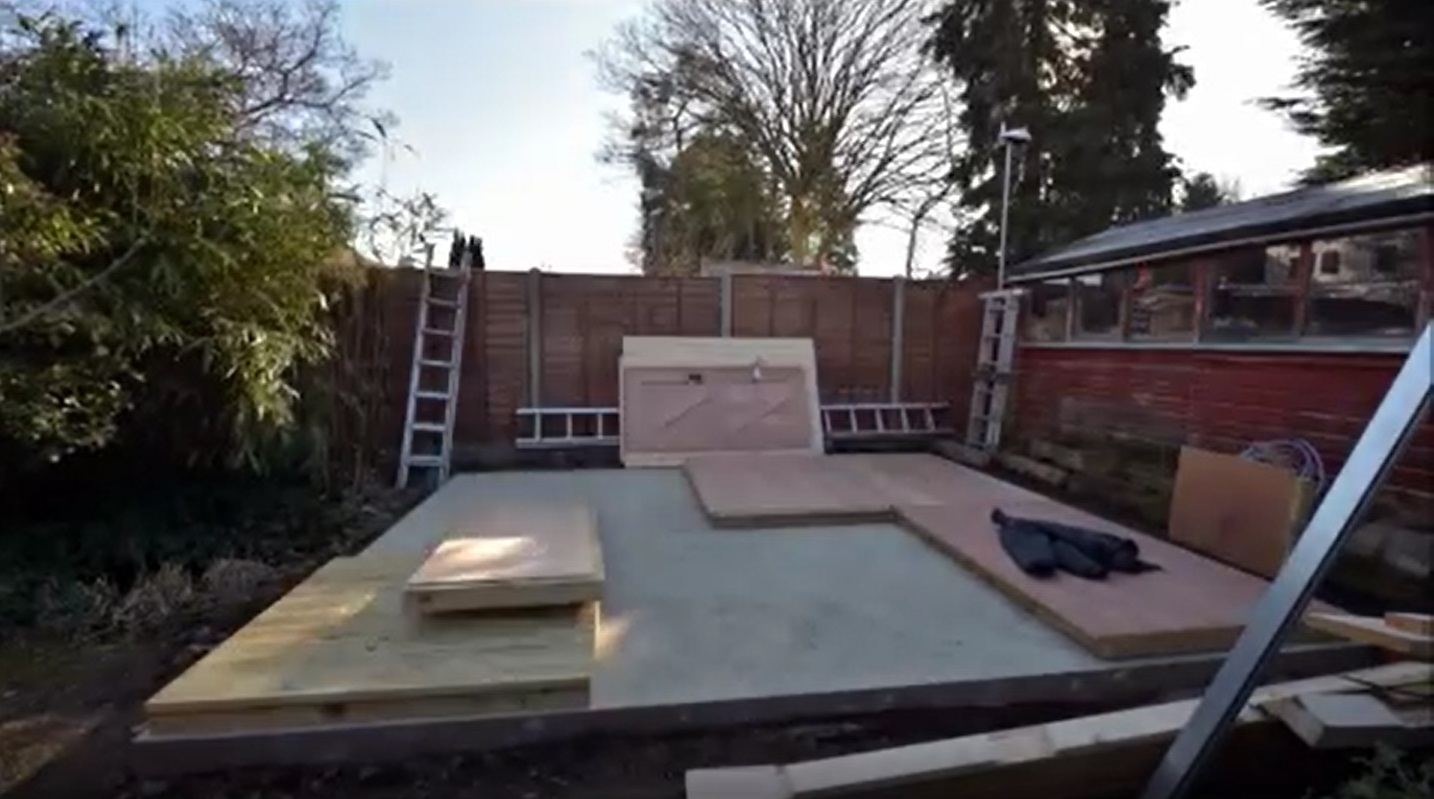 Who does the base?
Due to logistics, it is far more cost effective for a local builder to do the base for you, This is down to the transportation and organisation of materials, which need to be sourced locally.
If you would like to do the base yourself, that's fine… We send a spec sheet for the base as part of the order pack.
Bear in mind that we are looking for a slat, level and smooth pad, with a tolerance of 5mm.
We have several recommendations listed later on this page, for builders who have provided suitable bases for our garden rooms and offices.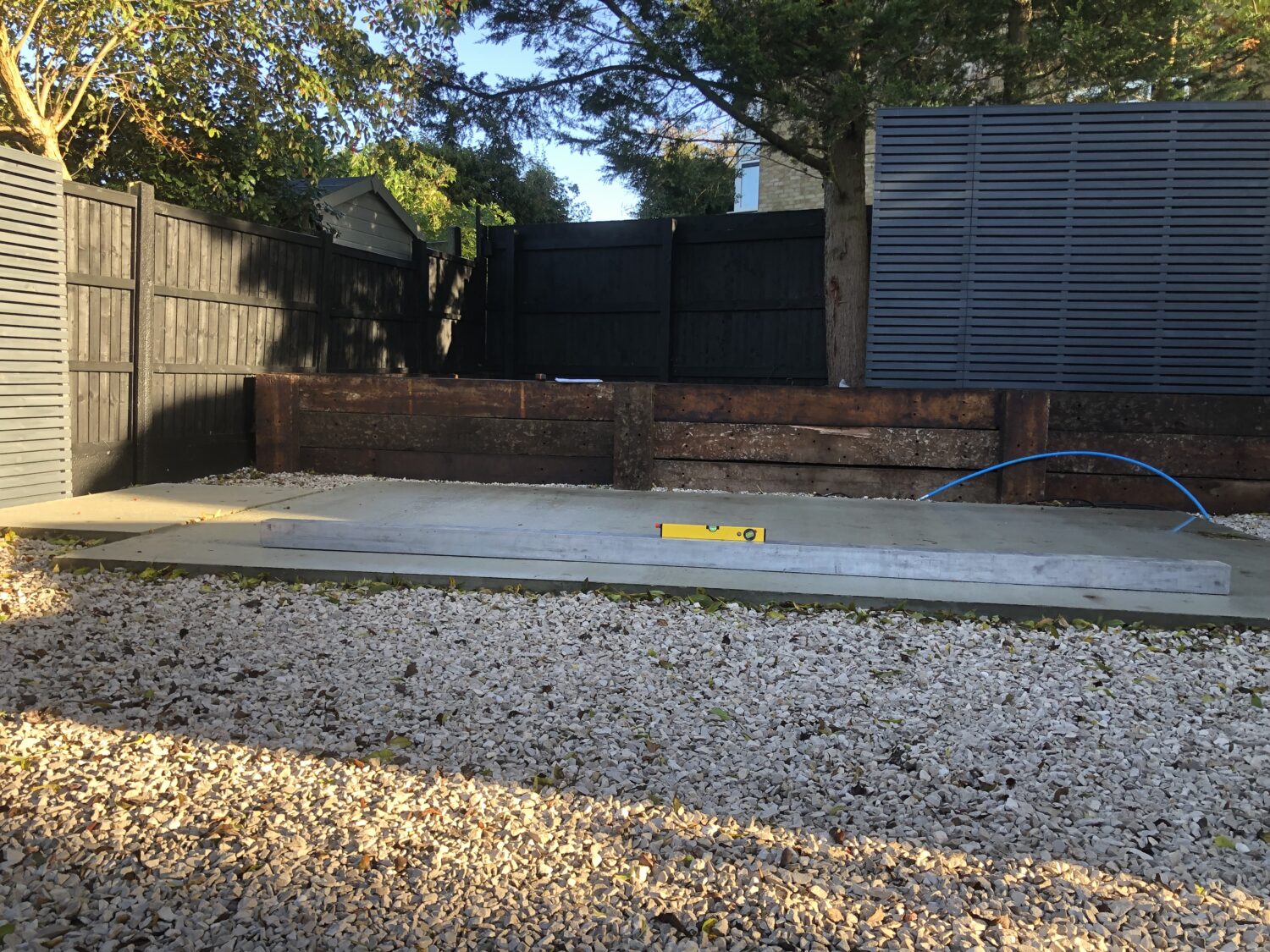 How do I get the base level?
Once you have removed the top soil the next step is set up the shuttering around the outside of the base. This is usually timber planks that have wooden steaks on the outside to secure them in place.
It is important to set up the height of the shuttering with a laser level, as this will create the wooden box for the hardcore, and the concrete to be formed in. The laser level will ensure the surface is level, which is important for the garden office base.
When the hardcore and the concrete have been added, the shuttering acts as a guide rail for the tamp. By tamping the concrete, you will see if more concrete needs to be added, whilst also removing the bubbles in the mixture.
To start with, the tamp will be used in a sawing motion to flatten and remove any excess concrete from the base.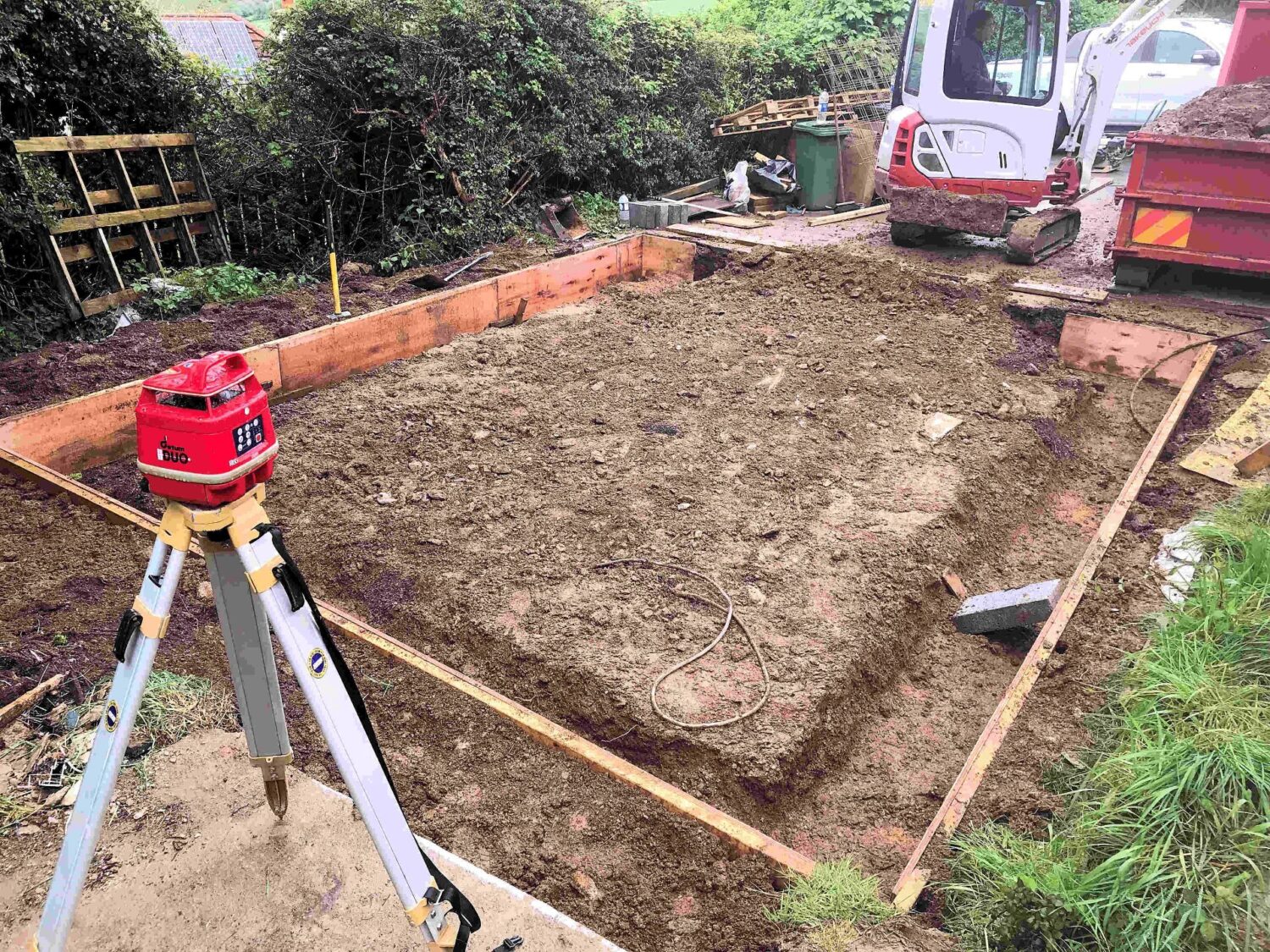 What finish is required
We require a smooth finish to the base to ensure the building sits flat on the ground without rocking.
If you are using paving slabs, please select good quality slabs with a smooth finish, as opposed to riven slabs.
If you are creating a concrete slab, then the usual finish is a floated finish. A brush finish is also acceptable, however a simple tamped finish is NOT suitable as the ridges are not even when they set solid.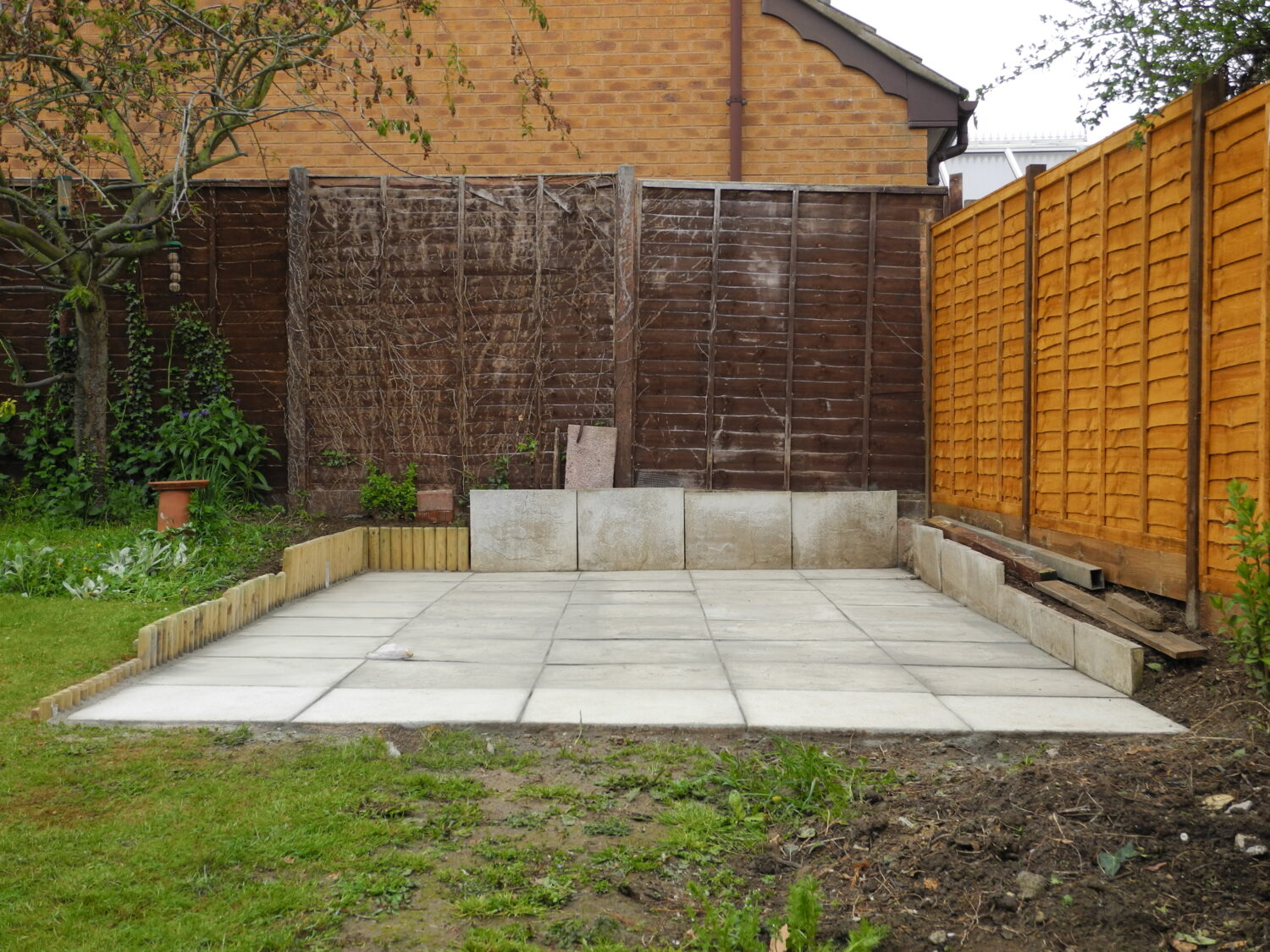 What if I order decking to the front?
If you wish to have additional decking to the front of the building, then the size of the base will need to include the extra deck.
This will be noted in the groundwork plan, and will also need to be flat and level.
If you intend to add your own decking after installation, it might make sense to extend the base at the time of construction, to allow for the extra decking you are intending to fit.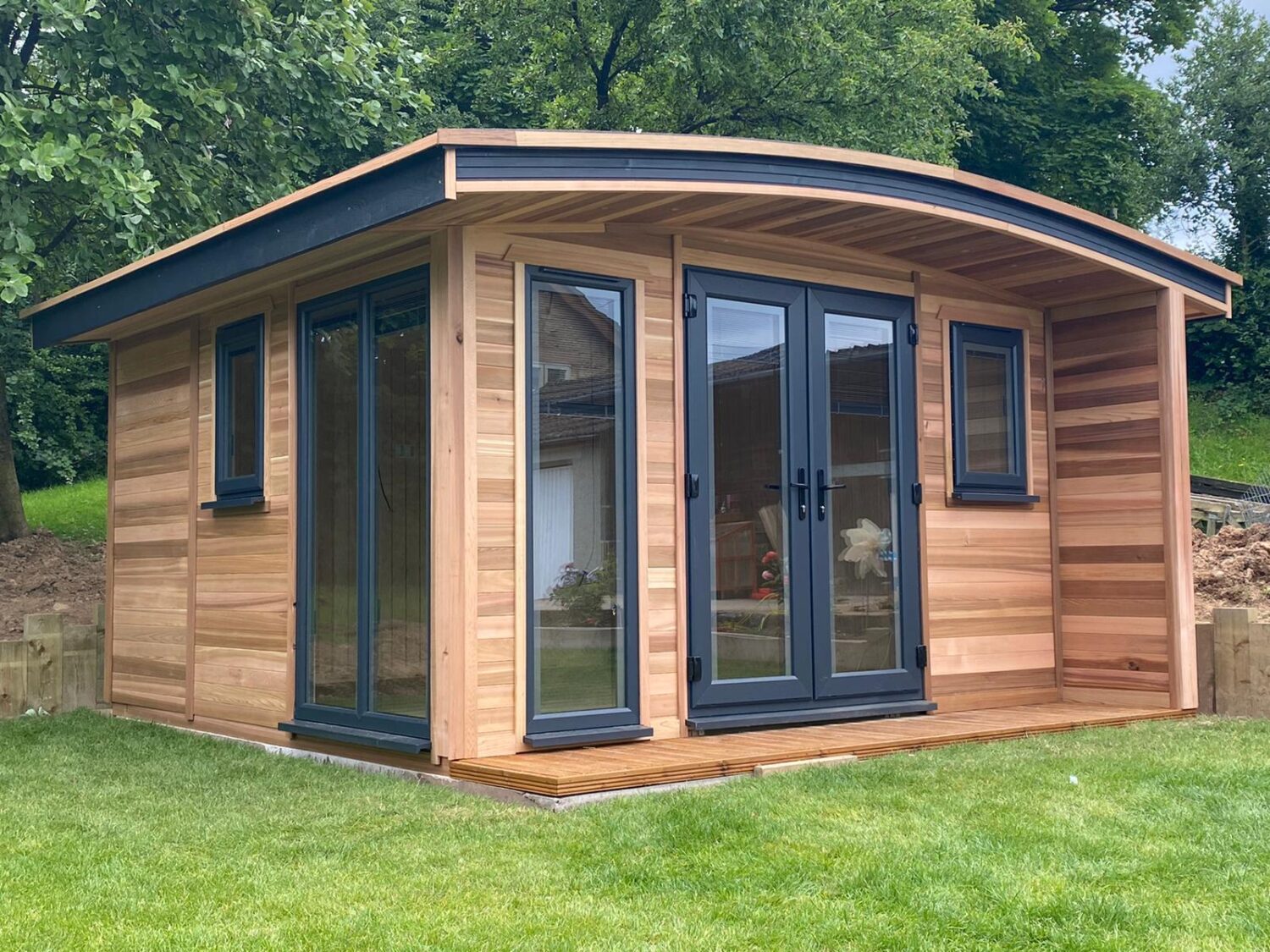 Do you check my base?
Yes we do. Once your base is created, we send a representative to check that the base is suitable for the building.
We are looking for a FLAT, SMOOTH and LEVEL pad, with a tolerance of 5mm.
In addition to the quality of the base, we will look at the following items.
ACCESS – So that the building can be delivered to site
CLEARANCE – So that assembly can take place safely
HAZARDS – Things such as overhanging branches, low cables, other buildings, sharp turns, height and width restrictions
PARKING – To ensure we can deliver and unload your building
DISTANCE – From the vehicle parking to the base location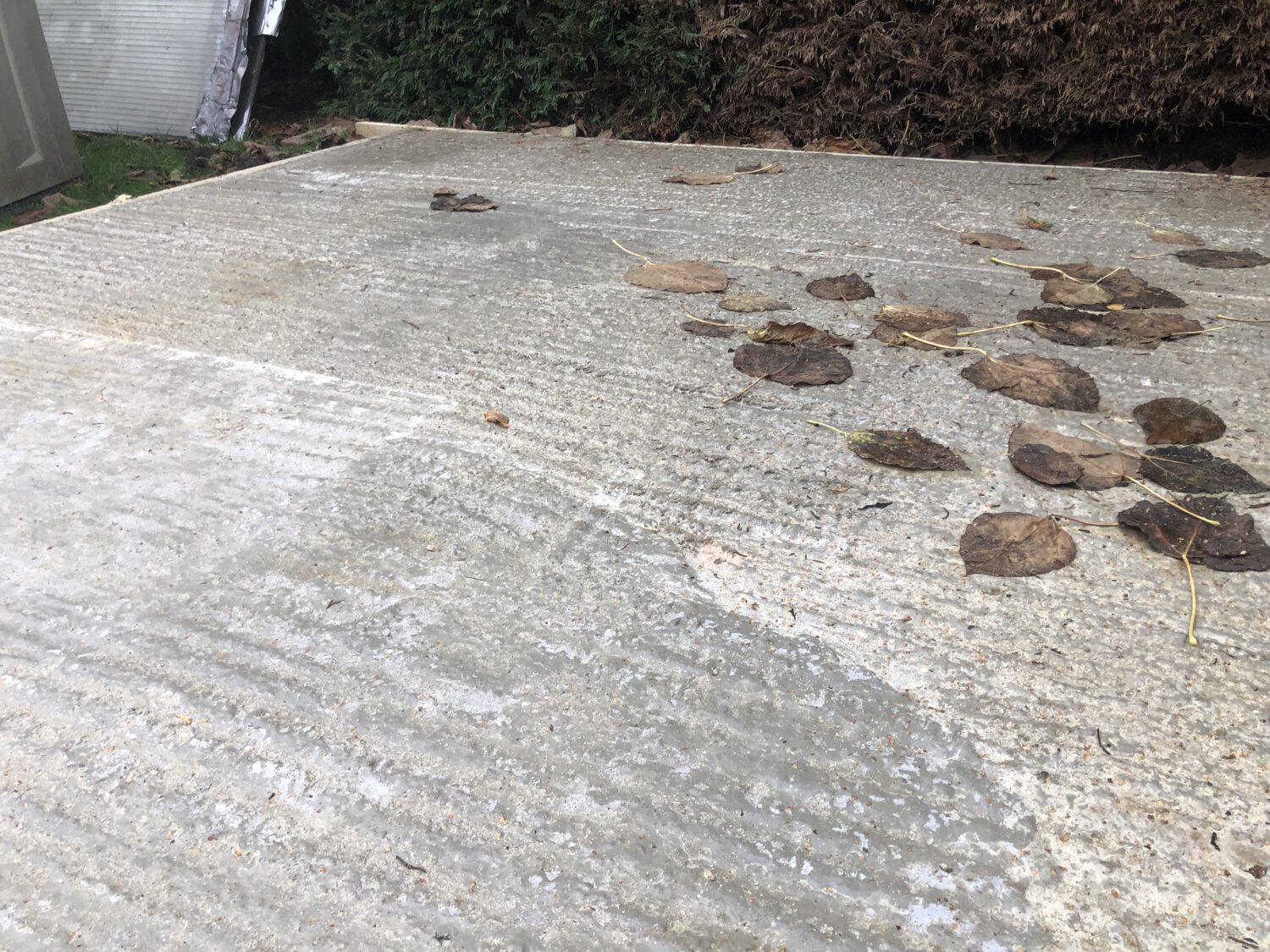 What if there's a problem?
In nearly all cases, the base, access and clearance is suitable for the building to be assembled onto. We do get occasions however, when the finish doesn't quite hit the mark and may need remedial work.
In these cases, either a sanding off the ridges with a concrete sanding machine is sufficient, or a re-skim of the pad provides a solution. In both cases it usually occurs when the guidelines haven't been followed, or an old or existing base is being used without being made suitable.
How do you check the base?
When checking a base we are looking to see if the base is smooth and level with a straight edged aluminium box section.
YOU CAN TEST THIS YOURSELF WITH A STRAIGHT PIECE OF TIMBER
THIS BASE WAS RE-SKIMMED BY THE BUILDER IN 2 HOURS AND WAS THEN SUITABLE FOR THE BUILDING
Please explain the difference between slab bases & ground screw bases...
| | |
| --- | --- |
| Who does the concrete or paving slab base? | A local builder will need to do the base, however this isn't as scary as it seems, especially if you know of a local builder - or if you are within 25 miles of the Warwick Buildings show site. We have quite a few trusted builders that will install a suitable slab base - Alternatively - to get a trusted trader simply click https://www.mybuilder.com/postajob/questions/trade and fill out the online form to get a local tradesman to provide a quotation. See below for more information. |
| What is a ground supported base? | Ground supporting bases require the soil to be dug out, filled with hardcore and compacted down, before finishing with 100mm of concrete or smooth slabs. Each base is priced individually due to site conditions, and done by a local builder due to the logistics of organising a skip, hardcore, concrete and access. |
| How do I organise a builder | If you are local to us, we have plenty of builders that can do a garden room base. If you are further away then a simple solution is to click onto www.mybuilder.com and post a job. |
| Size of base required | A slab base needs to be the same size of the building. If you order extra decking, the base needs to be large enough to accommodate the decking. 100mm thick concrete is needed onto a hardcore sub base, with a damp proof membrane (DPM) or plastic sheet in between. |
| Can I use an existing base | It is possible to re-use an existing base for your new building, providing it is flat and level. In most cases - the slabs have often moved, so they would need re-laying, or old concrete has cracked, so a skim of concrete would be added to create a flat and level surface. This is still a far cheaper option than choosing a company which includes a base within the price. |
| What are the steps of building a base | Remove the top soil to a depth of 250mm. Create shuttering out of timber, using a laser level to set the height at the top of the timber - allowing for a minimum of 100mm of concrete. Add the plastic sheet. Install a reinforced mesh (re-bar) if required, supporting the bar above the plastic membrane. Add the hardcore and compact down using a whacker plate. Pour in the concrete up to the level of the timber. Tamp the concrete to remove the air bubbles, leaving a smooth finish to the surface. Allow to set for 2 days before walking on the surface. |
| How long does it take to do a base | Typically it takes one to two days to install a concrete base, depending on the size, access, and amount of labour on the day. If a mini digger can get to site, it drastically reduces the time and cost for doing the base. Most mini diggers can access down the side of houses - which are about 900mm wide clearance. |
| TELL ME ABOUT | A GROUND SCREW OPTION |
| Can I have a ground screw base | Yes you can. We offer a ground screw base option for customers within our standard range. This option will be available if you are within our radius - see configurator for details. |
| Is a ground screw base better than a concrete base | Suspended floors require less manual labour to install, and there is no need for a skip as soil is not dug out. Ground-screw foundations are a suspended floor and will be less supported than a concrete or paving slab base, which may result in a small amount of bounce if used for a garden gym or dance studio. |
| What about damp | We install a plastic sheet underneath the floor frames to ensure no damp rises into the building from the soil underneath. The ground screws are also naturally slightly above ground at the lowest point, to create an airflow under the building. |
| What about the height of the building | The building is 2.5m high - not including the ground screw base. Should your ground slope and require additional steps to enter the building, this is not included within the 2.5m height restriction - however the price of the ground screw base does not include any additional cladding or decking to hide the void underneath the building. |
| How do I organise the Ground Screw base from Warwick Buildings | Simply add the ground screw base to the quotation (if applicable) after putting in your postcode. Once you place the order we will discuss the details over the phone. |
| How much is a concrete base | Currently in 2022 - it is about £175 per square metre for a base. For a 4m x 3m building, this works out at about £2100 - which when added to the cost of the building, is still better value for money compared to other companies that provide a less quality building and a 'quick base' |
| How much is a ground screw base | Currently in 2022 - the 4m x 3m ground screw equivalent is £1950. The site would need to be level to a tolerance of 200mm and not have any hard standing where the ground screws would be sited. |
| So which one should I choose? | Having the base and the building all done by the same company, saves time and money. If you have an existing paving or concrete slab, then the answer is simple - a slab base is required in this case. If you have a garden on a slope - then a concrete base is also the correct choice. If your garden is flat and level, and is grass, then the obvious choice is the ground screw base. |
Base Contractors
MIDLANDS
Warwickshire – Daron Langford – 07739 695442
Coventry – Paul Oliver – 07778 215889
Banbury – G & A Construction (My Builder contact)
Stratford on Avon – Michael Twite – 01789 470505
Shipston on Stour – Peter Neal – 07967 656462
Rugby – Peter Young – 07836  546089
Rugby – CFW Groundwork Ltd (My Builder contact) – 07960 3810708
Leicestershire – Scott McCue – 07916 138164
Leicestershire – Adrian Henson – 07858 459221
Redditch – Worcs (25 mile radius) – Matthew Phillips Engineering ltd – 07920 442871
SOUTH
Nothampton – Alan Muxlow – 07970 87598
London – Jonathan Stollar – 07963 664951
Hampshire / Dorset – Jim Parker – 07746 196343
Milton Keynes – Frosts Landscapes – 0845 021 9001
Hemel Hempstead – Urban Diggers – 07846 430927
London – Layzall Architects – 07709 123876
London – City Innovations – 0208 874 1565
Surrey / Berkshire / Hampshire – Tony Cleeve – 07775 900063 – 01344 563042
Buckinghamshire – Hertfordshire – North London – Mike Harrison, +44 7778 978534 – the base was superb from this provider
Bishops Stortford | Royston – Mike Clayton-Smith – CCS Landscapes – 07967720158 – garden and base excellent
Base Contractors
NORTH
Derby – GAB Builders – 07931 127231
Rochdale – DWF Concrete – 07821199142 – dwfconcrete@gmail.com
Step 1. Select groundworks from the dropdown menu
Step 2. Choose Foundations for a structure to be built
Step 3. Choose Outbuilding or Garage
Step 4. Add the description…
'Install a concrete pad for a garden office to the size of     m wide x        m deep x 100mm thick concrete onto compact hardcore.
Base to be flat & level with smooth finish to a tolerance of 5mm.
Install 6mm armoured cable ready for final connections.
Step 5. Give your job a title – Garden Office Base
Step 6. Add your postcode
Step 7. Add your email address
Step 8. Fill in the details and submit.