How to Turn Your Garden Room into a Gorgeous Guest House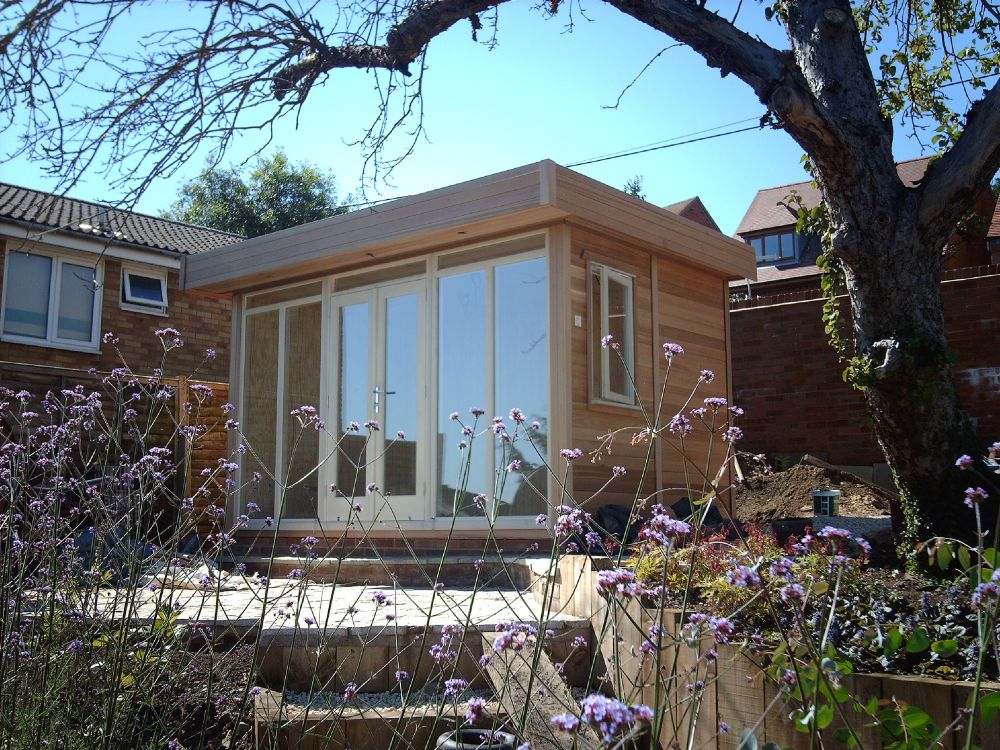 Garden rooms are extremely versatile spaces, ideal for both work and leisure, and with just a few adjustments they can become a charming guest house. From enhanced privacy to the potential for extra income via outlets like Airbnb, a garden guest room is a fantastic way to utilise some extra space in your garden and provide a comfortable place to stay in a pinch.
Why Choose a Garden Room for a Guest House?
Versatility
Initially designed as an extension of your living space, a garden room can easily adapt to serve as a part-time guest house. Whether you are hosting friends, family, or even Airbnb guests, the space can be tailored to meet different needs and preferences.
Privacy
A garden room offers an unparalleled level of privacy compared to a spare room in your main house. Guests can enjoy their own separate space, allowing them the freedom to come and go without disturbing the household.
Income
If you are considering renting out the space, a garden room can become a lucrative investment. Its detached nature makes it an attractive option for short-term stays looking for a unique, private experience.
Customisation
Each of our garden rooms is fully bespoke, meaning you can customise almost every aspect to suit your needs. From insulation and wiring to interior finishes, you have the freedom to create a guest house that looks and functions the way you need it to.
Planning Permissions & Building Regulations
Turning your garden room into a guest house is an exciting venture, but it is crucial to ensure that your project aligns with local planning permissions and building regulations. Failing to do so can lead to legal complications, fines, or even the dismantling of your newly created space. 
Most garden rooms for domestic use do not require planning permission, as long as they meet specific criteria. For instance, if the building is 2.5 metres high or less, and situated behind the front line of your house, it is usually considered permitted development. However, rules may differ if you are in an Area of Outstanding Natural Beauty (AONB) or own a listed building.
For small buildings close to the boundary, fire resistance measures may be needed, and buildings over 30 square metres generally require full building regulations compliance. It is your responsibility to ensure that the design and build meet all requirements, including groundwork, construction, and internal details.
Garden rooms are generally easier to align with planning permissions and building regulations, making them much more straightforward to set up as guest rooms. If you need help with obtaining licences or identifying which you might need, follow our planning guide. 
Expert Guidance
We can provide all the necessary information for your planning application, including elevation drawings and location maps. If needed, we can also offer copies of structural calculations that have previously passed building control inspections.
While these guidelines offer a solid starting point, it is essential to consult your local planning department for specifics related to your property. They can provide tailored advice to ensure your project is compliant.
Design Considerations for Your Guest Room
When transforming your garden room into a guest house, certain design considerations play a pivotal role in ensuring both functionality and aesthetic appeal. From layout to size, every element should be thoughtfully planned to create a welcoming and comfortable space for your guests.
Layout
The layout of your garden room should prioritise ease of movement and accessibility. Consider the flow from the entrance to different areas within the space, such as sleeping, lounging, and perhaps a small kitchenette – although the latter would require specific permissions. 
The layout should also facilitate easy access for luggage, making the guest experience as smooth as possible.
Size
Size matters when it comes to comfort and utility. A cramped space can make guests feel confined, while an overly large room may seem empty and unwelcoming. We offer a wide range of sizes to suit various needs, from compact units to spacious options that can accommodate more than two people.
Must-Have Amenities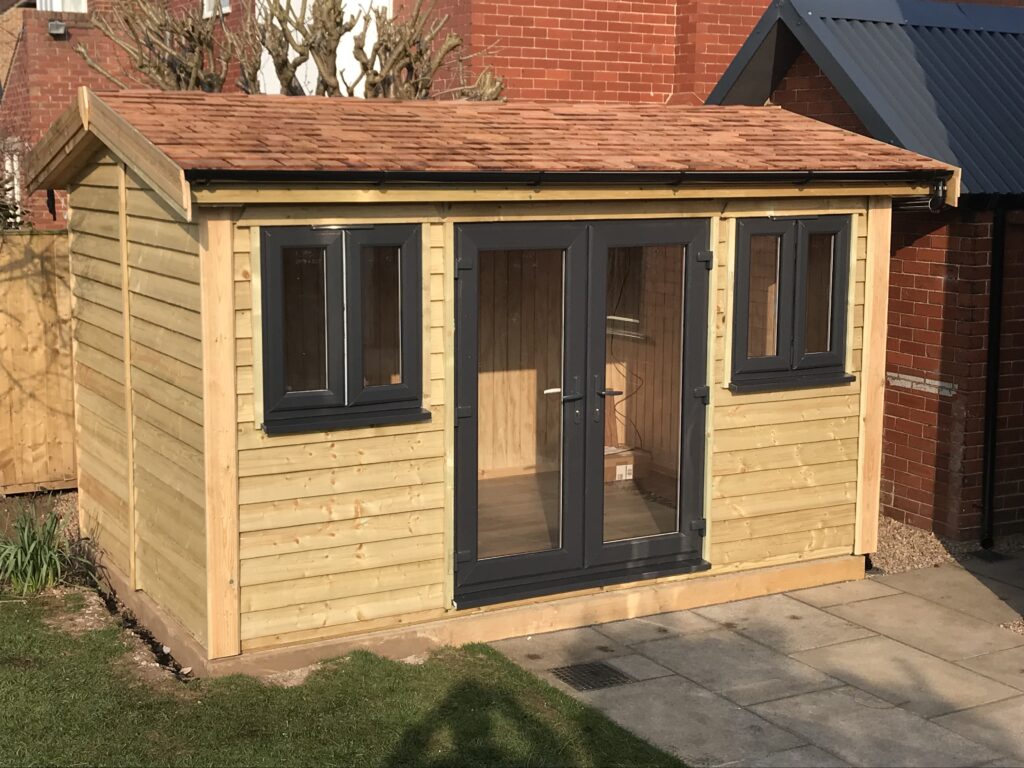 When it comes to turning your garden room into a guest house, amenities are the linchpin that can elevate the guest experience from good to exceptional. Here are some essential amenities that should be part of your offering:
WiFi

: Whether your guests are staying for leisure or work, a strong internet connection is essential. Consider an adaptor to extend the reach of your existing set-up at home.

Kitchenettes & En-Suites

: Depending on what permissions you wish to obtain, and the budget of your build, an en-suite and small kitchenette can provide a sense of independence and added privacy.

Adequate Lighting

: Your choice of lights is important. Our builds all come fully wired, with standard ceiling spots, but we recommend investing in some decorative floor or table lamps to add some dimension and warmth to the space.

Built-In Storage

: Certain storage solutions like chests, shelves, or cabinets can help keep the space tidy and offer your guests a place to secure their belongings.

Garden Furniture

: If your garden room comes with a patio or decking area, consider adding outdoor furniture for an extended living space where guests can relax.
Extra Touches for a Welcoming Atmosphere
While essential amenities lay the foundation for a comfortable stay, it is the extra touches that truly make your garden guest house memorable.
Welcome Treats
A basket of snacks can go a long way in making guests feel at home. Think along the lines of bottled water, tea bags, coffee pods, and perhaps a few local treats. These small gestures can make a big impact.
Tasteful Decor
Soft furnishings like cushions and throws can add warmth and texture to the space. A few well-placed pieces of art or framed photos can also add character without overwhelming the room. You could also consider your:
Colour Scheme

: Soft greys, muted greens, and pastel blues work well to give the space an airy feel. These colours also serve as a versatile backdrop, allowing you to easily update the room with seasonal accents.

Furniture Choices

: Invest in high-quality, comfortable furniture. A plush bed with a stylish frame is a must, as are soft armchairs or a cosy sofa for lounging. Multi-functional furniture, like a coffee table with storage or a fold-out sofa bed, can also be a smart choice for maximising space.

Textiles and Soft Furnishings

: Layering textiles is a great way to add warmth and texture. Think plush rugs, soft throws, and cushions in complementary colours.

Accessories

: Choose a few key pieces that add character without cluttering the space. This could be a framed print, a mirror, or even a wall-mounted shelf with a few carefully selected ornaments.
How We Can Help
We offer a wide range of bespoke options to ensure that your garden room is tailored to your specific needs and aesthetic preferences. From layout and size to design elements and amenities, our team of experts will work closely with you to bring your vision to life.
Our garden rooms are constructed with the highest quality materials, ensuring durability and long-lasting beauty. Whether you're looking for a contemporary design or a more traditional style, we have options to suit every taste.
Create a Guest House In Your Garden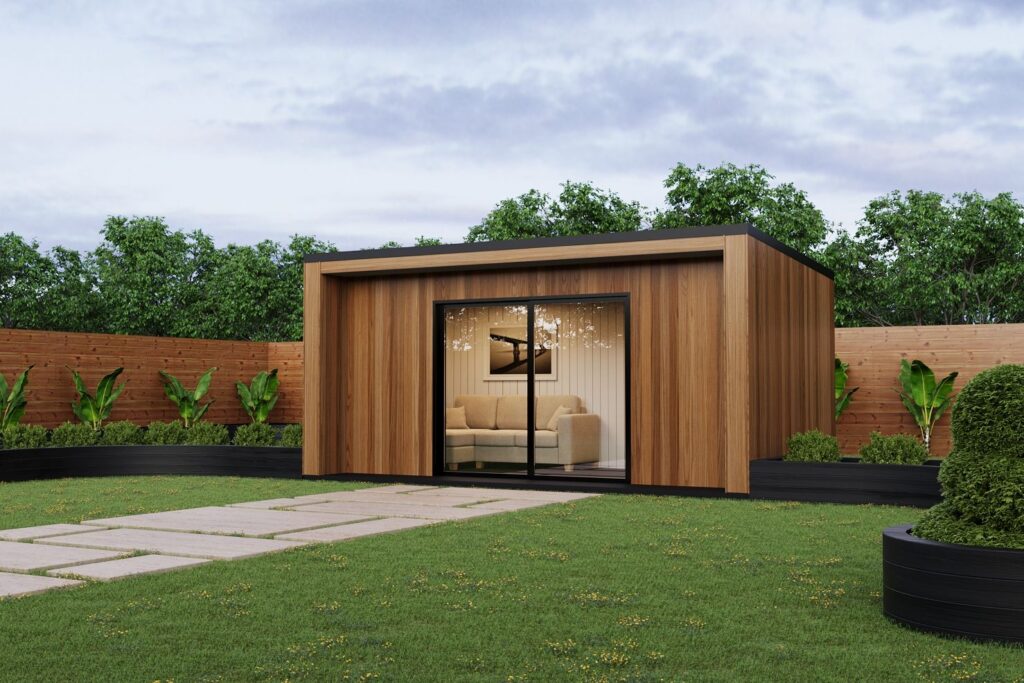 Turning your garden room into a guest house is a brilliant way to make the most of your outdoor space, while offering a private, comfortable retreat for visitors. With our high-quality materials and customisable features, you can provide an exceptional guest experience.