Garden Room Bar
Our range of garden buildings can be fully customised, perfect for a garden room bar. Use our simple online configurator today for an instant quote.
Explore our garden rooms
Bespoke Garden Room Bars
A garden room bar can be an amazing way to reinvent your outdoor spaces, creating a warm and sociable environment perfect for entertaining friends and family. Whether looking to recreate the classic English pub or host your own cocktail parties, a bespoke garden room bar can be designed around your needs. Warwick Buildings produces a range of garden rooms, which can be extensively customised through our online configuration tool.
Our garden rooms are produced at the highest levels of quality, fully insulated and ready for mains power. We build, deliver, and install our own garden rooms within the UK, often within a day, ensuring that you can open your own garden room bar as soon as possible.
Our range of brilliant wooden garden rooms can be customed in a myriad of ways, from dimensions, to height, to material choices. Once you've designed your perfect garden bar, you'll receive an instant quote for manufacture and installation.
Explore our range of garden rooms today.
See range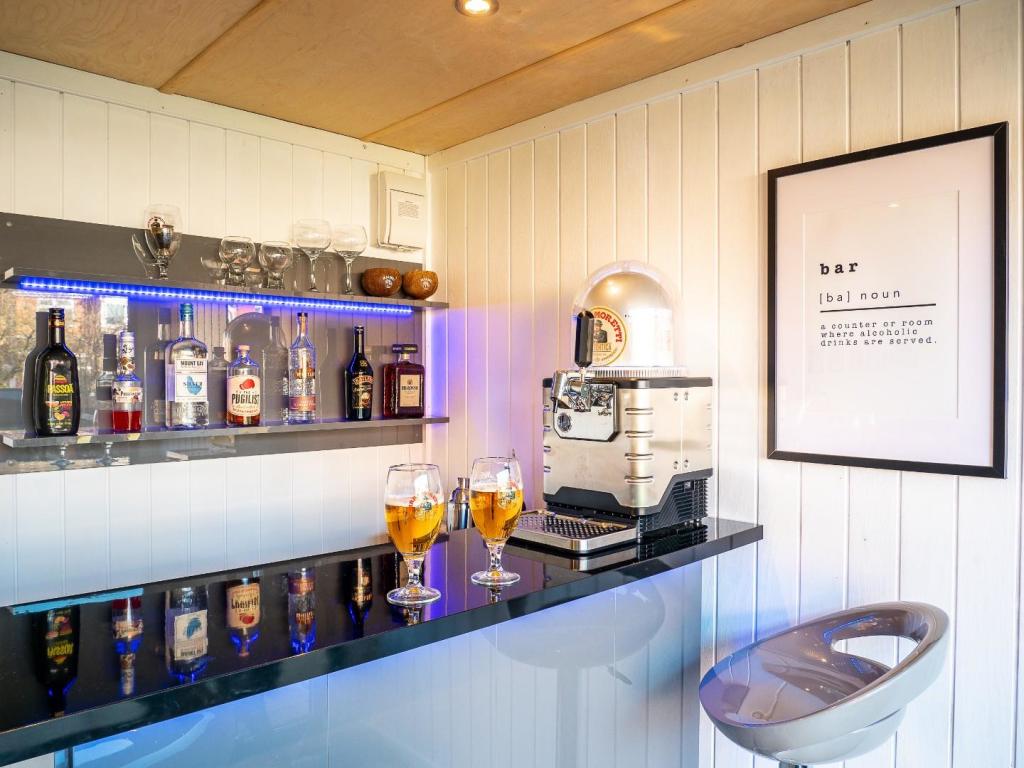 Our Range of Garden Room Bars
Range of Standardised Designs
Bespoke Online Design Tool
Installed by Experts
Built From Sustainable Scandinavian Timber
Choice of Cladding
Choice of Laminate Flooring
Choice of UPVC Windows and Doors
Lighting and Electrical Sockets
Fully Insulated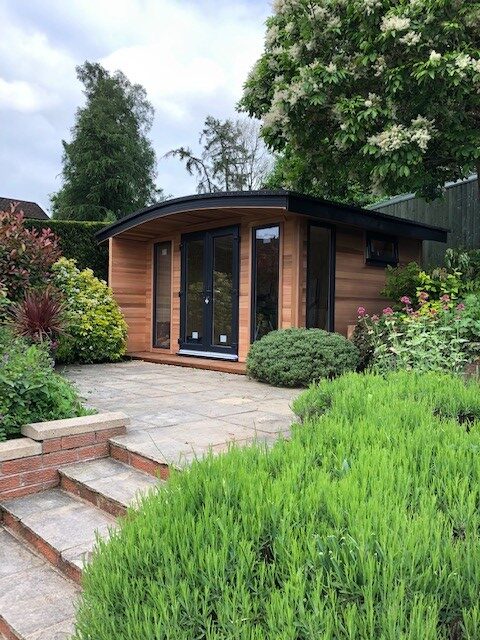 How Could a Garden Bar Room Benefit You?
If you're looking to turn your back garden into an entertainment space for adults, then a garden bar room can be a great choice, whether acting as a back garden pub, or as the hub of a garden party. Our garden rooms can be built in sizes large enough to contain multiple seats alongside a bar, with extra space for a pool table or jukebox. Indoor garden bars have the benefit of remaining usable regardless of the weather, and can be customised internally with a range of decor ideas to evoke an English pub, a speakeasy, or an upscale cocktail bar.
Alternatively, a smaller garden room could house a bar, with double doors leading out onto a garden seating area. Whether you are looking for a place to relax in the evenings, a social hub for friends, or a cocktail bar for larger gatherings, a garden room can be the perfect solution, designed and decorated to suit your needs.
You can also combine uses, creating a larger games room with a bar area, ideal for poker nights, pool competitions, or tabletop gaming. If looking to create a "man cave", a fully stocked mini bar could be included, complete with beer on tap or a spirits cabinet. You can even add a fridge for fruit pieces and an ice bucket. The needs of your garden bar affect which size of room you'll need, with larger buildings suited for indoor seating or full displays of spirits for cocktail making, and mini bars offering a selection of wines or beers.
Our Bespoke Online Design Process
We manufacture standard designs of garden rooms, which can be altered in many ways to suit your needs. This allows you to start with a stylish design like our Modern option, with a recessed bi-fold door and bigger dimensions suited for a large garden bar. Or you could opt for our smaller Elegance model, perfect for an attractive cocktail station. With each of our designs, our 3D configurator tool will allow you to fully customise the look of your garden room. You'll be able to choose the dimensions of your building, with bespoke sizes also available.
From there you'll be about to choose the exterior cladding, interior wall lining, the colour of the laminate flooring, and the type and placement of your UPVC windows. You'll also be able to customise the type of internal lighting and the number of plug sockets. All of our buildings are fully insulated and include double glazing as standard, and you'll also have the option of installing triple glazing for increased heat retention.
All of this will be displayed within the garden room configurator, and once you've settled on the perfect design you'll receive an exact quote for our skilled team to build, deliver, and install your new garden bar building. You can learn more about the best garden room bar designs through our list of ideas. Explore our garden room options today.
See Garden Room Bar Ideas
30 Years of Quality
Warwick Buildings have been producing excellent timber rooms for over 30 years, building everything from garden offices, to garages, to garden gyms. We prioritise quality and durability, making products that will perform excellently for many years with minimal upkeep. We also place an emphasis on sustainability, responsibly sourcing all timber from a mill in Sweden. Our garden bar buildings are attractive, multipurpose spaces, designed to be a long-term fixture within your back garden.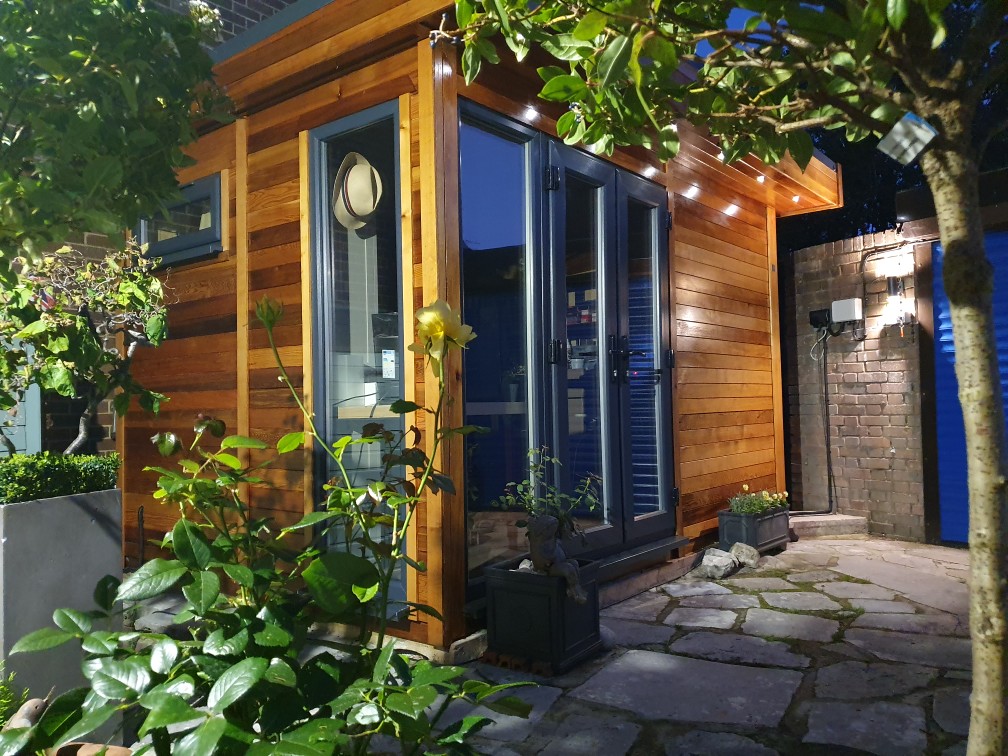 Design Your Own Back Garden Room Bar Today
Our bespoke design process allows you to design your ideal garden room bar, choosing the look, the sizing, and the panelling. Once you've chosen your perfect design, our team can set about building, delivering, and installing your new garden building. The installation process can often take less than 1 day.
Whatever you are looking for, from a small cocktail bar to a fully-featured garden pub, explore our range of garden room designs today.
See our range