How to Turn Your Hobby Into a Business With a Garden Studio
How to Turn Your Hobby Into a Business With a Garden Studio
Do you have a skill, talent or hobby that you've always dreamed of turning into a real business? You might be finding it hard to create or make bigger steps when you are confined to your dining table. But this is where a garden studio provides the ideal solution to grow your hobby into a thriving home-based business.
In this complete guide, we will explore how converting a garden room into your own private studio can enable you to turn a cherished pastime into a successful and fulfilling career.
Choosing Hobbies Suited to Home Businesses
Nearly any hobby or creative skill can be transformed into a business with the right strategy. When selecting what venture to pursue from your garden studio, consider these factors:
Startup Costs: Some enterprises like woodworking or photography require major equipment purchases upfront. Others like consulting or writing have lower barriers to entry, and most people already own the equipment they would need.
Ongoing Costs: Will you need continual investments in materials and supplies to produce inventory? It is important to balance expenses with your profit margins.
Equipment Needs: Ensure your studio has the necessary utilities, gear, and space for everything your business activities entail. Our garden rooms are fully customisable in size and look, granting you the freedom to adapt and refine.
Noise and Mess: Certain disruptive hobbies like metalworking or even music may require enhanced privacy measures like soundproofing. Our garden room structures are built with multiple layers to aid in this, and our windows are double-glazed as standard – with triple-glazing available as an optional extra.
Customer Base: Who will buy your products or services? A hobby is only a hobby until you want it to support you financially, and certain niche skills will have a smaller target demographic than universally appealing ones.
Competition: Research your competitors to identify your unique value proposition and ideal pricing.
Time investment: Some side hustles require intensive time commitments. Ensure you can balance your creative working hours with family and other work commitments. A lot of creatives will start out working two jobs before they can invest in their hobby full-time.
Passion: Most importantly, choose an endeavour you feel truly passionate about. This will ensure that you avoid creatively burning out before you have made good headway. Success comes from dedication, and dedication can only come from true passion.
Some Popular Uses for a Garden Studio
The extensive range of garden rooms we offer grants you the flexibility to custom design your own space. Here are some of the most popular ways to tailor your garden studio:
Photography Studio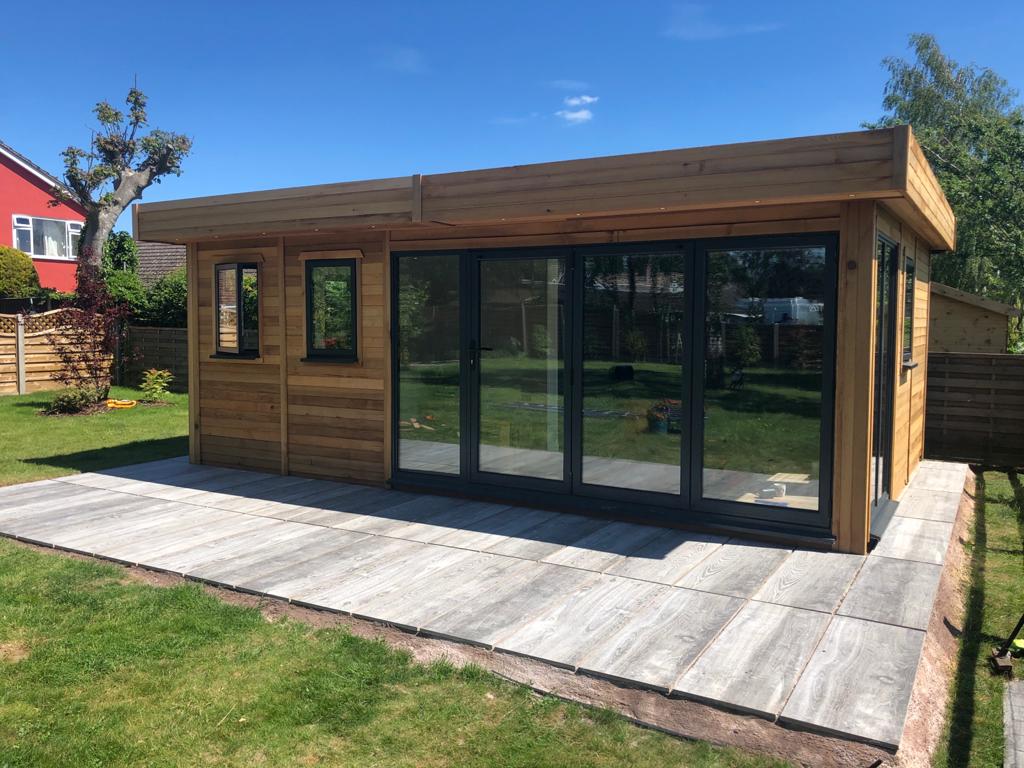 For professional or amateur photographers, a garden photography studio allows you to control your shooting environment – offering clients what they need and meeting your own requirements for fine art projects.
The walls of our garden rooms are thick and robust, and our designs can be customised with as many or as few windows as you require, helping you to better control how much light can enter the space. Garden rooms of a certain size can also be installed with an internal wall and door, providing you with a space for your editing equipment.
Home Gym
Transform your wellness hobby into income by creating a gym in your garden. Outfit the space with equipment like weights, kettlebells, resistance bands, yoga mats, and more. Plus, the open floor plans of our most popular designs will allow for classes and group sessions.
Art Studio
For visual artists, a garden studio provides room to sculpt, paint, draw, and create in a bright, inspiring environment. With a Warwick build, you have the freedom to include sinks, easels, drafting tables, and speciality equipment based on your medium, all bathed in abundant natural light and soundproofed for extra privacy and creative zen.
Writing Room
Writers need a quiet, distraction-free space to immerse themselves in their work, and, with a bespoke garden studio, they can achieve just that. Install a comfortable desk, bookshelves, and ample outlets so laptops and Kindles never run out of battery, and enjoy a choice of overhead spotlights to help reduce eye strain throughout the day.
The best thing about a room dedicated to writing is that with the right soft furnishings, it can double as an additional living space, expanding the potential of your property in more ways than one.
Designing Your Ideal Garden Studio
First, determine the ideal size and layout to accommodate your equipment, inventory, client meetings, or other needs. Then choose from our selection of studio blueprints and customise their dimensions to suit you, carefully positioning doors, windows, and partitions where you see fit.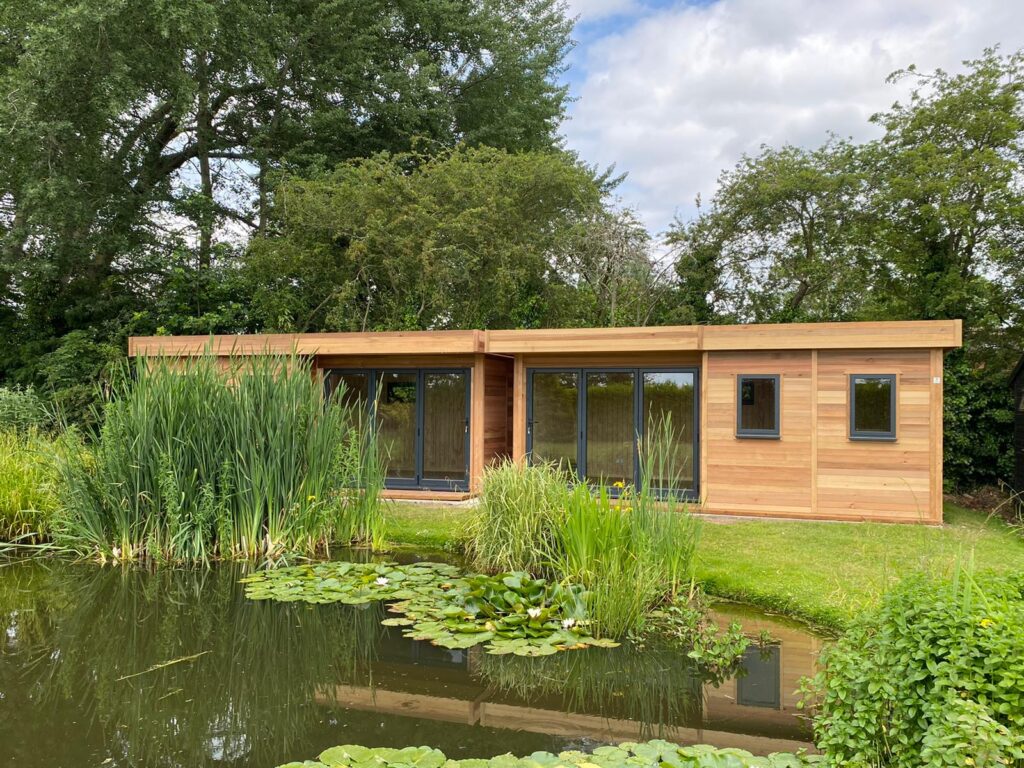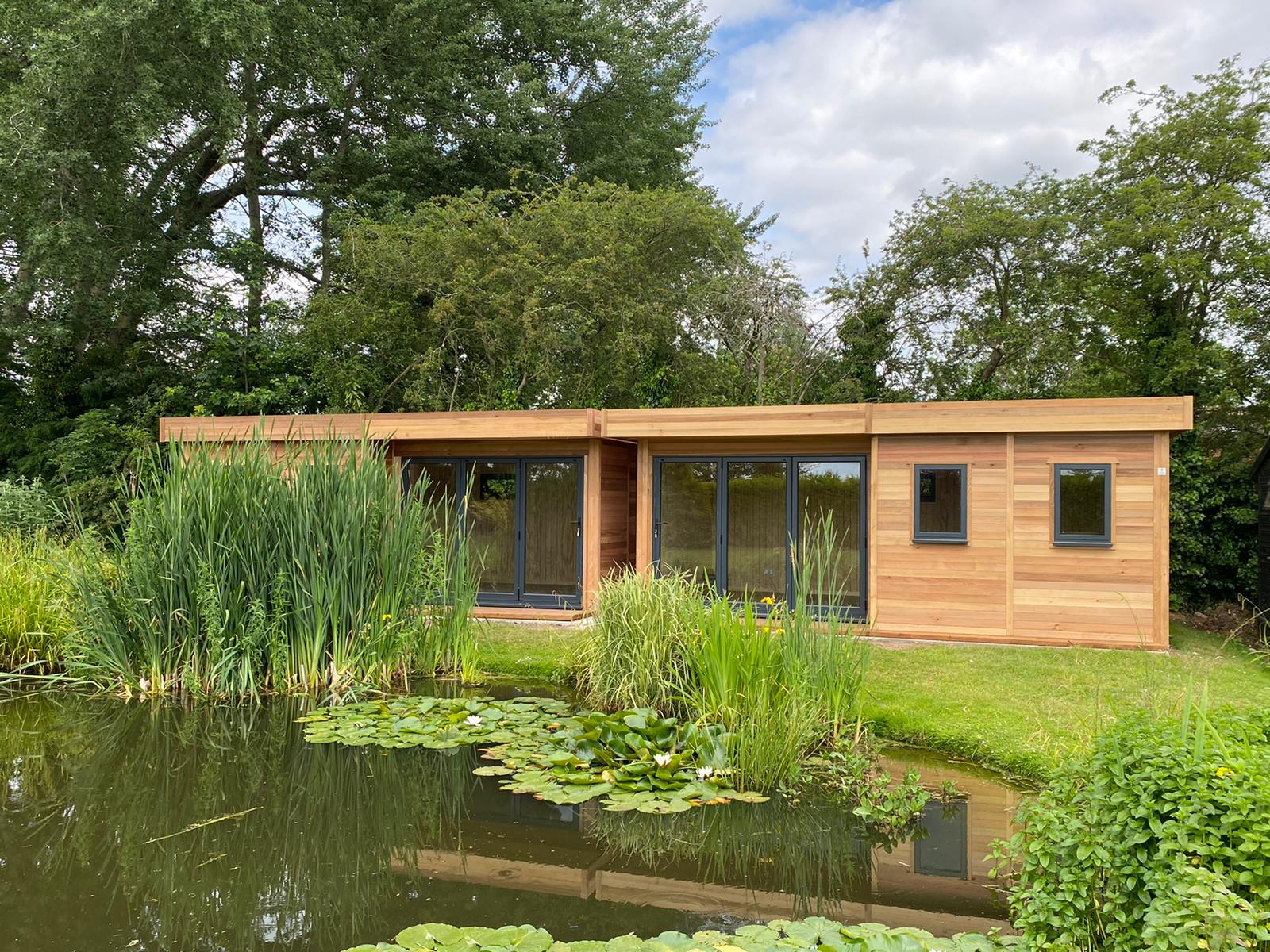 Our online studio builder can help you to conceptualise and price your ideal workspace, tailored precisely to your needs.
Making Your Garden Studio Work for Your Business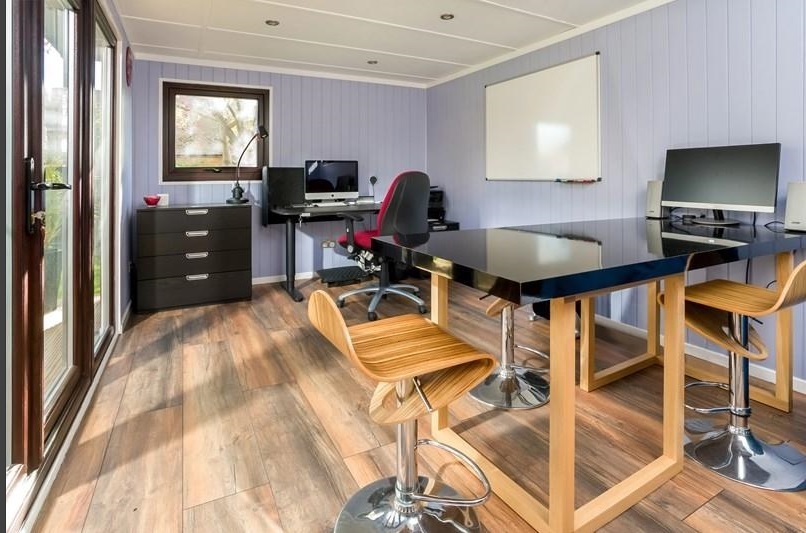 With your garden studio built, it's time to optimise it to grow your hobby into a business.
Outfit with Must-Have Gear
Invest in the key equipment your particular venture requires. For a photography studio, this may include backdrops, high-end cameras, lighting kits, computers, photo printers, and editing software. Whereas for a fitness studio, you may require mirrors, large-scale exercise equipment, weights, sound systems, and other training tools.
Market Using the Space
Photograph your new professional workspace for your website and socials, and get the word out on what you are offering, whether you are a beginner or a seasoned professional. Advertise any virtual classes you might be holding in the space, open house events, or even client meetings.
However, you utilise your garden studio, simply having it demonstrates your dedication, as well as the quality of your offerings.
Manage Your Time
In the early days, and without an ample savings net, you will need to set regular hours for hobby work as you balance other commitments. Block your calendar to protect this time and treat it as you would any other job.
You could start small with 10–15 hours a week, then work to expand as you are able.
Consider Scaling Up
If your hobby outgrows the garden studio, you could investigate moving to a separate commercial location. The best thing about a garden room or studio is that they can be reinvented as many times as you like.
We design all our builds with flexibility and versatility in mind, freeing you up to create a work-from-home space one day, and an additional living space on another.
Take the Next Step in Your Creative Journey
With strategic planning, equipment, marketing, and productivity techniques, your garden studio has the potential to take your beloved hobby to the next level. And the flexible, affordable studio solutions from our range make the process easy and enjoyable.