Practical and Stylish Garden Gym Ideas
A garden room gym is a fantastic way to create a bespoke workout space on your property, allowing you to access a full range of exercise equipment whenever needed, in the privacy of your own garden.
In this guide we'll look at some of the best garden gym ideas, covering the sorts of equipment you can install within your garden room, whether targeting a cardio workout, building muscle through weightlifting, or looking for a comprehensive full-body workout. We'll also look at the best ways to decorate your garden gym, creating a beautiful, practical space.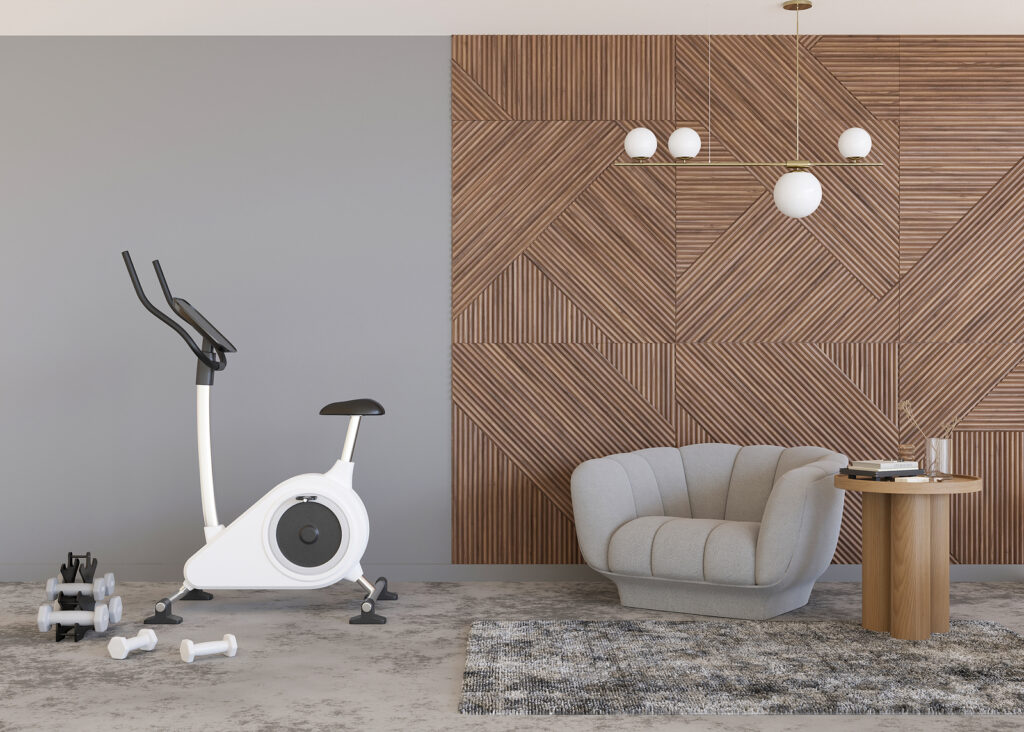 A Cardio Focused Garden Gym
Cardio focused exercise is fantastic for your health, helping you lose weight, boost your energy reserves, and improve the condition of your heart, lungs, and immune system. Regular cardio exercise can also offer profound benefits to your mental health and sleep cycle. There are a wide variety of excellent choices for cardio-focused equipment that can be installed within a home gym. The traditional treadmill is always a good idea, offering an excellent cardiovascular workout. An exercise bike is another fantastic option, offering a lower-impact workout than a treadmill, whilst strengthening your leg and lower body muscles. To work on your upper body, a rowing machine will help to exercise your arms and back.  If looking to build a cardio-focused garden gym, larger floor sizes will allow you to include a treadmill, exercise bike, and rowing machine, alongside additional options like cross trainers and stepper machines.
A Weights-Focused Outdoor Garden Gym
If looking to build muscle, burn body fat, or strengthen specific areas of your body, a garden room can be fitted with a suite of weights and weight-based gym equipment. You can install a rack of dumbbells and kettlebells, along with a rubber-based workout mat. A superior option is to use an adjustable weight bench, which can be altered to allow you to complete a variety of muscle exercises.
A pull up bar could also be installed, excellent for targeting your lats muscles. There are a variety of weight machines available that can be installed within a larger garden gym, targeting specific muscle groups across the body. For heavier weights, a squat rack or a bench press setup can be used.
A Comprehensive Back Garden Gym
To get a full workout, you should be looking to cover both cardio and weights within your regular exercise plans. For an ideal home gym, you would ideally use both a cardio machine and a selection of weights. Even within a smaller garden room, there should be enough space for a treadmill, a rack of dumbbells, and an exercise mat for stretching.
For larger areas, you can include multiple cardio machines, such as a rowing machine and an exercise bike, alongside an adjustable weight bench. This will mean that you'll have everything you need to keep fit and healthy within your garden, all of it ready to use throughout the year.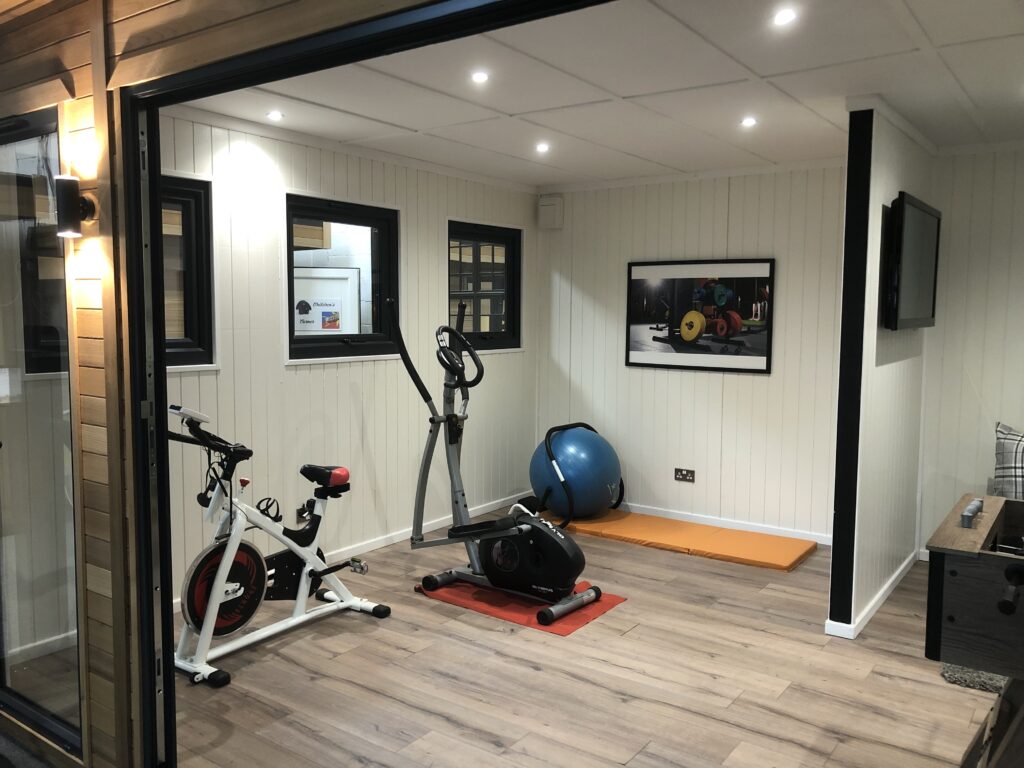 Decorating Your Garden Room Gym
Once you've decided on the perfect selection of gym equipment to use within your garden room, it's important to choose accessories and decor to match. When building a garden room gym, you can make decisions about the dimensions, the placement of doors and windows, and the placement of your new building within your garden.
These garden gym ideas can help personalise your space, bringing additional benefits to your workout. Regardless of how you decorate your back garden gym, having adequate levels of light is vital to exercise safely, such as LED lighting installed under the roof.
Bluetooth Speakers
Installing a quality speaker set up within your home gym can help inspire you during a strenuous cardio workout, or to relax while stretching. Bluetooth compatible speakers can be installed on the walls of your home gym, allowing you to play music directly from your phone. Whether you opt for a high BPM dance playlist or something more mellow is up to you.
Exercise Mirror
For weights and stretching, an exercise mirror on the wall of your garden gym is an excellent idea. It will allow you to check your posture, ensuring that you are correctly exercising. Another modern garden gym idea is to install a smart mirror within your garden building. These interactive screens can function as both plain mirrors, and as screens with integrated cameras. A smart mirror will allow you to monitor your body as you exercise, giving you pointers and feedback. They can also show videos of workout techniques for you to follow.
Bi-Fold Doors
Installing bi-fold doors within your outdoor garden gym room will allow you to fully open one wall of it, making it perfect for exercising during the summer. This will also allow you to appreciate your garden spaces, getting a full workout in the fresh air.
Air Conditioning
Another option to keep your back garden gym fresh and cool is by installing an air conditioning unit within it. Strenuous exercise at the peak of summer can be sweltering, which can be remedied by an air conditioner, allowing you to continue regular workouts. Modern air conditioners can also offer heating, making them a singular solution for temperature control throughout the year.
---
Design Your Perfect Garden Gym With Warwick Buildings
Warwick Buildings offer an amazing range of customisable garden rooms for sale across the UK, perfect for building your own outdoor garden gym. Our range of garden room designs can be tailored to the dimensions you need, with options for bi-fold doors in designs like "Contemporary" and "Modern". Our garden rooms can come in a range of sizes, perfect for a smaller gym room with a treadmill and dumbbells, or a larger gym room with several cardio machines and a weight bench. Through our website, we have a garden room designer, letting you explore our many options and our prices. Alternatively, you can talk to a member of our team about your needs in a garden building, or ask any questions about our range.
Explore our brilliant range of garden gym rooms today.