Small Garden Office Interior Design Ideas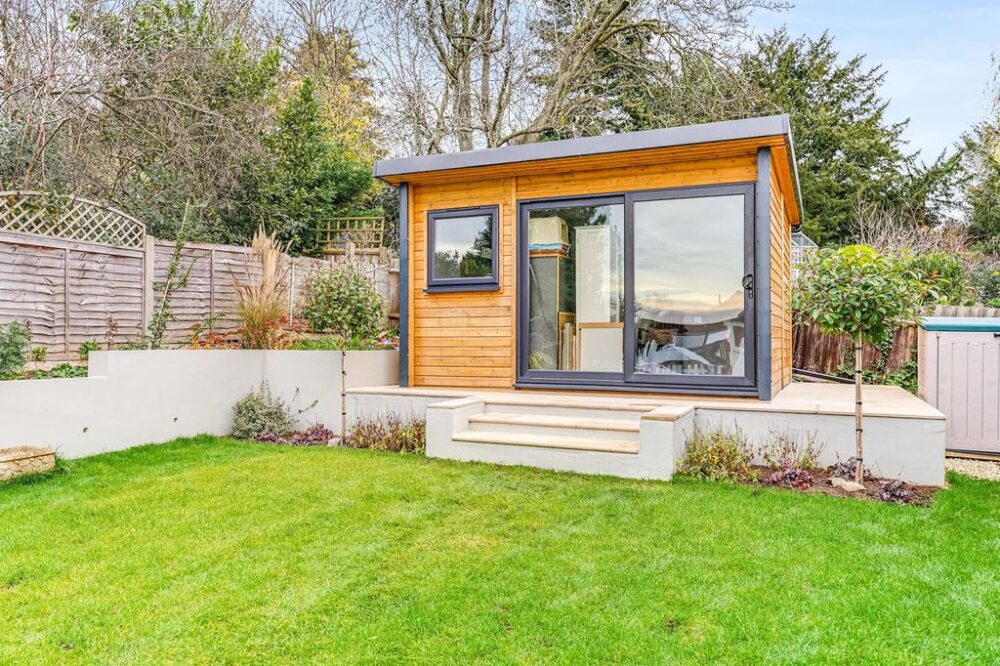 Since we emerged from the pandemic, more and more workers have been opting for hybrid schedules at work, or working from home entirely.
This switch from full to part-time in-office work has thrown many people, and some will still be struggling to see to their duties at the kitchen or dining table, or hunched over the coffee table. Though the occasional day spent in bed or tucked up on the couch can be nice, it is not a good long-term solution, and you will see myriad benefits from a space that is professional and self-contained.
With a small garden office (also known as an 'office pod'), you can repurpose the extra space in your garden where an unused shed might sit, and create your very own workplace right outside.
8 Ideas for Your Small Garden Office
If your garden is limited in terms of free space, you may need to opt for a smaller office unit. These builds are perfectly functional, despite their compact size, but do require a bit of clever planning when it comes to furnishing them.
For this reason, we have put together a list of inspiring ideas to get you started and give you a springboard for designing your own garden office pod.
1. Plan Ahead of Time
If you are still in the planning stages and mapping out potential designs for your new small garden office, then you will have probably already given some thought to where the structure will be installed.
The position is important for any outdoor office, not only for priming the desired viewpoints for each window and prioritising natural light, but also to be close enough for Wi-Fi to reach from the main house.
2. Prepare the Surrounding Area
Once your new garden office pod is built in its desired location, you can start decorating. We recommend working from the outside in. Your aim should be to embed the garden room in its new home, giving the impression that it has always been there. You can use potted plants and other outdoor decorations to complete the exterior look, before moving your attention inside.
3. Adopt a Minimalistic Approach
Small garden offices are exactly that, small. Though smaller spaces can work very well as offices, housing everything an individual might need to effectively work from home, they still take some selectivity when it comes to furnishing.
Office pods work best when they are kept minimal, as all space is valuable and should not be wasted unnecessarily. Opt for desks with built-in drawers to hide odds and ends, slimline storage solutions and chairs that are not bulky.
You can still add some personality to the space with plants, cork boards, and framed photographs, but subtlety is key with these smaller spaces, as they can easily become overcrowded and cluttered, which could impede productivity.
4. Add a Touch of Paint
Our garden rooms and offices all come with a choice of internal walls, including gorgeous cedar panelling. But if you would prefer to add your own spin, you can feel free to paint your new office however you like.
We recommend opting for neutral colours, as they have been known to improve concentration and efficiency, but you can choose a more vibrant colour if it suits your working style.
5. Hang Some Curtains
If you have lots of windows in your small garden office, you might want to consider hanging some drapes or a black-out blind. This will give you some added privacy when you need it, and help to prevent glare during the workday or important meetings.
Curtains can also improve security, especially if you are leaving a desktop or other expensive work equipment unattended overnight. By simply drawing the curtains, intruders may be deterred from trying to force entry.
A note on security: All garden offices from Warwick Buildings come with high-quality locking systems for both windows and doors, to keep your garden room and the belongings you keep in it as safe as possible.
6. Explore Foldaway Options
Smaller rooms call for clever space-saving solutions. Fold-up chairs and tables are brilliant for this, offering effortless adaptability and making the most of the space they are in. With foldaway surfaces, you can adjust the way you work at a moment's notice, without the need for multiple furniture pieces taking up unnecessary space.
7. Improve Focus With a Sound System
All of our small garden offices come wired and ready for use, with lights and custom plug sockets. This opens you up to the possibility of installing a sound system. Music can be used during work, to improve sound during meetings and play music during working hours, helping you relax.
8. Prioritise Comfort With Design
Some days you just want to work from bed or the couch. They are comfortable spaces, and when working from home you can choose where you base yourself. But it is important to separate your personal space from your workplace. Save your living room for spending time with loved ones and unwinding after work.
But that does not mean your garden office should be uncomfortable. Depending on the space you have, the soft furnishings you choose can make a huge difference. From ergonomic desk chairs and small couches to decorative rugs and pillows, you can create your perfect workspace that is as cosy as possible.
Unlock the Secret to Productivity Today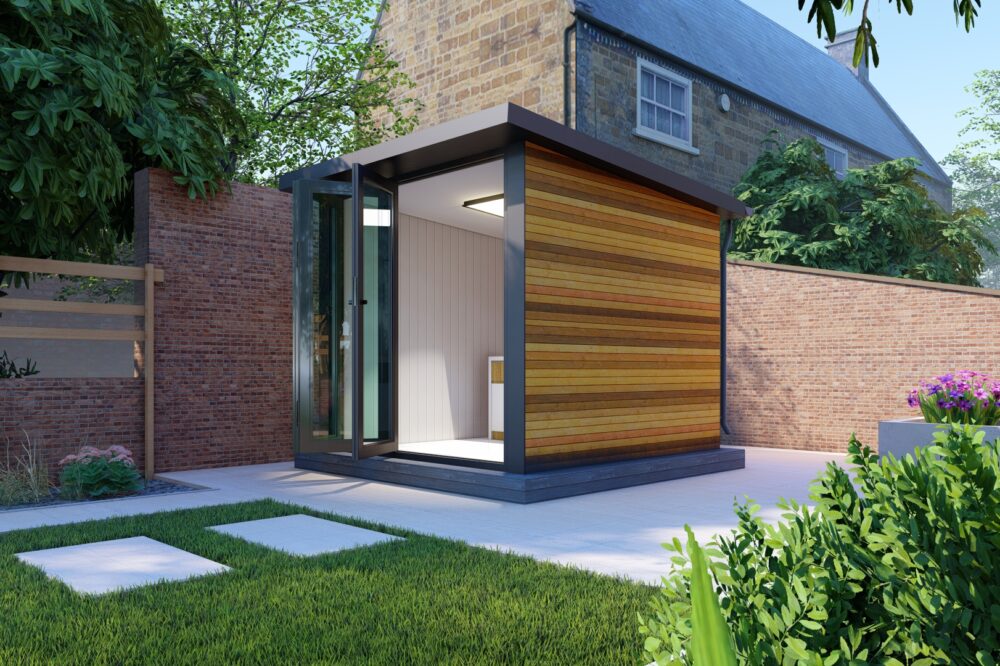 A garden office of any size is a great way to give you some work-life balance, and improve your productivity on the whole.
We offer a wide range of office designs to suit just about any garden, including smaller builds to fit in more modest outdoor spaces, like our standard box offices and super-compact office pods.