Practical and Comfortable Home Music Studio Ideas
The rise of home music studios has created waves across every genre of popular music, allowing musicians and subgenres to carve out audiences without the industry support and studio spaces traditionally needed. When looking to create your own home music studio, you'll have a wide variety of options, letting you tailor it around your needs.
In this guide to home music studio ideas, we'll explore the essential kit needed for both virtual and real instruments, the layout essentials, and the decor choices to help prioritise great sound.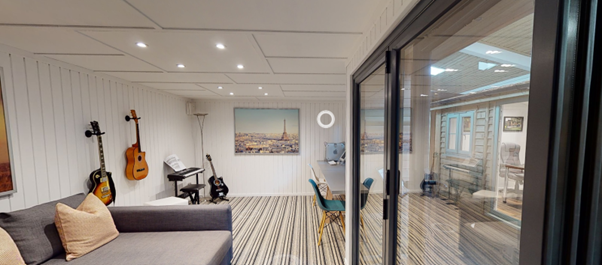 What Can You Achieve With a Home Recording Studio?
Thanks to advancements in technology and an increasingly cost-effective price point, there has never been a better time to set up a studio within your house or garden. Within the last few decades, musicians in every genre have made breakthrough music within their own recording spaces, from pop stars like Billy Eilish to folk musicians like Bon Iver.
Whether looking to make music within a computer entirely, or to record a range of instruments, all of this and more can be accomplished with a DIY set-up. You'll be able to upload your mastered music to Youtube, Spotify, or Bandcamp, a path that many have followed with great success. For solo artists and bands alike, building your own home recording studio can offer comfort and time, without compromising on the possibilities of your music.
What Do You Need For a Home Recording Studio Setup?
The setup you need for your home music studio will vary depending on what sort of music you are looking to make. Those looking to record real instruments, particularly drums, will require the space to install them. If looking to record several instruments at the same time rather than track each separately, your setup will need enough space to comfortably house every musician.
At the most basic level, recording alone and using predominantly virtual instruments, you'll need a solid computer. Whether opting for a laptop or desktop, you'll need something offering the speed and storage to process your audio and mix it. You'll need to install a digital audio workstation (DAW) on your computer, which is the software used for music production, covering recording, arranging, and mixing. Popular options include Pro Tools and Logic Pro, though if you're working with traditionally recorded audio tracks, free options like Audacity could offer everything you need. Having monitor stands for multiple screens can also offer clear benefits, particularly if making electronic music and utilising sample libraries.
If you are looking to record any audio, then you'll need to invest in an audio interface, essentially a physical box which will connect your computer to your recording equipment. Different microphones serve different purposes within music recording, and professional recording studios will have a range of microphones to properly capture vocals, percussion, and instruments. When starting out however, you can opt for a quality condenser microphone, with an XLR cable to connect it to your audio interface. You'll also need a microphone stand for positioning, and a pop filter to avoid clipping issues that can come from certain spoken sounds.
For listening back to your music, there are two essential pieces of hardware to invest in, studio monitors and a quality pair of headphones. Studio monitoring speakers are specifically designed for mixing, with a flatter sound than home speakers which allows you to ensure the ideal balance of sounds during mixing. For a home recording studio, closed-back headphones should also be used. These will block out most sound, making them great for editing music, but also allowing you to listen to previously recorded tracks while adding vocals or other instruments without the risk of sounds bleeding through.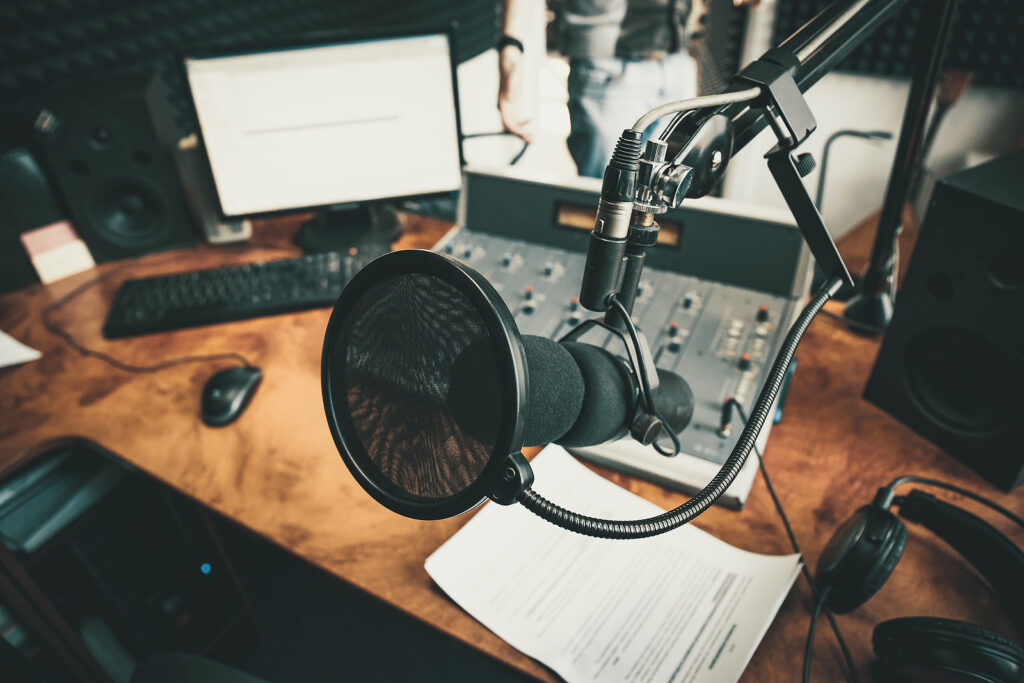 Home Music Studio Design Ideas
A home studio can allow you to make music around your own schedule, and to quickly capture ideas as they come to you. The ideal layout of your home music studio should be designed around accommodating the sort of music you are looking to make. If opting to build an external garden recording studio, you can tailor the dimensions around your needs.
This means that if you are making music virtually, whether using a MIDI keyboard or a turntable, you can be comfortable in a small space, with a desk and space for speakers. Similarly, if looking to record acoustic guitar and your voice, you can make a suitable recording space within a smaller area.
You'll want a comfortable and supportive chair for any setup, with specifically designed studio chairs available. If looking to capture live instruments, particularly in the case of a full band, then you'll need the space for each person and instrument. In the case of something like an electric guitar, this can mean space for an amp and a selection of pedals. Larger home studios will bring other benefits, reducing reverberations and allowing you to place your microphone further from the computer, reducing the chances of the computer's fan being recorded.
Home Music Studio Decoration Ideas
Decorating your home music studio will be a balance between practicality and comfort. You'll need to opt for solid floorings, such as laminate or wood, as carpet can cause issues with the acoustics of the room. Rugs are often a fixture within recording studios, as they can help to absorb sounds in specific areas. They could be placed under a drum kit for instance, useful if trying to record multiple instruments simultaneously.
Rugs can also be used to cover wires, making the room look cleaner and removing a tripping hazard. Acoustic treatment can also be a great idea when looking to make the perfect home studio setup. This will involve installing panels, bass traps, and diffusers within the room to control sound reflections. Soundproofing may also be needed depending on the location of your home music studio and the amount of noise you will be generating. To make your studio more friendly you can install a sofa, and line the wall with posters of some of your favourite musicians for inspiration.

---
The Benefits of a Garden Home Music Studio
Whether you're a musician who's just starting out, or are looking to give yourself the freedom that can't be found within traditional studios, creating your own home music studio is a more approachable goal than ever, with end results that can be every part as accomplished as those recorded professionally.
A purpose-built garden room can be the ideal location for a recording studio, creating a private space tailored around your needs. Whether looking to produce electronic music independently, or to create a space big enough for a band, a garden recording studio is the ideal bespoke solution.
Warwick Buildings have decades of experience constructing garden rooms, offering a bespoke design process through our website. You'll be able to pick the design, dimensions, cladding, and laminate flooring, receiving an immediate quote through our website.
For music studios we offer acoustic insulation options, alongside triple glazing in windows and doors. We build each sustainable building to an exacting level of quality, with our team delivering and installing in your garden. Find out more about our range of garden home music studios today.