Our Garden Room Cladding Options Explained
The cladding you choose for your garden room will affect more than just its look. Cladding material impacts the level of maintenance your garden room will require over the years, as well as its overall durability when facing harsh weather and other adverse outdoor conditions.
From composite to Thermowood, it can be hard to know where to start and which to choose. We want our customers to be able to balance looks with function, finding a cladding type that ticks every box. In this article, we will explore the various cladding options we offer, as well as their individual benefits and reasons to choose each.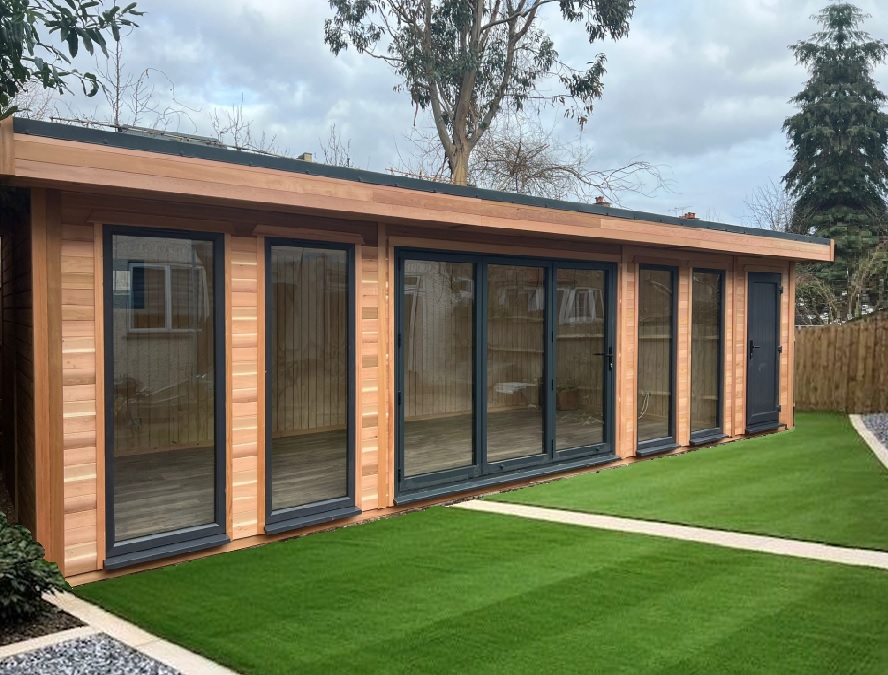 The Importance of Quality Cladding for Garden Rooms
High-quality cladding is a vital component of any garden room, with our various cladding materials bringing with them a whole host of benefits:
Aesthetic Appeal: The first thing anyone will notice is how the cladding looks. It is important that cladding of any kind is attractive, as it is the outward appearance of the building itself. Choosing cladding based on looks is entirely subjective, but certain materials and arrangements can offer superior protection and prevention, which we'll explore later in this article.
Extra Insulation:Another strong benefit of cladding is that it insulates the building against the elements, and aids heat retention inside the structure. The cladding itself is an additional layer that is fixed to the structural frame, separating the internal ply or plaster walls from the exterior.
Additional Reinforcement:As an additional protective layer, the cladding itself will bolster the outer structure and offer more structural support. This is important for a garden room, as they can experience internal and external bumps and scrapes. As well as this, the cladding will also supply an extra layer of protection against water seepage and the subsequent dampness that can ail garden rooms with insubstantial reinforcement.
Prolonged Durability:As an offshoot of reinforcement, an effectively clad garden room will last much longer than one that lacks the same protection. Most cladding is made from timber, concrete, brick or plastic composite like uPVC (Unplasticised Polyvinyl Chloride), all of which are incredibly strong and resilient, able to withstand impacts and resist symptoms of age.
What Is the Best Material for Garden Room Cladding?
Cladding for garden rooms, and all other kinds of buildings, can be made from lots of different materials. The choice depends on what the structure has been built to withstand, and its general purpose.
Some common materials include stone, brick, uPVC, timber, metal, concrete, and even glass. Each material has its own strengths, but if you are looking for a middle ground, or a culmination of the group's advantages, then timber is a solid and reliable choice.
About Timber Cladding
Timber cladding stands as one of the most popular across both large and small-scale developments. Not only does it look fantastic, but timber is naturally robust, and actually strengthens with age, making it an equally brilliant investment.
Cedar is most common, for its resilience and its unbeatable look, balancing warmth and grain texture incredibly well. Timber cladding is a brilliant insulator, as the wood itself is naturally porous, allowing it to regulate airflow while keeping essential warmth in.
Another strong benefit to timber cladding, unlike other types, is that it can be painted easily. So, if ever you find yourself in need of a change, you can save yourself the inconvenience of replacing the entire exterior and simply apply a fresh lick of paint, or even sand and refinish the wood to achieve a more vibrant or subdued tone.
Our Range of Timber Cladding Options
When it comes to our garden rooms, we specialise in timber cladding, which is the signature of our designs. We love its versatility and strength, and offer several kinds depending on the base design you choose. Some will come with a specific type of timber cladding, and the rest can be added to a garden room within our virtual builder.
Our Contemporary garden room, as an example, comes with shiplap cladding as a standard, but you can choose from three other cladding types depending on your style or preference.
Shiplap Cladding
Simple but effective. The surface has a natural look, with bright beige tones and slight green undertones giving it a stunning 'just-cut' aesthetic. The surface is also very smooth, making it the perfect surface to paint.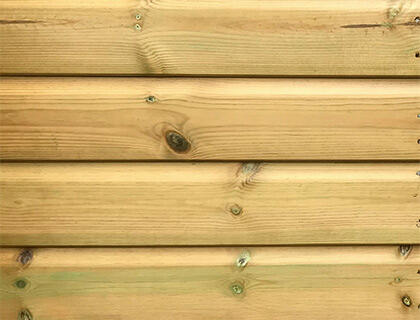 Feather Edge Cladding
Feather edge cladding is similar to shiplap thanks to its rustic visual qualities, but where that is fitted flat, this cladding is set at a slight angle, which gives the exterior of your garden room some dimension and depth. This traditional look is also good for allowing rain to slide away from the structure while limiting any potential leakage. Feather edge cladding can also be painted, as its textured surface takes paint very well.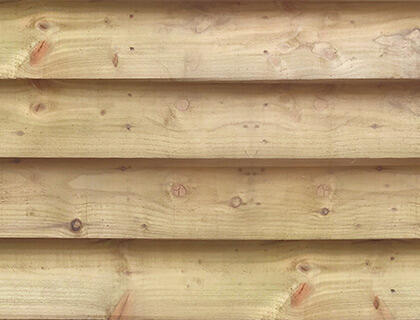 Cedar Cladding
Cedar is our pride and joy when it comes to garden room cladding. Its inherent warmth and lustre make for a stunning exterior to any garden room. Our cedar cladding is a premium choice which can be added during the design stage for an additional cost. It has all the same qualities as our other options, but with a notably more refined visual effect.
If you are eager to paint your garden room, we would recommend keeping the standard shiplap, or choosing feather edge cladding if you want to enhance the look. Cedar stands beautifully on its own, without the need for paint. It also comes with two directional variations, unlike the previous two, so you can decide whether you would prefer a classic horizontal cladding or a striking vertical installation.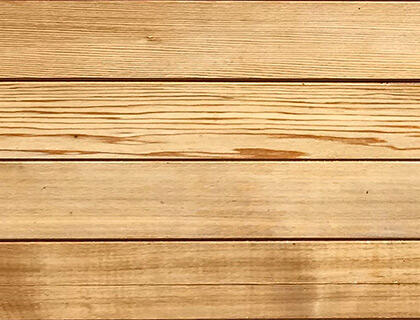 Choose a Garden Room With Custom Cladding
Our impressive range of garden rooms comes ready-clad in the finest cuts of timber, providing stability and unmatched robustness to all projects, large and small.
If you are seeking a versatile and resilient cladding option for your new garden room, or are hoping to replace existing cladding on an older build, timber is the way to go. Not only is it attractive and naturally hardwearing, but also exists as one of the most environmentally friendly cladding types that, with proper care, will last for years to come.