How much are Garden Rooms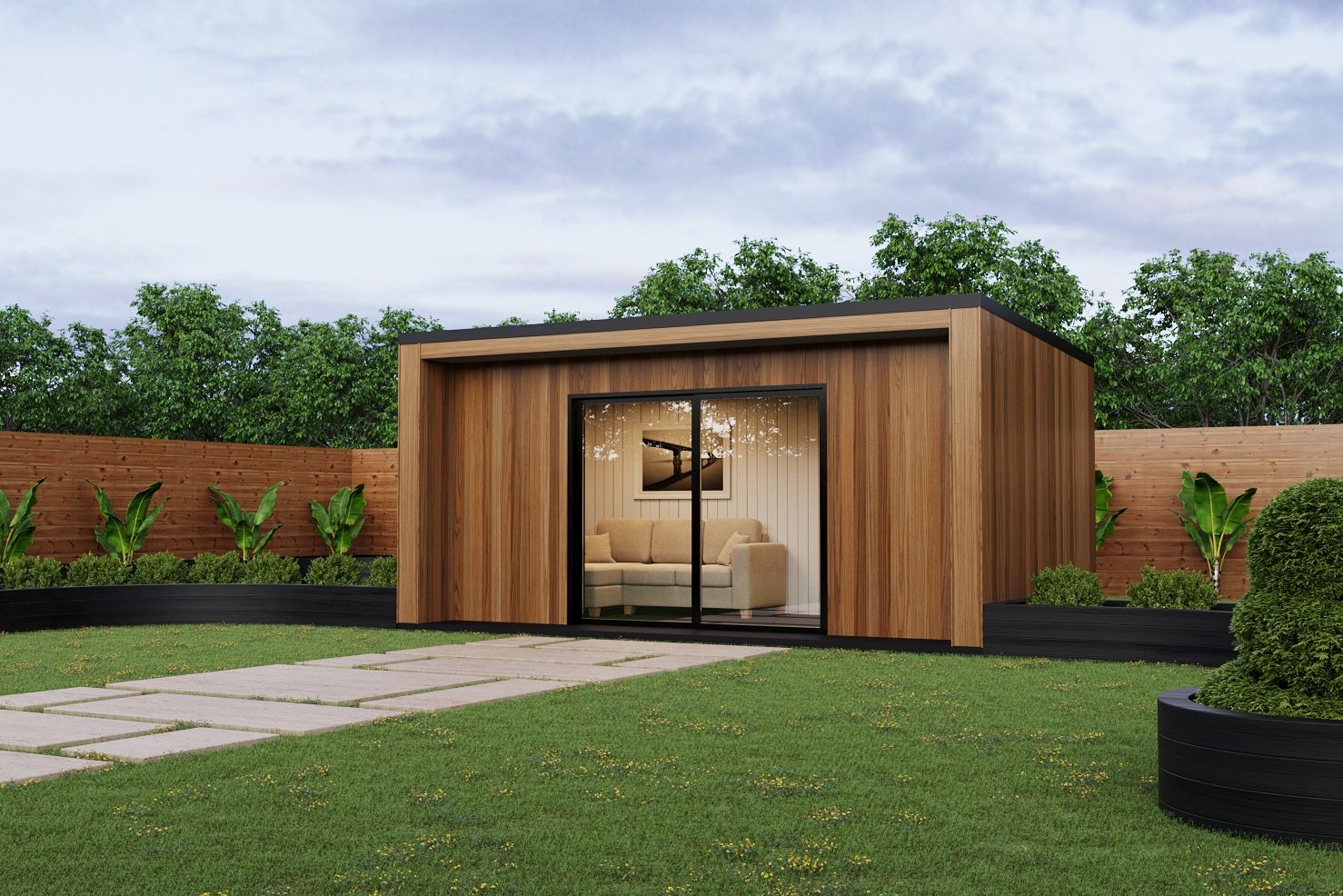 What is a Garden Room
The first thing to determine is exactly what a is a garden room. It could be anything from a garden shed with windows, right up to a holiday home or additional living accommodation. They all have one thing in common, that is they are located in the grounds of your home. The most popular garden rooms are summerhouses and log cabins, which are more often than not, used for storage. Prettier than a garden shed, however they still seem to be where the garden furniture lives during the winter. Prices can range from the high hundreds for a small shed, up to the high thousands for a modern granny annex. We'll get more into the prices a bit later, but first lets find out more about the types of garden rooms and what benefits they have.
1. The Summerhouse
Starting with the most common garden room, the Summerhouse developed from a traditional garden shed. The simple addition of windows and glazed doors changed a shed to a summer room. As the name suggests, these buildings are only suitable for summer use, as the thin cladding and single glazing makes them unsuitable for year round use. Being a wooden building however does allow these green retreats to be suitable storage rooms. In particular, they often house the garden furniture as they don't often suffer from internal condensation during the winter months. The Summerhouse however can be a fabulous garden building if it benefits from a view to die for. A cheap summerhouse will still set you back at least £4,000 if you need room for a table and chairs.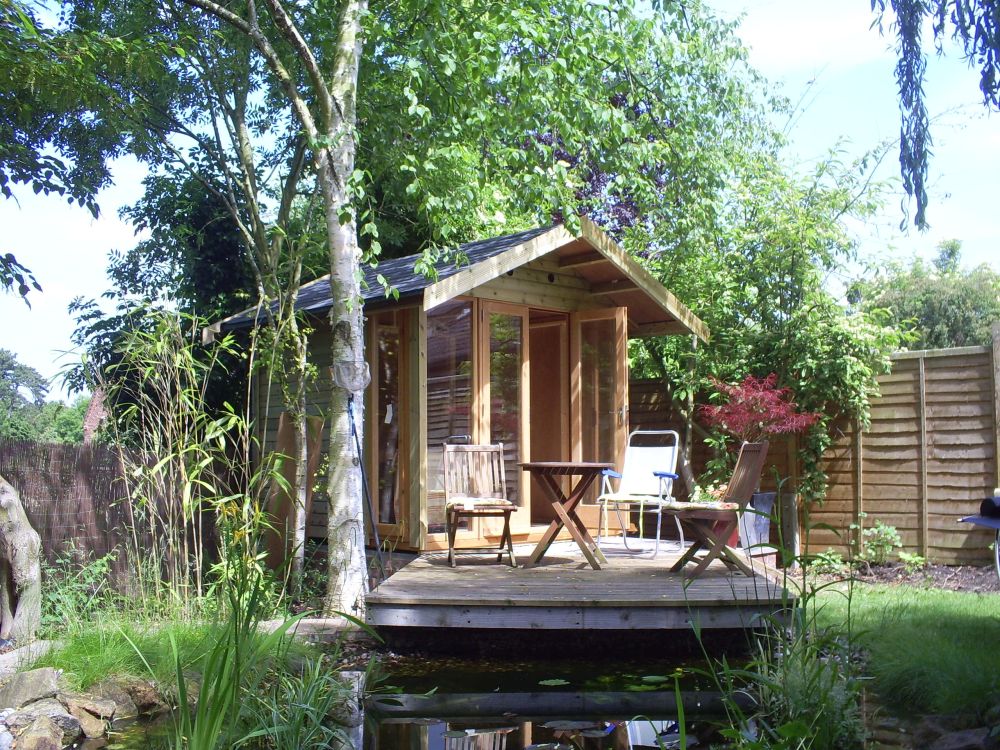 2. The Log Cabin
A log cabin is a great garden room for the DIY enthusiast, especially as the majority of the manufacturers sell on a supply only basis. The up side of the Log Cabin is the thickness of the timber, which is often between 28mm and 44mm thick. Add this together with the simple construction method and the cute look, and it's understandable why it is a popular choice for those who are good  at reading instructions. The jigsaw puzzle design will however need treating prior to assembly, as the white wood timber is prone to twisting when it's unwrapped and absorbs moisture. That might not be a problem if you can build it quickly. It may however it may give you a few headaches if it rains before you've found where all the pieces go.
Log cabins are often used for garden offices, especially if the floor and the roof have been upgraded with insulation. You will need to note that the walls are not suited for insulation, and the wiring for the electrics will remain on show, as there is no cavity to keep it neatly hidden. Another noteworthy detail, is that the windows and doors are smaller than the height of the opening. This may well give you a head scratching moment or two, until you read the reason. Being made from white wood means that the timber will expand and contract considerably, hence there is significant space for the doors and windows to move up and down as required. You might find this also happens in the corners, which leave the construction to gaps in the timber and heat loss for a heated cabin.
3. Insulated Garden Rooms
The modern era has provided the general population with much more information about how to improve, sustain and maintain. Consequently it is much more common for garden rooms to be fully insulated and feature household doors and windows. The benefits of a fully insulated garden room, ensures that whatever it's purpose, it can be utilised all year round. This is especially beneficial if it's your reading room, yoga studio, or pilates / home gym retreat. That's why, when you design and build a garden room with Warwick Buildings, you are given a choice of 50 mm PIR or 50 mm RWA45 acoustic Rockwool insulation for your roof and walls, as well as 70 mm PIR insulation for your floors.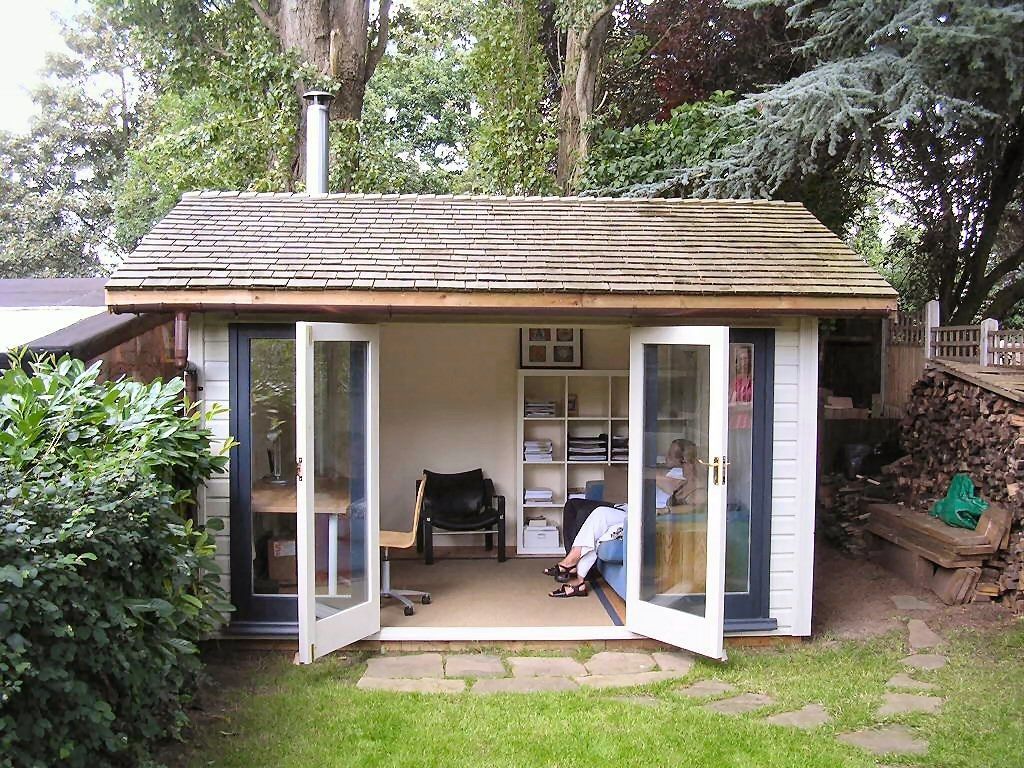 4. The Garden Studio
Garden studios are often utilised for pilates and yoga studios, garden gyms or artist studios. They benefit from a pitched roof, meaning that the vaulted ceiling gives you the extra internal height that you are needing. This is especially useful if you are lifting weights above your head, stretching your arms or using a running machine. It is also necessary for standing a painting on an easel when working stood up. To benefit fully from the height, you need to be 2m away from your boundary otherwise 2.5m is the maximum.
Again, the garden studio benefits from being insulated and double glazed, especially as the winter months can add an extra dimension to the views from inside the building. Garden studios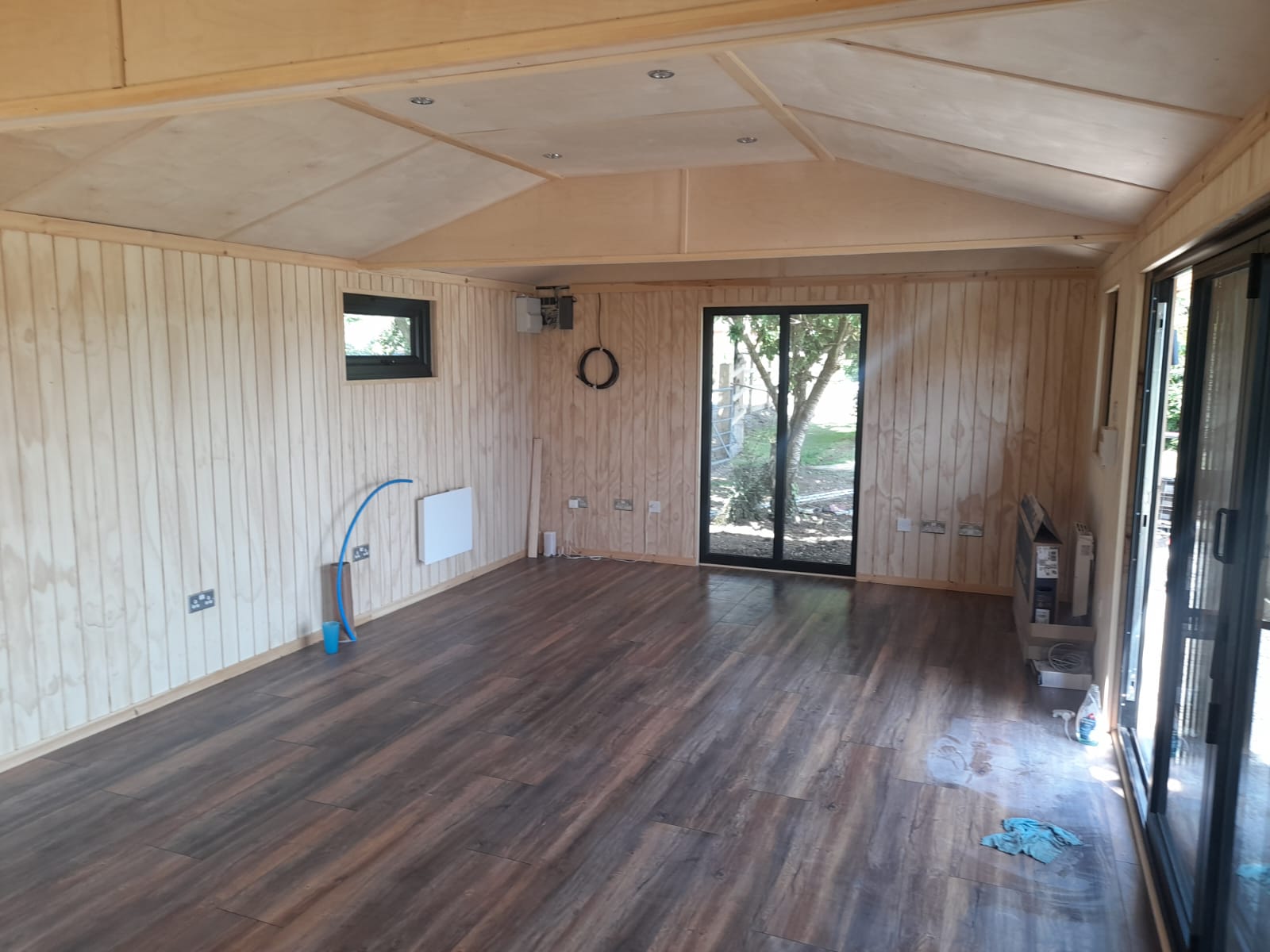 5. The Garden Office
Fast becoming the most popular use for a garden room – the garden office must be insulated, double glazed, and feature electrics. They are specifically designed to be a professional working environment, hence the modern design compliments the modern tech era. That's not to say a more traditional garden room can't be used as an office, especially if it suits your garden better. The current garden pods and home working offices however, fit nicely into estate gardens. Smooth finishes attract a more cutting edge customer, and attractive interiors provide a smart garden office to work in. Nowadays, a garden office is something that homeowners look for when purchasing a new house.
It can also return it's investment within a couple of years thanks to savings on commuting and parking costs. And if it's value for money you want, then a garden office can increase your property value dramatically. Did you know that the Warwick Buildings garden office is voted Best Value garden office by the garden office comparison site. Currently the price of a garden office is between £10,000 and £30,000 depending on size and appearance.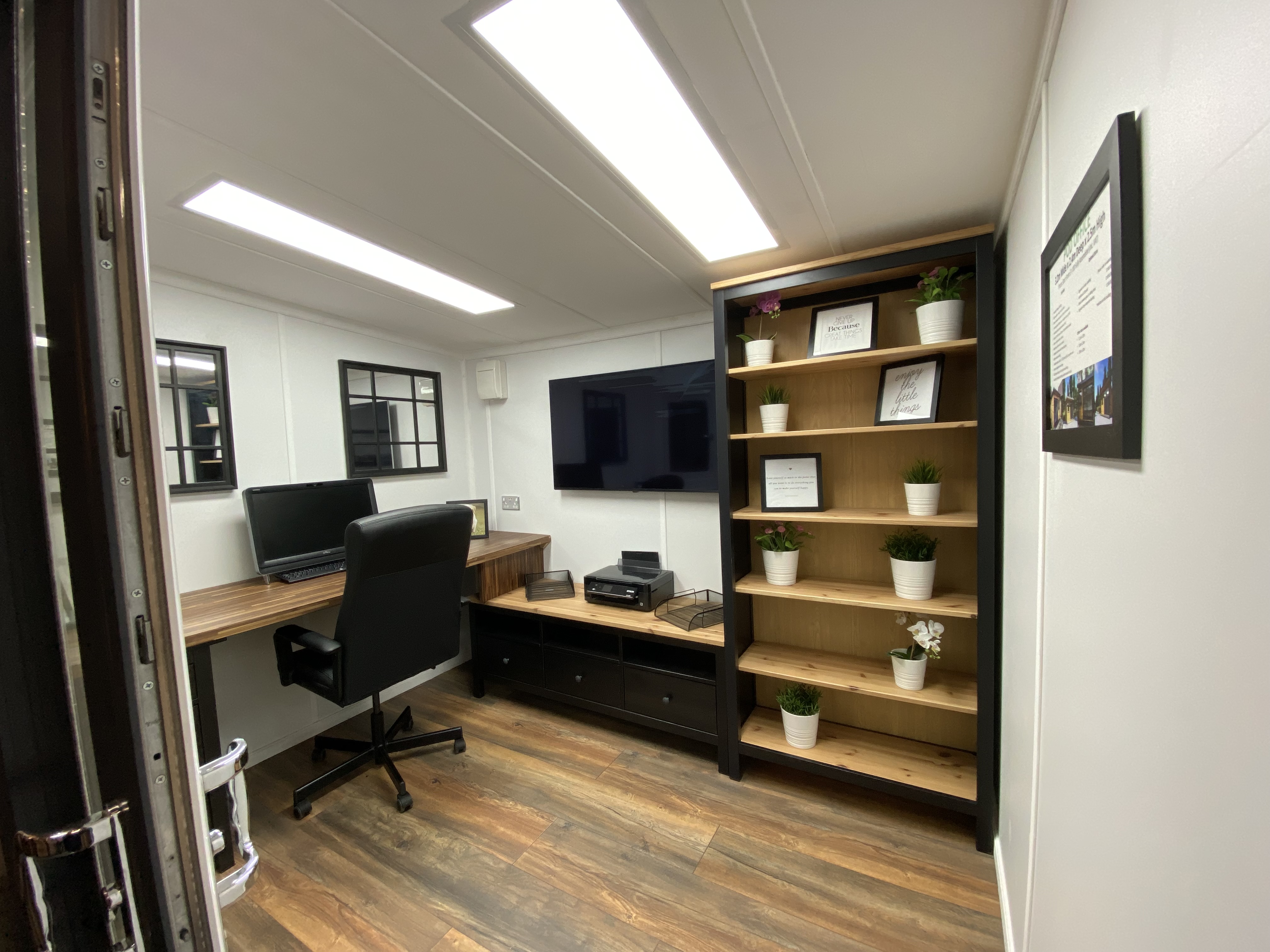 6. The Man Cave
Also known as a She-Shed, the Man Cave is often a more rustic looking garden room where you can get away from it all. It's often kitted out with a garden bar, pool table, and a dartboard, and is a great place to watch the sport, listen to music, or escape from the kids. Garden rooms in this field often start off as log cabins, heavy duty sheds or workrooms, and get adapted and decorated with memorabilia. Expect to pay £8,000 to £10,000 for a suitable garden room without the jukebox and fully stocked bar. For more details on how to create your own Man Cave click here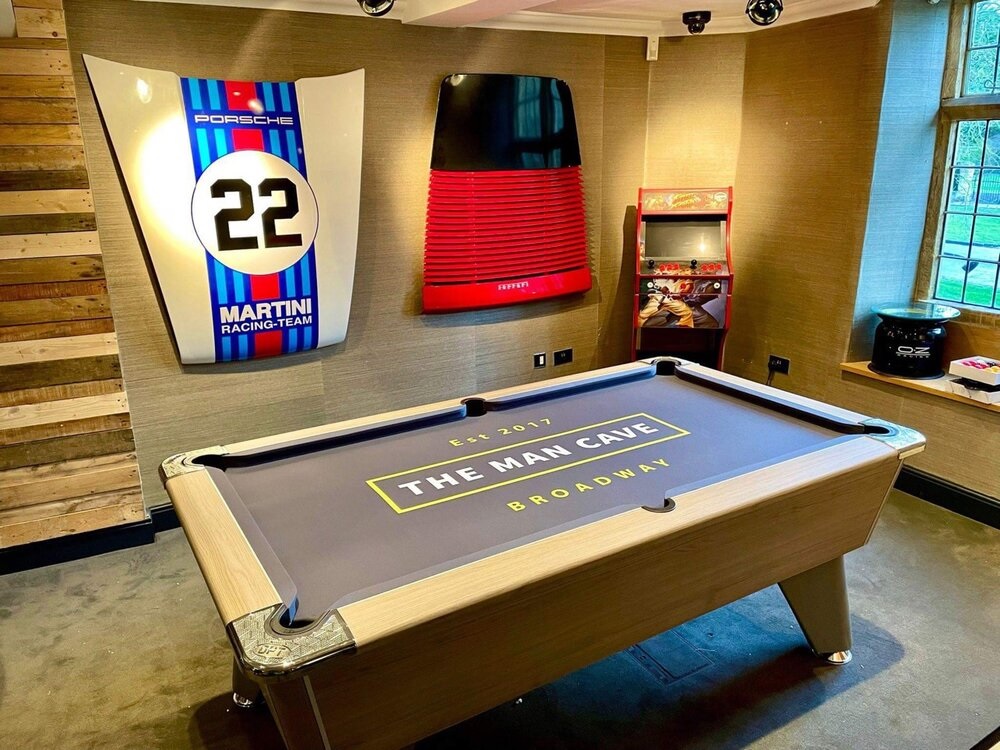 7. The Holiday Lodge
Taking a garden room a step further might lead you earning a living from it. Take this holiday lodge for example, which is basically a garden room that is set out as an Air-BnB cabin. With the advantage of a beautiful setting, the garden rooms are a perfect UK getaway. If you have the space, these garden buildings get premium rates and are full nearly all year round. That could give you a sustainable income and a quick return on investment, thus providing a very lucrative income stream. The budget for something suitable for a family holiday would be in the region of £50,000.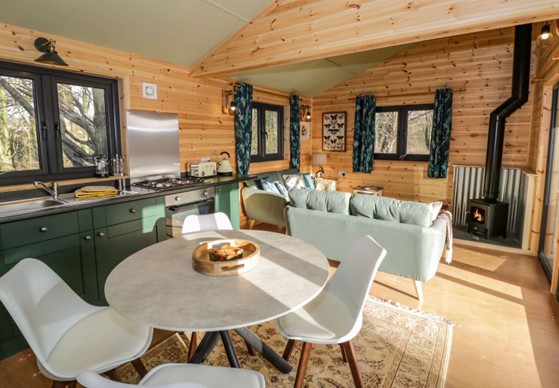 8. The Granny Annex
This is a similar garden building to the holiday lodge, in that a garden room would be upgraded for accommodation. Buildings at this level will be cheaper than an equivalent sized extension, however they will still require planning. The advantage is that you can locate them away from the main house, however they will also require building regulations. Budget upwards of £75,000 by the time you've added the kitchen, bathroom and groundwork.
Garden Rooms and Planning Permission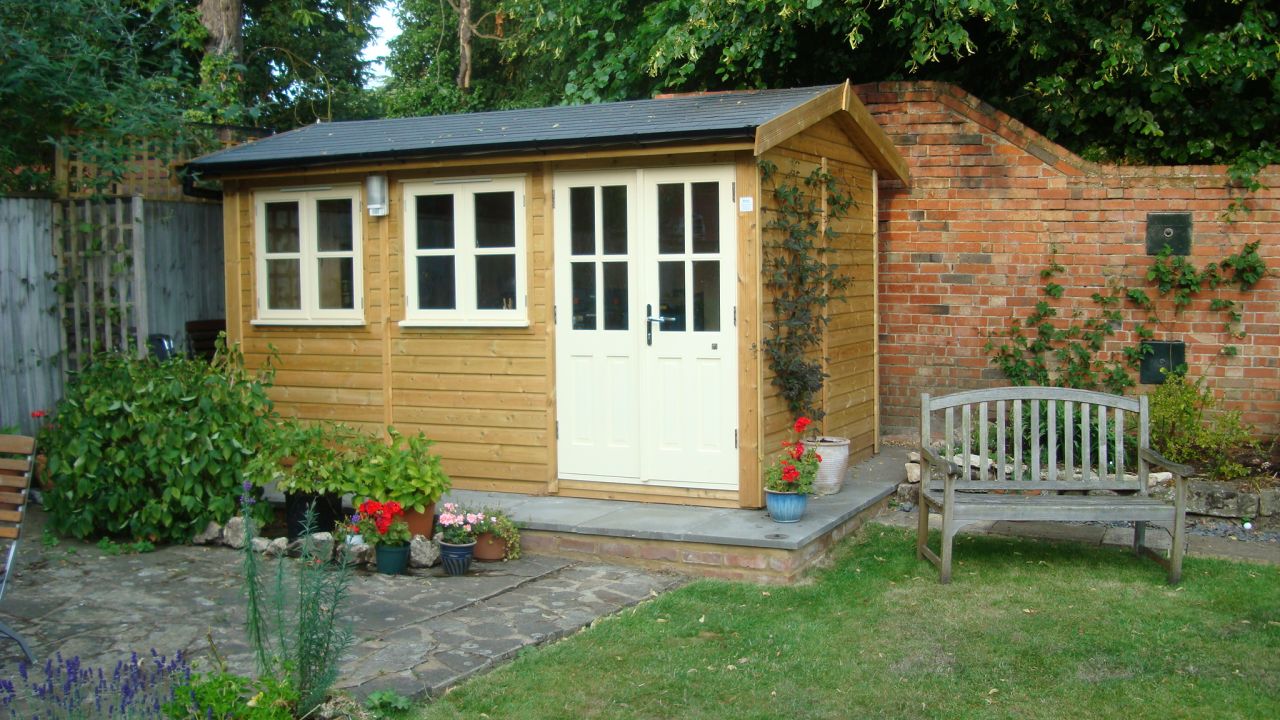 In most cases, a garden room can be added to the living space under permitted development. Providing you keep the building under 2.5m high your temporary structure can be up to the edge of your property. There are a few rules to adhere to however, one being that you can't build on more than half of the garden. You must also be behind the front line of the house, and not in an area of outstanding natural beauty.
How much are garden rooms?
At the time of writing this article, a majority of the garden rooms that we install cost an average of £15,000. When adding in the groundwork, decoration and furniture, the total project cost would be close to £20,000.