Stylish and Practical Summerhouse Ideas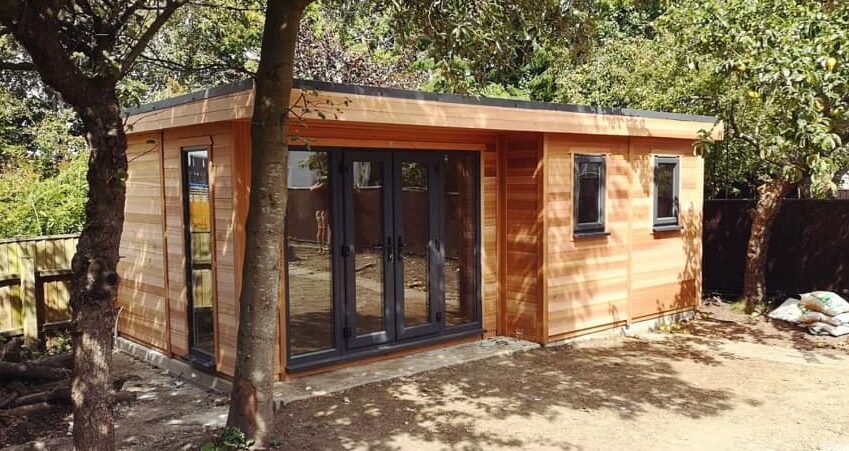 A new summerhouse can breathe life into your garden, creating a bright and attractive space to relax, entertain, or even work. Designed to capture as much of the sun's light as possible, Warwick Buildings' range of bespoke summerhouse designs can be customised to meet the needs of any customer. In this guide to summerhouse ideas, we'll share some of the best uses for a summerhouse, and look at some great ways you can decorate your own.
What to Use Your Summerhouse for
While in essence, a summerhouse is simply a garden room designed to maximise natural light, what you actually use your summerhouse for can vary wildly. Here are 4 of our favourite summerhouse ideas, covering everything from private relaxation, to group entertaining, to working.
Using a Small Summerhouse as a Reading Room
A small summerhouse can be installed within your garden, with enough space for one or two people to relax. This can make the perfect reading nook, letting you luxuriate within your garden through the summer. Installed with a comfy armchair, a bookshelf for storage, a coffee table, and maybe even a mini fridge for wine or chocolate, you can build the ideal private space for reading. What you read, whether it's a fantasy epic or the latest in romance, is up to you.
Using a Large Summerhouse as a Dining Room
Within larger gardens, your summerhouse can be more of a focal point, large enough to contain a table and chairs. This can split the difference between indoor and outdoor dining, allowing you to entertain within your garden throughout our famously unpredictable summers. The natural light of your summerhouse will make it the perfect spot for a late lunch, or for a drink with friends in the waning light of the evening. A summerhouse can also make a great living room, with space for sofas and a larger coffee table.
A Beautiful Modern Garden Office
Depending on your needs, your summerhouse could double as a home office, creating a bright, comfortable space to work within your garden. With increasing numbers of the British public opting to work from home either full or part-time, a positive space in which you can focus on your work brings a huge range of benefits.
With the essentials of the modern office becoming ever more compact, you'll often need little more than a desk, a chair, and a laptop to offer everything you need in a workspace, though storage options are of course available. This means that summerhouses both big and small can make suitable home offices. The customisable nature of a summerhouse means that you can use it as both a workspace and a relaxation space, reconfiguring its contents to meet your needs.
Using a Summerhouse as a Garden Studio or Writing Room
When looking for a creative space, either for your job or for a hobby, it's important to have privacy. Virginia Woolf famously spoke of the need for "a room of one's own" when writing fiction, and to this day musicians, writers, painters and other artists have sought their own space in which to work. A summerhouse can provide that space, with beautiful garden views and the warmth of the summer sun creating the perfect environment for creativity.
The Best Summerhouse Decoration Ideas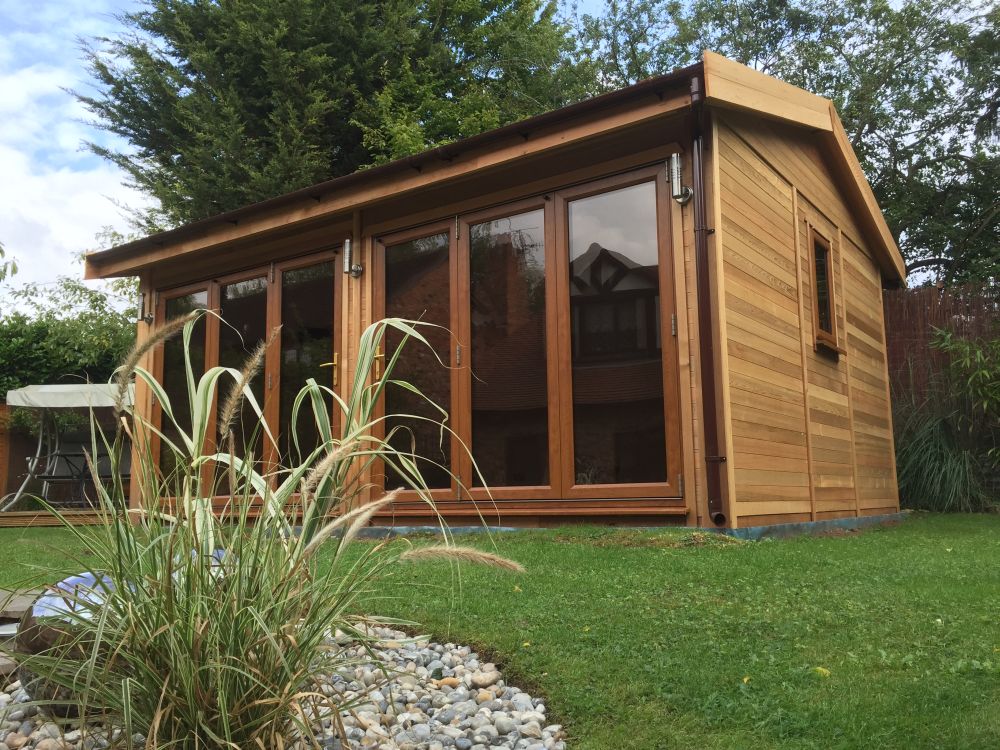 A summerhouse can be decorated in a multitude of ways, helping you to optimise it for relaxation, entertaining, or work, and also to showcase your own personality. These interior ideas can create a space uniquely tailored to you.
Incorporate Simple Furniture
As it's protected from the elements, you'll be able to use either indoor or garden furniture within your summerhouse. The benefits of using garden furniture will be your ability to move them outside when needed, and that many options can be folded away, allowing you to transition a summerhouse between a relaxation space and a dining area. Indoor furniture will increase your range of options, allowing for furniture choices like comfy armchairs in a reading room, or a beautiful wooden dining table with matching chairs for seating.
When looking to work within a summerhouse, it's vital to prioritise proper back support. Using smaller wooden chairs for seating can contribute to a litany of back issues over many hours, and a modern ergonomic office chair is vital to a healthy work environment. Within a reading room or office, a sturdy bookshelf is another fantastic interior idea, bringing a comfy vibe to your outdoor space and allowing the storage of your full library. Shelving can also be a great way to make the most of a smaller summerhouse, perhaps decorated with plants, pictures, or books.
Be Bold With Unique Decor
You'll have the option to stick with an unpainted wooden interior within your summerhouse, or to decorate it with paint. While the original wood or a traditional wood stain coating can make for a great rustic look, perfect for a dining area, warm paint colours, like a blue pastel, can create a kitschy contemporary space for an artist's workshop or studio.
The exterior of a summerhouse can also be painted, though you'll need to use a paint designed for exterior wood. The flooring options of your summerhouse can also bring unique looks, with options like laminate or carpeting contributing to the feel of your garden room. Laminate can be used to create a wood style summerhouse floor, while also being easy to clean.
Decorating your summerhouse is all about expressing yourself. You can line the walls with framed prints of your favourite paintings, or put up some of your favourite books on a wooden bookshelf. Plants can bring life into your summerhouse, with the option to hang plants by the windows, or to place succulents along your shelving.
Sleek and Subtle Lighting Ideas
The lighting choices for your summerhouse will again be dependent on your needs and aesthetic tastes. When looking to use your summerhouse as a reading room or home office, having plenty of light in the evenings is a must, while for entertainment or relaxation purposes a lower level will be fine. You can use hanging lights to illuminate crucial spaces, or fairy lights for a more contemporary look. You can also use external lighting to better allow your summerhouse to be used into the evening,s especially useful if your garden building has exterior decking, either as a porch or as an attached decked area.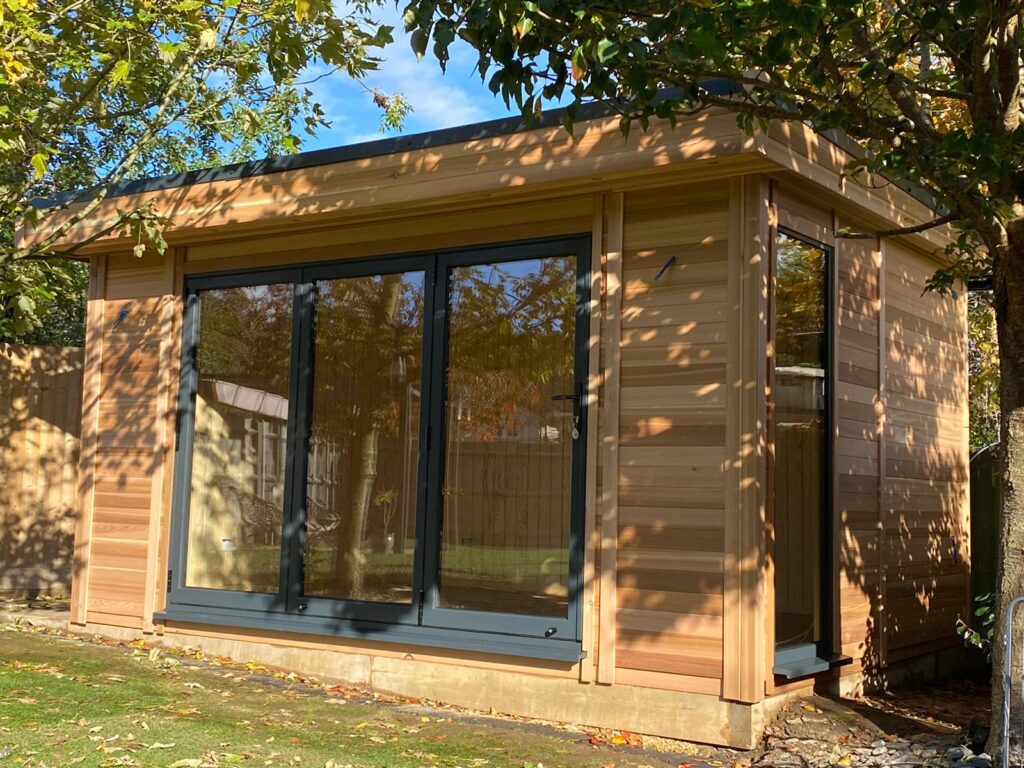 Our Range of Bespoke Summerhouses
Warwick Buildings produces bespoke garden rooms, perfect for a summerhouse. Our design process allows for huge amounts of customisation, with the style, dimensions, window placement and more decided by you. This means that regardless of your needs in a summerhouse, be that a reading room, a dining space, or a modern home office, we can build it for you. Through our website our configurator tool will allow you to fully customise your design, giving you an instant quote that includes, building, delivery, and installation.
Find out more about our bespoke summerhouses today.