Bespoke Summerhouses
A summerhouse can be the perfect addition to a garden, creating a warm and peaceful space to relax in the sun's rays, or to entertain friends and family. When looking to install a summerhouse in your garden, opting for a bespoke design will allow you to create a space tailored around both the dimensions of your outdoor spaces, and the direction of the sun.
Design Your Summerhouse
Warwick Buildings produces and installs custom timber summerhouses, with a range of fully fitted garden room designs that be tailored for size, window placement, wood carcassing and more.
We have decades of experience creating beautiful outdoor spaces, with our bespoke summerhouses perfect for everything from relaxing with a book to sharing a drink with friends. Through our website you'll be able to fully customise the design of your summerhouse, receiving an instant quote for production, delivery, and installation.
Summerhouses
Prices Start From £10,000
Online Building Designer
Instant No-Obligation Quote
Your Choice of UPVC Windows and Doors
Choice of Cladding
Choice of Laminate Floor Covering
Full Insulation as Standard
Wired For Lighting and Mains Sockets
Assembled For You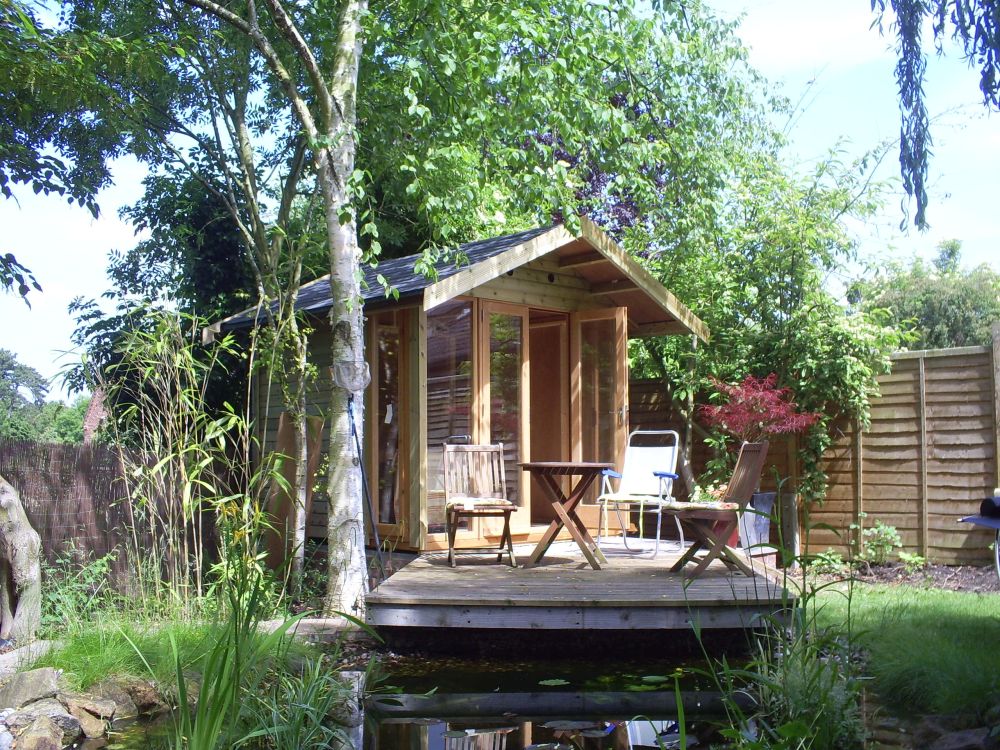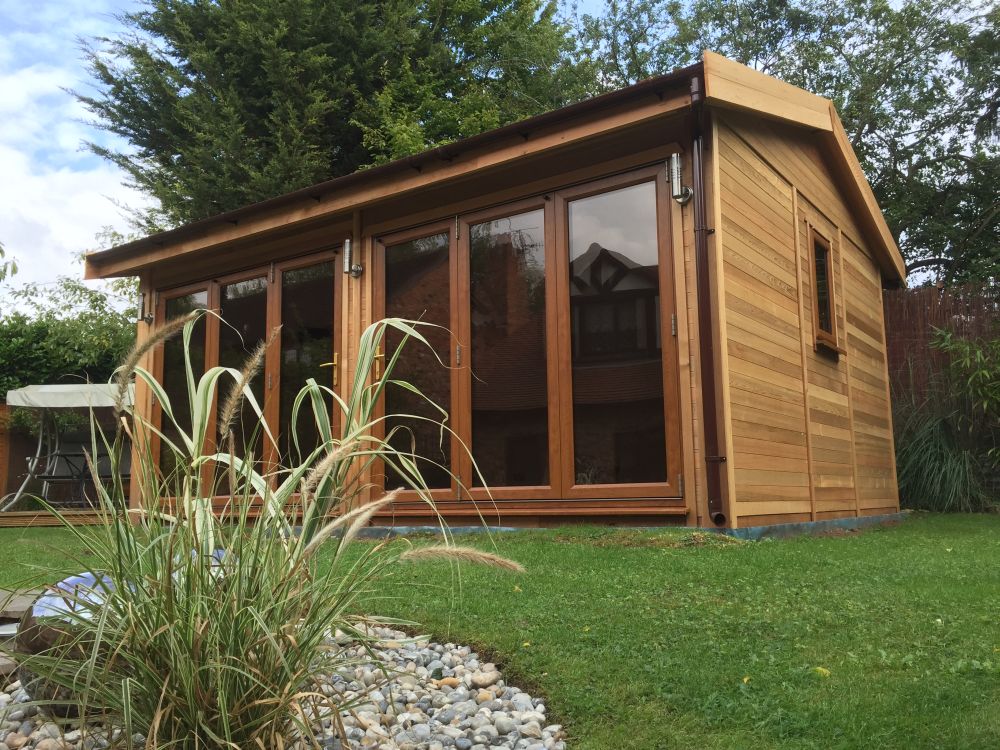 Design Your Perfect Timber Summerhouse
Our 3D configurator will allow you to design your new summerhouse, with a custom model that can be explored both externally and internally. Once you've picked your ideal design, you'll get an instant quote for construction and installation, including VAT.
Design Your New Summerhouse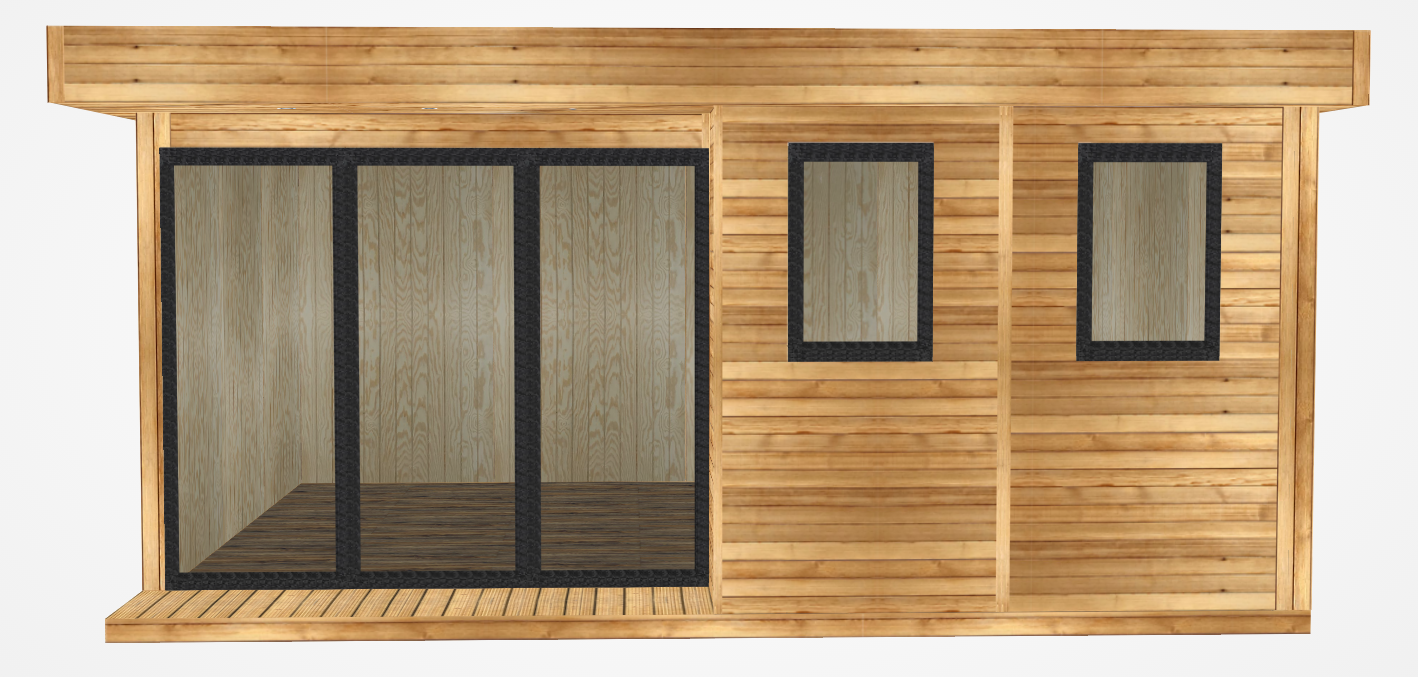 Our Range of Bespoke Garden Summerhouses For Sale
When building your summerhouse you'll be able to choose from a range of luxury designs, with options like Traditional, Contemporary, or Curved defining the exterior look. Within each of these, you'll be able to choose the size of your garden room, the placement of windows and doors, and the various cladding options.
Depending on the location of your summerhouse, you'll therefore be able to place windows designed to capture as much of the summer sun as possible. Whether you are looking for a small summerhouse within a city garden, or a larger summerhouse with bi-fold doors to double as a relaxation and entertainment space, our comprehensive design process will allow you to choose options suited to your practical and aesthetic needs.
The look of your summerhouse is a crucial element, and our bespoke design process allows you to tailor your design into a wooden countryside retreat, a sleek modern space, or an eccentric artists' hideaway. There are a considerable number of both classical and contemporary summerhouse ideas, allowing you to further utilise your exterior spaces with decorations, garden furniture, and decor.
The Many Uses of a Summerhouse
A timber summerhouse will create a stunning additional living space in your home, perfect for relaxation, socialising, and even working. A small summerhouse, such as our Pod design with its beautiful sliding doors, could function as a reading nook, perfect for those long summer days.
With an armchair, a coffee table, and even a kettle or wine fridge, your small summerhouse could be the perfect place to while away the hours reading or to tackle the greats of literature. If space is a factor, you can choose a design that functions as a corner summerhouse, maximising the use of space.
A larger summerhouse could be installed with a table and chairs, the perfect dining room throughout the summer. A protected outdoor dining area, such as a Studio design with its french double doors and apex roof, or the Modern with its bi-fold doors, can be designed to seat a larger group while offering views across your garden. And if looking for a bright workspace within your garden, a summerhouse can be easily converted into a home office when needed, creating a beautiful working environment within your garden.
Not Just For Summer
Another benefit of our range of wooden garden buildings is that they come insulated as standard, ensuring they can be used throughout the summer and winter. Insulation helps to keep heat inside your room during the winter and to keep it cool during the summer. We also offer double or triple glazing on our UPVC doors and windows, further reducing heat loss during the colder months.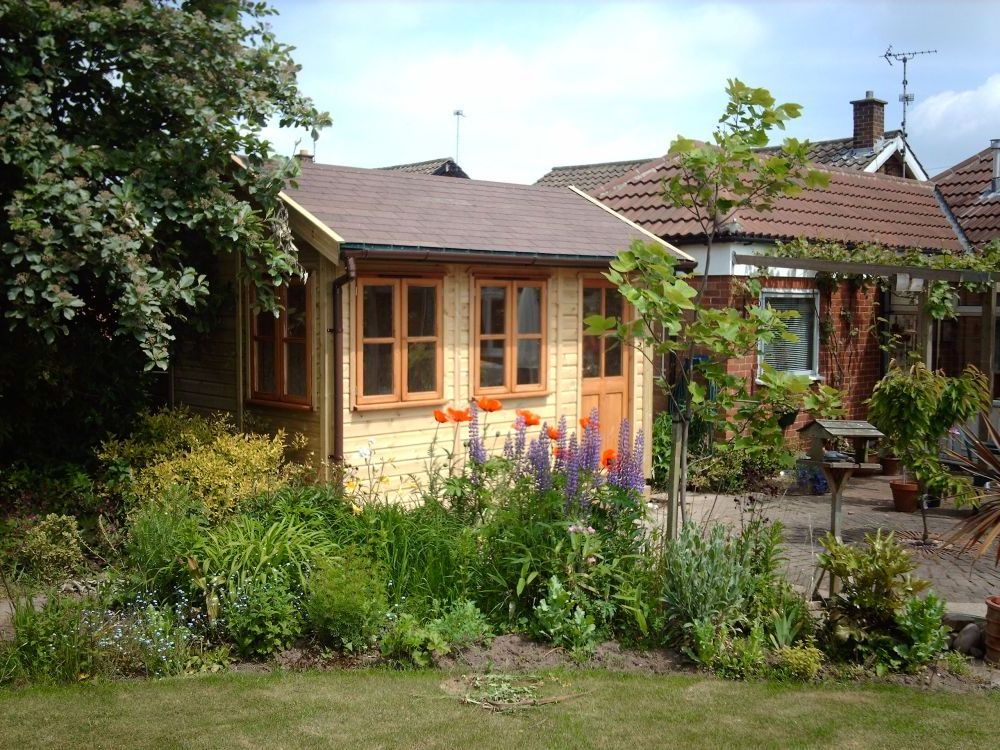 Build Your Ideal Summerhouse
Warwick Buildings have been producing quality summerhouses for over 30 years, bringing a consistent level of quality and style to each project. Whatever your needs in a summerhouse, it can be accommodated into our design process, with dimensions, window placement, and much more decided by you. We use high-grade components throughout, with sustainably Scandinavian, locally sourced UPVC windows and doors, and high powered insulation boards.
Our website allows you to design summerhouses in a range of shapes and sizes, receiving an immediate quote through our interactive configurator. Whether looking to relax alone, or to socialise within your outdoor spaces, a new summerhouse can revitalise your garden. Explore our range today, and soon you can be relaxing within your luxurious new summerhouse.
Design Your New Summerhouse