Benefits of a Home Gym in Your Garden Studio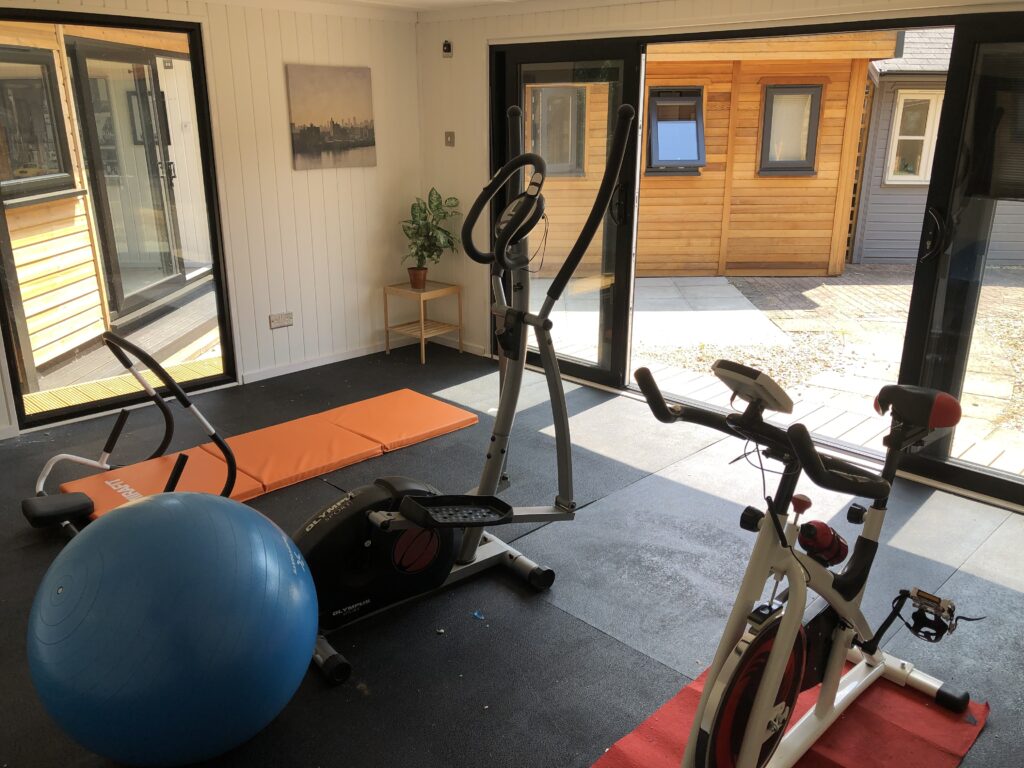 We all know regular exercise routines are important for our wellbeing, but what happens when our hectic daily schedules get in the way? With our busy working days and ever-growing to-do lists, working out can often get pushed aside. On the other hand, perhaps you have the time, but you want to avoid overcrowded gyms. Believe it or not, joining your local gym isn't the only way, there's another option – why not transform a garden room into your own ideal workout space?
As one of the most popular uses of garden studios, there are many reasons to consider investing in your very own home gym.
1. No monthly membership costs
With gym memberships, you will often spend hundreds (or thousands!) every year, along with the worrying length of their terms and conditions. And, although a home gym is a significant investment, the money you will save on a gym membership will quickly make you realise how cost-effective it is in comparison. You will add great value to your home with a home garden gym whilst also having a beautiful place to work out in.
2. More privacy
It can be daunting to work out in front of others for a number of reasons, including not knowing how to use certain exercise equipment, not feeling as fit as others in the gym, and genuinely just not feeling great about yourself. The anxious feelings that come along with these can make you avoid working out altogether.
With your own garden gym, you can exercise in total privacy, enabling you to concentrate on your fitness goals without the pressures that naturally come with working out with others.
3. Less crowding
Working out in a crowded gym can be unpleasant, especially during those dreaded peak times. Who wants to wait around for exercise equipment when you only have limited time anyways?
Investing in a garden gym means you won't have to deal with any of those issues. You can be in and out as quickly as you like with the added benefit of being able to fill your garden gym with your favourite exercise equipment without worrying about other people crowding over it! Well, except for other family members, but that can easily be rectified with a schedule.
4. No commute
The time and money spent commuting to the gym can often hinder the enjoyment of having an exercise regime. With the added bonus of not needing to work in the commute plus the workout time into your daily schedule, having a garden gym on your doorstep (literally) can save a lot of hassle with planning.
5. No more excuses
That's right, for better or for worse, you'll need to realise that most of your regular excuses go out of the window when you invest in a garden gym. The convenience and flexibility that comes with a garden gym will mean you can integrate your fitness regime easily into your life. Maybe a 10-minute run on the treadmill before getting ready for work, a lunchtime weightlifting workout to let go of the stresses of the day thus far, or a relaxing yoga session to cool down to get ready for bed. Whatever you choose, your garden gym will accommodate.
Great for both body and mind, whilst also beneficial for the examples given above, a garden gym can truly revitalise your relationship with keeping fit, all in the comfort of your own home.
Our garden gyms can vary in size to suit various different property types and layouts, as well as being insulated garden buildings for all year round use. As your cost-effective option to bring regular exercise into your home, get in touch with our friendly team to discuss your garden gym today!