Decor Ideas Made for Your Garden Room
Is your existing garden room in need of a new lease of life? Or are you seeking inspiration for a new garden room? We have put together a master list of decor ideas for your garden room, old and new.
If you're looking to take the leap into the world of garden rooms, our decor ideas will demonstrate just how many ways our bespoke garden rooms can be used, and how they can truly transform an outdoor space.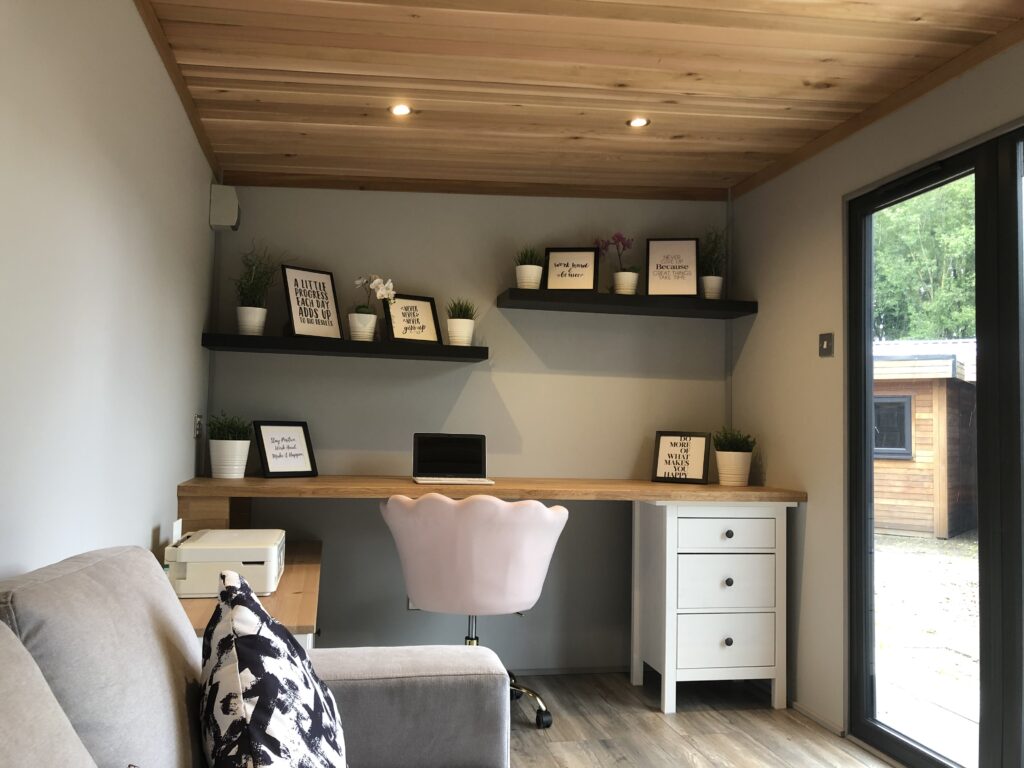 20 Garden Room Decor Ideas
1. Apply Your Own Personal Twist
When it comes to decorating your garden room interior, the space is your canvas. You can push the boat out or keep it close to home, matching the aesthetics you already have indoors.
The most important thing to remember when decorating is that the space is yours. No matter which avenue you choose to pursue, your garden room can be made to suit and elevate your lifestyle, as well as your garden.
2. Have Some Fun With a Vibrant Games Room
With a simple table and as many chairs as you have guests, you can create a magnetic space for hosting games nights and enjoying quality time with loved ones. Our garden rooms come fully wired with electrics, meaning you have the option to play it old school with board games and cards, or install a gaming console or PC for some screen-based fun.
3. Kick Back and Make Some Music
With the tight insulation we provide, the acoustics in our garden rooms are perfect for creating a music studio just outside your back door. Our builds are also extremely secure, with double-glazed windows and doors with high-grade locking systems, making them the perfect place to store your music equipment and instruments.
4. Find Zen in Your Own Garden Yoga Retreat
With some foam mats, an essential oil diffuser, and a speaker system, you can create a yoga studio at home. Take some moments alone, or host a retreat for you and your friends. Our garden yoga studios can go all out and even double as a home spa.
Perhaps you are a yoga teacher who is interested in basing their business from home? A garden room could be the perfect way to do just that.
5. Turn to the Next Chapter
Garden rooms make lovely additional living spaces. A place to relax and enjoy some quiet time away from the hustle and bustle of the house, and the ideal spot for starting a new book. Our garden rooms make brilliant reading rooms for literary lovers.
All you need are plenty of bookshelves and a comfy chair to lie back on – the rest can be found between the pages.
6. Encourage Learning Something New
With the right desk space and a comfortable chair, you can create a distraction-free area for seeing to your studies. For students and academics, having a dedicated study room can improve concentration and workflow, allowing you to store your study equipment and notes in one place, and cut away the temptation to procrastinate at home.
7. Less Could Be More
Are you someone who adores minimalist design innovations inspired by Scandinavian and Japanese aesthetics?
Your garden room can simply be a stylish and attractive space to spend time and entertain guests. Opt for light wooden tones and white paint, as well as soft-toned furnishings and unobtrusive finishing touches.
8. And … Action!
Did you know you could create your own private cinema in your garden? With our garden room designs, you can. All you need is a large TV or projector, comfortable seating, and a cabinet full of your favourite films.
With so many studios opting for streaming services in addition to or instead of cinematic debuts, more and more people are watching the latest releases at home. So, why not recreate the magic of going to the cinema, but at home?
9. Have Another Round on Us
A garden bar is a great feature for anyone who likes to host, surrounded by their friends and family. Having a bar in your garden can be a fantastic place to spend time in the summer, with the doors wide open, or even in the winter, keeping cockles warm with a dram on the rocks.
All you need is a bar unit and a well-stocked shelf of drinks (whether alcoholic or free from). For those wanting to lean towards a trendy bar aesthetic, you could opt for velvet soft furnishing and candlelight; and for those wanting to conjure a proper pub feeling, choose dark wood pieces and warm lighting.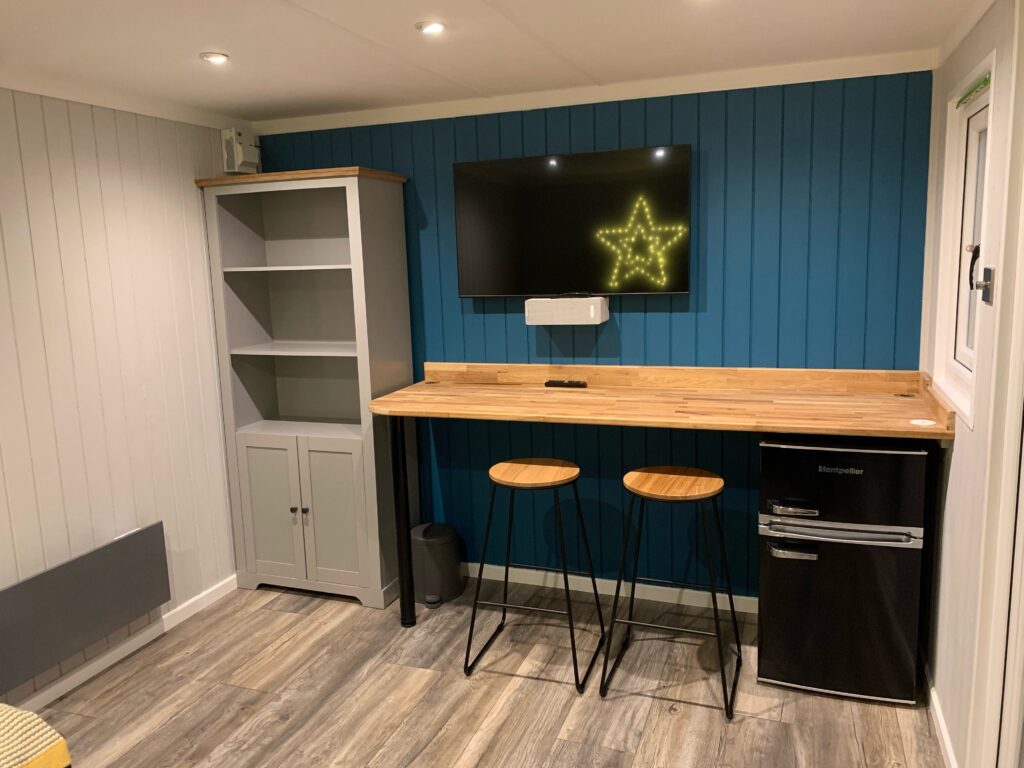 10. A Place for Green Thumbs
Our garden rooms can be customised with as many windows as you like, making them an effective hub for all things green. Like a stand-alone conservatory, offering panoramic views of your garden, you could use your new garden room as a greenhouse or potting shed.
This is a good option for those with paved-over gardens, who would still like to try growing their own food or caring for outdoor plants.
11. Welcome in the Summer Months
With a set of beautiful French doors and some wicker seating, you can transform your garden room into a quaint summer house. Our garden rooms make wonderful leisure spaces, allowing you to enjoy your time outside whilst catching some shade.
12. The 5-Star Experience
Did you know your garden room could act as an occasional guest room? As long as the space is not fitted with any plumbing, and cannot be used as a self-contained living space, you can use the room for last-minute guests and even a place for Airbnb visitors.
A sofa bed is a great way to combine a leisure space with somewhere to rest your head. Our garden rooms have plenty of space, allowing you to include side tables and some additional furniture to liven up the room.
13. A Picture Says a Thousand Words
Plenty of freelance photographers base their businesses at home, and your garden room could become your place of work in no time as a fully-equipped photography studio.
With sturdy, timber-clad walls, you can set up a backdrop easily, and there will be plenty of room to create an adequate seating area for clients while they wait, or as a place to house pre-shoot meetings. Alongside our reliable locks for added security, you can safely store your camera equipment and even your editorial suite.
14. Eliminate the Lengthy Commute
In the last few years, more and more people are starting to work from home. Those without office spaces in their homes will often be confined to the living room coffee table, or somewhere equally uncomfortable.
With the right ergonomic furniture, and as little or as much personal flare as you like, you can turn your garden room into a handy home office. Even smaller gardens can benefit from an office pod, decked out with all the essential equipment you need to see to your tasks efficiently.
15. Start With a Blank Canvas
With plenty of light and good airflow, a garden room is an ideal spot for creative hobbies. With a selection of art supplies and an easel or two, you can harness your creativity in your very own art studio or craft room. Paint the walls, make it messy, and do whatever your intuition tells you. The room is yours to do with whatever you will.
16. Something for the Little Ones
Our traditional garden rooms are almost like life-sized Wendy houses, and with plenty of their favourite toys, the space can be transformed into an exciting playroom for the kids. This is not only fun and engaging for them, but also provides you with some quality time alone, even on rainy days.
17. The Finishing Touch to Every Poolside
Garden rooms that are positioned close to a pool can be used as a pool house. This additional living space can be a place to catch some shade or dry off after a swim with a drink. Install a decent amount of storage for any extra towels or pool equipment, and your new poolside retreat will be primed and ready for use.
18. Throw in the Towel and Stay Home
Make it harder to say avoid exercising and save on expensive memberships by building your own home gym in your garden. Lay down some high-quality rubber mats to protect your floors and pull in all the essential gym equipment you need to complete your sets in the comfort of your own home, or as near to it as you can get.
19. Dress It Like an Eco-Warrior
Most of our standard contemporary garden rooms come with a flat roof. These areas are perfect for adding a touch of extra greenery to your outdoor space in the form of a living roof. These features not only create a more habitable environment for local wildlife, but also provide extra insulation to your garden room.
Most green roofs come as ready-grown rolls which will not require additional watering and simply need to be laid out on the roof itself, ideally on top of a thick tarp, to protect the structural integrity of the roof itself. Alternatively, if you only want to achieve the right look, you can opt for artificial grass instead.
20. The Hassle-Free Home Extension
If nothing else, one of our bespoke garden rooms can act as a cost-effective alternative to extending your home. With some well-placed storage solutions, your garden room can contain any overflow from your home, leaving you with more space all around.
---
Start Decorating Your Garden Room
Garden rooms are what you make of them. They are incredibly versatile and can be dressed and redressed to suit your changing needs. We hope that our decor ideas have helped to inspire you to rethink your own garden room, and test its true potential.