Garden Office vs Insulated Garden Sheds
Buying a garden office is a big decision, especially as it is a big ticket item. So we ask what is the difference between a garden office and insulated garden sheds?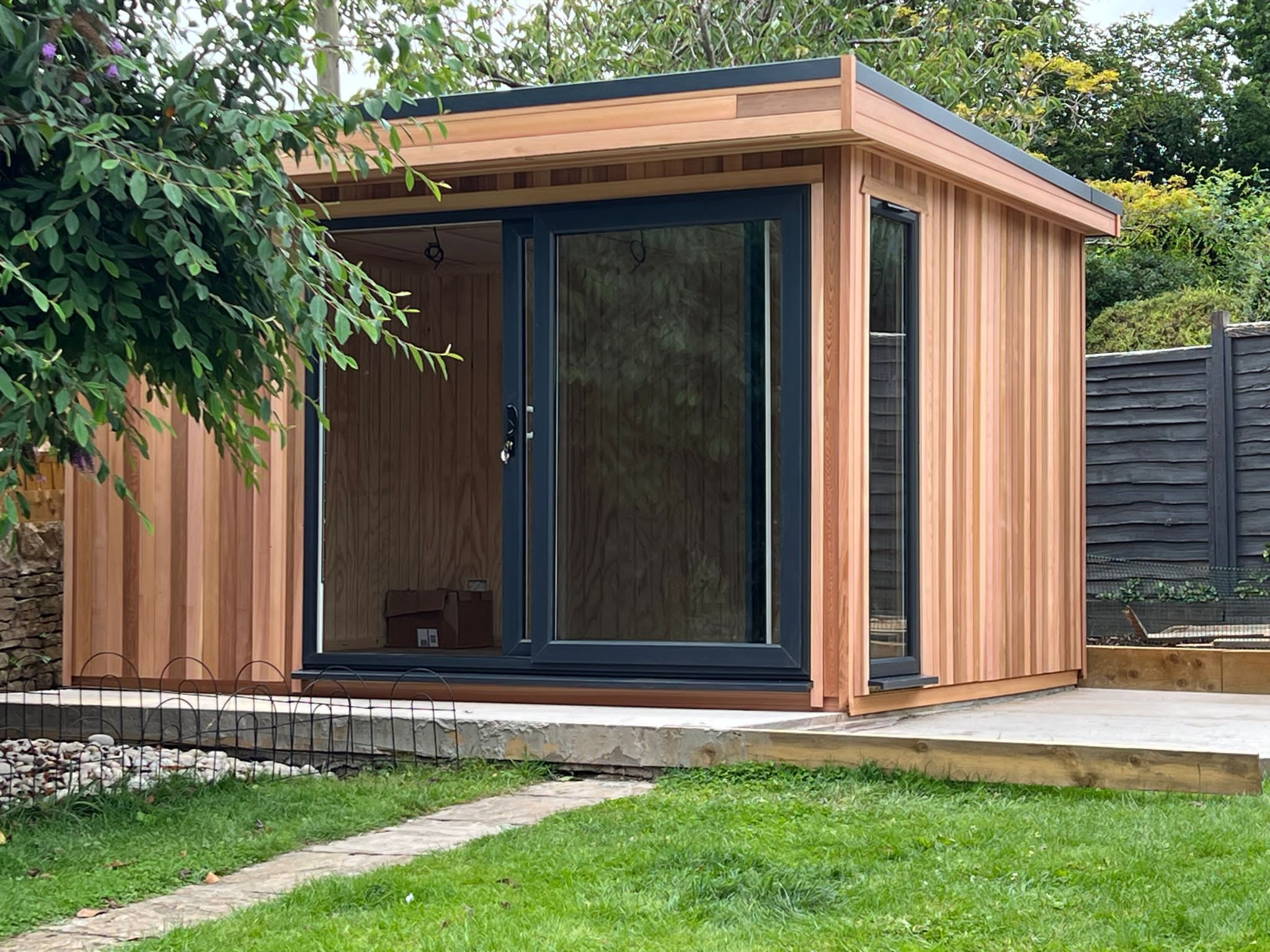 The first question is how professional are you needed your working space to be? For most people, setting the right impression is key to building a successful business, and that's where the garden office winds hands down. If that's you, then you can probably stop reading at this point, and click here to see our garden offices.
If you're a bit more sceptical, and want to see all the possibilities, then keep on reading…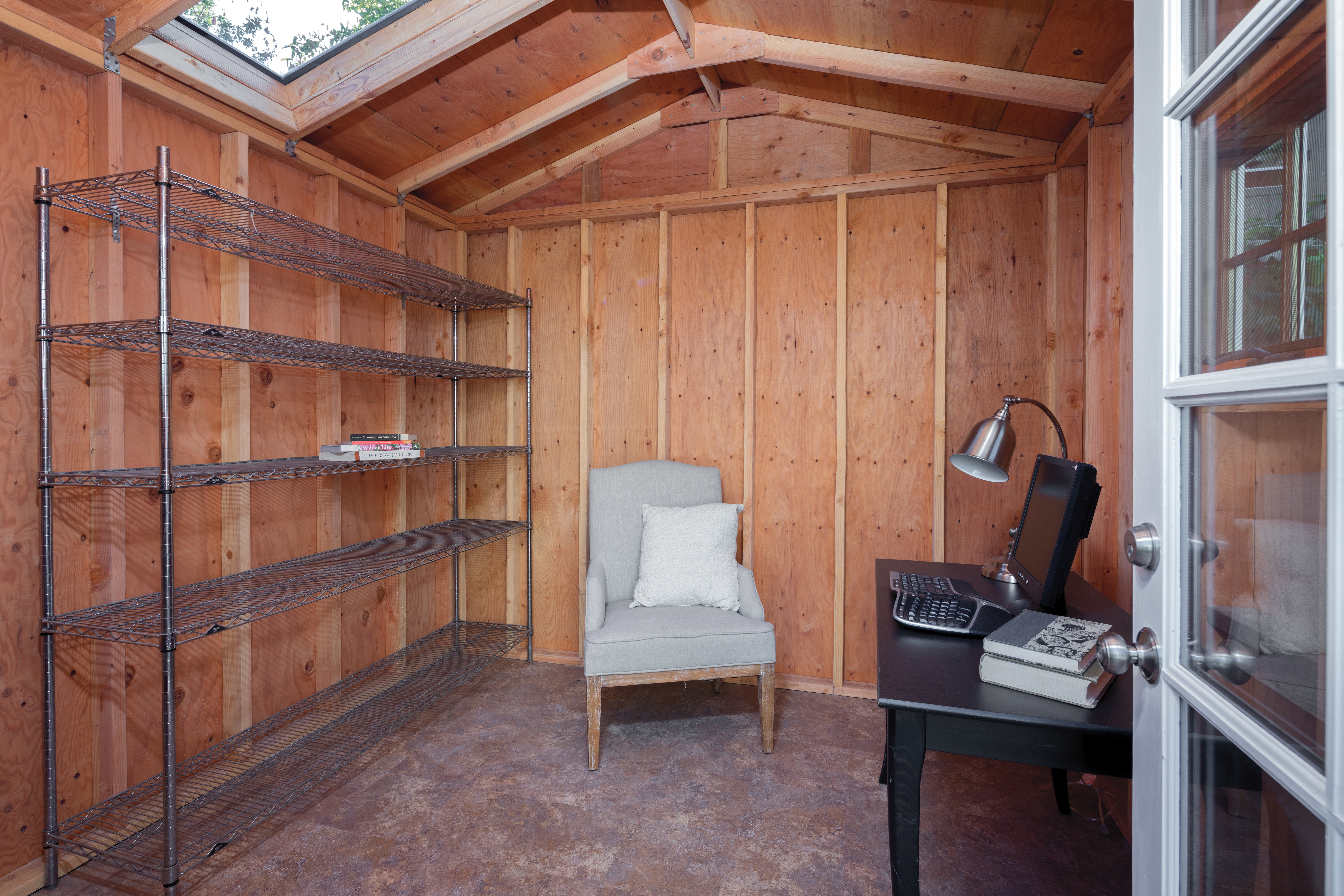 The Importance of Insulation
High-quality insulation is a vital component of any garden office, but before you even get to add anything into the walls, you need to make sure you have enough space:
Wall Framing: The first thing you need to check is the wall framing. You will need a minimum of 50mm insulation, preferably foil backed, as this will match the thermal properties that 100mm of Rockwool provides. That means you need at least 70mm of framing to create the required air gap with the insulation. The quality of framing also has a bearing on the strength of the building. Redwood framing is far superior to whitewood framing, as it is slow grown and much stronger. Whitewood is quickly grown and is less dense, so is much weaker. Hardwood is stronger still but is not necessary if you are cladding both sides. Unfortunately you will be hard pushed to find a garden shed that has anything other than 50mm framing, with thin cladding and no vapour barrier.
Other Insulation Options: Another advantage of the board insulation is the extra sound insulation that you receive. This is especially useful to keep things quiet, and is another benefit of board insulation. Compared to a foil bubble wrap roll that is also on the market, rigid board insulation wins hands down. Still looking to save money but benefit from a degree of soundproofing? Then polystyrene sheets (jablite) is an effective alternative, although not as efficient as Celotex or Kingspan.
The Importance of a Vapour Barrier
A garden shed is likely to only have one external skin to protect you from the elements which is not enough. If you are expecting to use the 'Shed' all year round, then a vapour barrier will be required behind the external cladding. This is because the tongue and groove will expand and contract due to the change in the weather. And when it changes, you might see daylight between the boards. For a shed, it's not a problem, but it is for a garden office:
Vapour Barriers: These come in the form of paper and fabric based barriers. The paper based vapour control are designed to keep moisture at bay, as they sandwich bitumen between two paper layers. This is in contrast to fabric based layers that wick moisture from inside to out without letting it transfer back in. Both systems are suitable, but only work as an outside lining behind the framing, and before the cladding.
Keep Warm in Winter and Cool in Summer
Floor Insulation: Insulation in the floor is key to keeping you warm in the winter whilst reducing the heating costs at the same time. Our garden offices include 70mm foil backed insulation within the floor joists. this not only repels the cold from the outside but maintains the heat from inside. Compare that to most garden sheds which sat on 40mm x 40mm bearers. This provides a minimum amount for insulation to be added, plus the aggravation of fitting it prior to assembly. If you're building is on a concrete base, then it's imperative you bridge the gap to your building with at least 70mm of Celotex. Without it you will be surprised just how chilly in the winter it gets from a stone cold floor.
Roof Insulation: It might appear that fitting insulation into a garden shed roof is simple. But did you know an air gap is needed above the insulation as the garden office will have a cold roof system? This air gap is to stop condensation forming on the underside of your roof and rotting the roof sheets from inside. With that information in hand, we recommend you need at least 50mm foil backed insulation in the roof. This is important for the summer months as it keeps the inside cool during the hot sunny days, especially as metal sheet roofing for the majority of garden office roof coverings.

What Should I Line The Walls With?
The internal cladding for garden offices can be made from lots of different materials, but if you are intending to save money then buying a sheet material will help you shave pounds off the cost of fitting out your garden office shed.
OSB: This internal lining is starting to become trendy with architects, as it is a product from the cheaper end of the market. It looks better as a natural finish, and interspersing it with another material such as brick or tiles will break it up.  As you can see in this garden office in Spain – featured on Deezen, it can look great on its own.

As you can see, OSB can be used to give a beautiful, sustainable background with a modern look. Get it wrong however, and it can appear to look like you're working from a box of Weetabix. One thing you will need to do is stay away from surface mounted electrics.
MDF: Similar in price to OSB however, MDF is a composite of finely pressed cardboard benefitting from a smooth finish. This has the advantage of being much easier to decorate. It's not so good however if you get any damp or moisture ingress, as it will show at the drop of a tea cup. DIY stores often supply this with a bead and butt grooved surface to create a seamless joint system. This is in preference to a non routered boards which look unfinished. The bead and butt designs however are sometimes difficult to create a seamless joint as they tend to get damaged in transportation. They do give a much better finish than the the impression of a portacabin interior, which you get with the standard boards. Even if you add cover strips where they meet, unless you can make them a feature. To counteract this, why not add create a shadow gap and have a colour contrast where the boards meet.

Do you need a professional look inside?
PLYWOOD: Probably the most common option due to it's durability and choice of quality. If you want something rustic then poplar plywood is a light coloured board that shows the beauty of the knots. This looks fabulous on traditional and cottage style buildings, as it akin to a log cabin effect. Birch plywood takes you to the next level, as it provides a modern and sophisticated finish, as you can see by this garden Office in London, showcased on Deezen.com

The majority of people however tend to opt for the vertical lining boards as they provide a smart, uniformed look. This finish is in keeping with a wooden garden office shed and  look amazing when painted. The room can also look luxurious especially when expensive furniture is added.

PLASTERBOARD: There is the possibility of mimicking the inside of your house by plastering your garden office shed. After all, the plasterboard sheets are relatively cheap and easy to fit. They can also be simply cut for addition of recessed switches and sockets. This could be a good option to think about, especially if you have access to a plasterer or can do it yourself. However there is a down side that may or may not become apparent later down the line.
Because timber is a natural product, it will still expand and contract at a different rate to that of a house. This may be a problem as you might be subject to cracks in the plaster once it dries. You may well accept this as par for the course, however it may not look too clever if it shows up behind you on a zoom call. With all that said, it still my be the option for you if you want a clean, office type look on the inside. Afterall, a zoom call won't suggest you are working in a garden  shed.
What About Electrics?
Purpose built garden offices should all come with integrated electrics hidden within the wall panels. Nowadays the switches and sockets should flush fitted, as should the lights in the ceiling. Beware of garden rooms from a garden centre, as they often don't include electrics. Whilst they look good, ask yourself if you are prepared to spoil the inside with trunking over the walls. If not, then you'll need to cross these off your list even if they are decorated on the inside already. For those who are looking to convert the garden shed into an office, then read on.
Sockets:
Before you add any lining boards, you will need to install the cables for the sockets and the lights. Sockets need 2.5mm cables, and lights need 1.5mm cables. Both cables should be twin and earth, and if you're stuck at this stage, give the job to an electrician. Starting where the fuse board will be, run the 2.5mm cable in safe zones. Create a 150mm loop for the faceplates at each socket position. Then continue around the building until you finish the cable back at the fuse board.
Lighting:
Take a 1.5mm cable from the fuse board to the switch location, again via the safe zones. Then take another 1.5mm cable from the switch location to the first light. Create a 100mm loop before taking it to the next light. Continue to each light location, before ending with the last light.
When you are ready for the final connections, the wiring will be in place ready for you to add the faceplates and the luminaires.
Self assembly savings.
When you are purchasing a garden shed with the intention of fitting it out yourself, then self assembly could be something worth taking a look at. Whilst it may look like a simple task, remember that the team of erectors are used to lifting heavy sections. They also know where everything goes. So once the building is up and watertight, you can stop and start as you wish on the interior fit out. So when it rains and your halfway through, then unfortunately you and your buddies will need to keep on going.
Hopefully you're now thinking along the lines of a purpose built garden office. So if you want to save money then the cost savings shouldn't be on the installation. Don't forget… you get a guarantee on the materials and construction. And if you purchase from a reputable company so why would you want to forego that for the sake of a a grand or two.
Here's the Hack
So if you're looking for savings on installation, then look for a company that spends less time on site. That way the construction is more efficient, and costs less to install anyway. What you can save money on is internal decoration, as this can be done by anyone with a paintbrush. And that's where we win as a pre constructed garden office is both more efficient and cost effective. It's also much cheaper than a turn key solution. What you get is a professional looking garden office shed without having to go through the steep learning curve.