How to Heat a Garden Room or Office
Garden rooms are fantastically versatile, repurposing your outdoor space and giving it a new lease of life in the form of an office, home gym, extra living space, or many other options. And with so much potential for your garden room, you will want to be able to use it all year round.
The garden rooms we craft and install are all fully insulated as standard, and each comes with the option for double or triple glazing in both windows and doors. These factors help to ensure that our builds are primed and ready for any time of year, but there are other ways you can boost this potential, and even save some money in the process.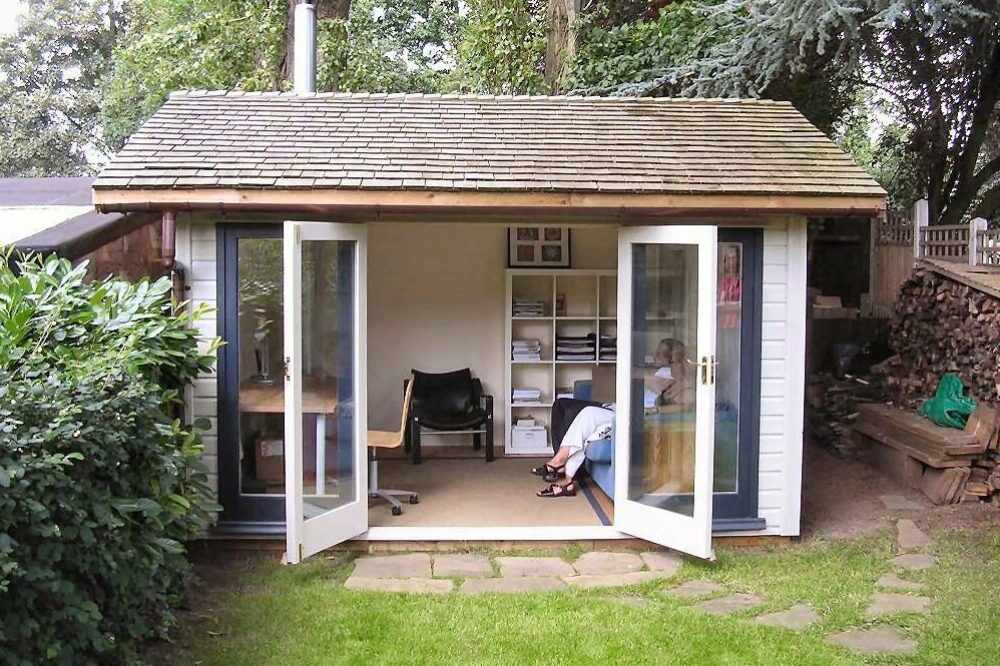 8 Cost-Effective Ways to Heat a Garden Room
1. High-Quality Insulation
No matter which type of heating you choose for your garden room, if the space is not properly insulated then you will be wasting both energy and money. Robust insulation will hold heat in, keep the cold out, and generally maintain a comfortable temperature all year round.
When you design and build a garden room with Warwick Buildings, you are given a choice of 50 mm PIR or 50 mm RWA45 acoustic Rockwool insulation for your roof and walls, as well as 70 mm PIR insulation for your floors.
2. Air Conditioning Units
A good air-con works to balance the internal temperature of a space, both cooling the air in the summer and warming it in the winter. With the unpredictable weather conditions in the UK, that can be an incredibly handy feature.
It is worth noting that you will need to fit an external unit to the side of your garden room, which could affect the overall appearance of the building, with most units requiring regular maintenance in order to keep them up and running.
3. Modern Underfloor Heating
Underfloor heating systems, be they electric or hydronic, are fantastic ways to regulate the temperature of your garden room efficiently. Where air-cons can be noisy and prone to breaking down, modern underfloor heating systems are reliable and impressive.
4. Solar-Powered Solutions
In our world today, being more environmentally conscious is a must, and with solar heating, you can do your part to stay eco-friendly and comfortable. These alternative methods will require some solar energy, of course, so work best in the summertime, but if your garden room is south-facing, you should have no issue.
The usual method of solar heating a garden room involves installing water-filled tubes onto the roof, which warm in the sun and feed an internal boiler.
5. Portable Electric Radiators
Like the radiators you might find in your home, but powered by electricity rather than gas. This method of heating a garden room is a slow and steady one, as these units take some time to heat up and distribute their heat widely, but they are brilliant for smaller spaces, able to reliably warm you.
6. Convection Heaters
Similar to portable electric radiators, convection heaters are electrically powered but usually work with fans, blowing air across heated coils to create instant heat. This method of heating a garden room is quick and efficient, and is more cost-effective than electric radiators, as they kick into action much faster.
7. Propane Gas Heating
All garden rooms from Warwick Buildings come electrically wired as standard, but if your garden room is not, then bottled gas solutions could help. These bottles of propane gas can be attached to the outside of your garden room and connected to a free-standing or fixed heater.
Like air conditioning units, these tanks will affect the external appearance of your garden room, and the heaters require adequate ventilation to avoid moisture build-up or fumes. This is why we only recommend bottled gas heating for small garden rooms.
8. Wood-Burning Stoves
If you have designed your garden room to have a log cabin feel, then wood-burning stoves are an ideal addition, enhancing the aesthetics of the space and providing plenty of heat. They will help you to save money on your monthly energy bills in the long run, whilst heating the room more effectively than most other modern methods.
These stoves run well with wood fuel, but there are alternative options out there if you would prefer a more sustainable and less expensive way to produce your heat.
What to Consider When Choosing Garden Room Heating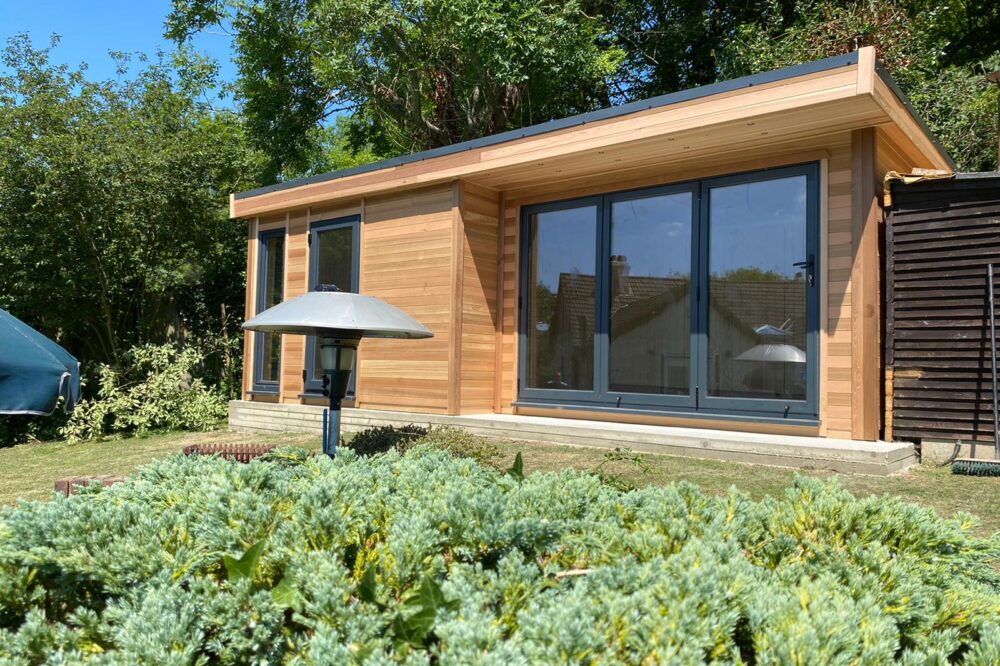 When looking for the best heating methods for your garden rooms, there are a few questions to keep in mind.
How big is your garden room? – The size of your space will have a considerable impact on how efficiently it will heat. For example, smaller spaces will benefit from portable, electric options, whereas larger ones will heat up well with wood-burning stoves or something powerful and fast-acting.
How often do you use your garden room? – Use should dictate the heating method you choose, especially in terms of cost and permanence. If you are using your garden room regularly, you will want to opt for more professional solutions, such as underfloor heating and air-con, whereas dormant spaces can rely on more casual methods.
How is your garden room oriented? – Where your garden is positioned in your garden will have a noticeable effect on its temperature. South-facing builds will get much more sunlight than any other orientation, but if tree cover is thick enough it could still be made colder by the shade.
Invest in a Winter-Ready Garden Room
Our garden rooms are made to your specifications and come with industry-standard insulation, as well as a whole host of upgradable options including double/triple glazing and window and door placement, all to help you retain heat when your garden room is in use.
Working with us to bring your garden room design to life allows you to create your perfect space, ready to be enjoyed no matter the weather or season.