Beautiful and Practical Home Yoga Studio Ideas
Yoga offers a range of physical and mental benefits, showing why it is practised across the world. While there are many classes available, creating a space within your home to practice yoga will allow you to tap into its benefits whenever needed, and allows yoga to be easily worked around your schedule.
In this guide from Warwick Buildings, we'll discuss the best home yoga studio ideas, showcasing the layout and decoration choices that can help you to create a relaxing and private space in your own home.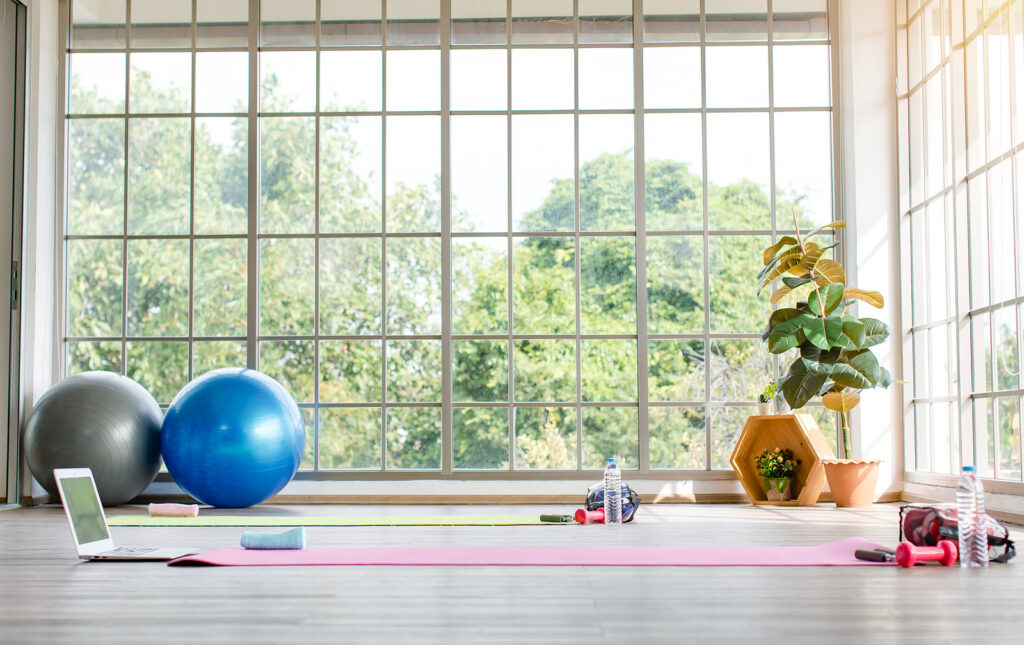 Why Should You Set Up a Home Yoga Studio?
Yoga is a fantastic way to work on your physical and mental health, with its huge range of poses and meditative aspects improving flexibility and strength, aiding circulation and heart health, and helping to reduce stress and anxiety. Setting up a home yoga studio will create a place to practice yoga around your own schedule, whether that's alone or with others.
Adding regular yoga sessions to your mornings or evenings can bring a range of benefits to your health and quality of life. While you can install a yoga mat in any room at home that has the space, a dedicated studio will help you to relax and detach from your stresses. If you opt to build a standalone yoga studio, you'll benefit from full control of the layout, dimensions, and decor, letting you create a space that is uniquely customised around your needs.
Home Yoga Studio Design Ideas
Space is one of the most crucial elements to keep in mind when designing a yoga studio. The traditional size for a yoga mat will be 173cm by 61cm, and you'll be looking for additional space around that, both for certain poses where your legs and arms will be stretching out, and to keep your room comfortable. If you are a yoga teacher looking to host your own classes, then the dimensions of your home yoga room will need to be large enough to comfortably fit the required number of mats. Having a flat and solid floor is important, prioritising underfoot comfort and easy cleaning.
Alongside horizontal space, vertical space should also be considered. All users of the yoga studio should be able to stretch their arms above their heads without touching the ceiling. You'll want your yoga studio to balance natural light with privacy, meaning that windows directly looking out onto a street are best avoided if possible. Airflow is important too, with air conditioners, fans, and open windows helping to ensure a comfortable and fresh environment.
Depending on size, you can add further equipment like yoga blocks, and a chest of drawers for yoga towels. If looking to follow along with an online yoga tutor, you can install a television on the wall, or alternatively opt for a fitness mirror, which will display videos of yoga poses and in some models offer tailored feedback. You can even opt to create a hot yoga studio by installing home yoga heaters within your room.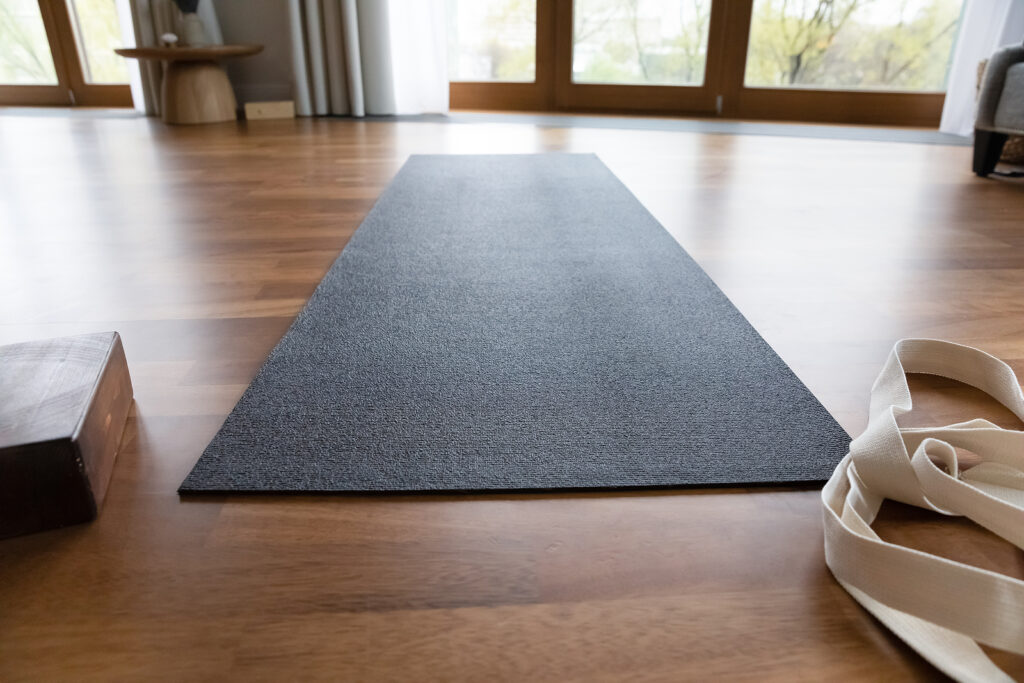 Home Yoga Studio Decorating Ideas
Your decorating choices will be hugely important for creating the perfect vibe within your yoga studio. A clean, clear look, with plain or pastel colours on the walls is a popular choice, though some opt for posters of yoga poses or other artwork to decorate. Having dimmable lights can also be a great idea, with brighter lighting for more complex poses or group works, and softer lighting from floor lamps for more meditative poses like Sukhasana.
You can further add to the relaxing atmosphere with scented candles, incense sticks, or essential oil burners. Scents like lavender, cedarwood, and peppermint can be used on their own or combined, allowing you to design the perfect bouquet of fragrances for your yoga studio.
Plants can improve the look and feel of your yoga studio. Whether opting for hanging baskets, or smaller plants placed on shelves or a chest of drawers, they will help capture the calmness of nature while also helping to make the air cleaner within the studio. Ultimately, the best design for your yoga studio is the one that will help you to relax and exercise.
Choosing colours you find pleasing, aromas that you find soothing, and decor choices that complement where you are in your yoga journey can be a process, and thanks to the sparse nature of a home yoga studio you can be free to try things out and make adjustments.
---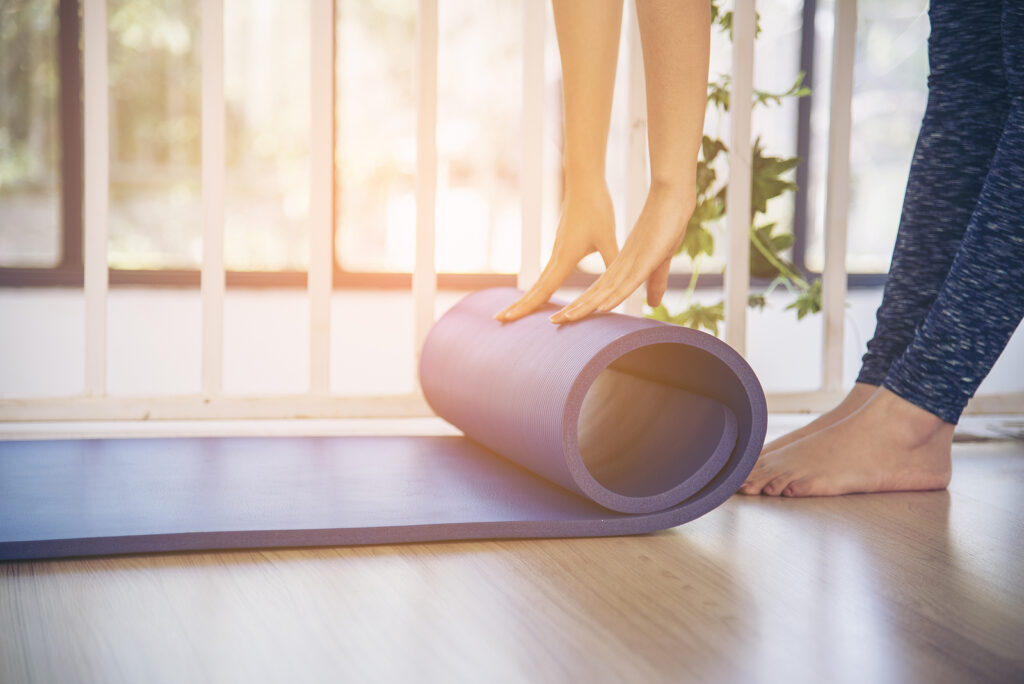 Make Your Own Garden Yoga Studio
For those looking to create a larger home yoga space, or to have a more luxurious area than a mat within their house, a garden yoga studio can offer a great solution. With options small enough for a single person, or large enough to host several others for a class, you'll be able to choose the style and size that meets your needs. You can also install a yoga area as part of a home gym, to allow yourself a range of exercise options from home. If you lack the space at home, a garden room will be attractive, wired for electricity, and suitable for year-round use, creating a permanent installation.
Warwick Buildings have been producing quality garden rooms for over 30 years, offering a bespoke online design process through our website. Each of our stylish garden rooms can be intricately customised through our website using our 3D building tool, allowing you to select the dimensions, cladding, laminate flooring and more.
You'll also be able to select and position each window, helping you to maximise sunlight while maintaining privacy. Once you've designed your perfect garden room, you'll receive an instant quote for manufacture, delivery, and installation. If you're interested in building a beautiful, dedicated yoga studio within your garden, explore our range of garden yoga studio options today.