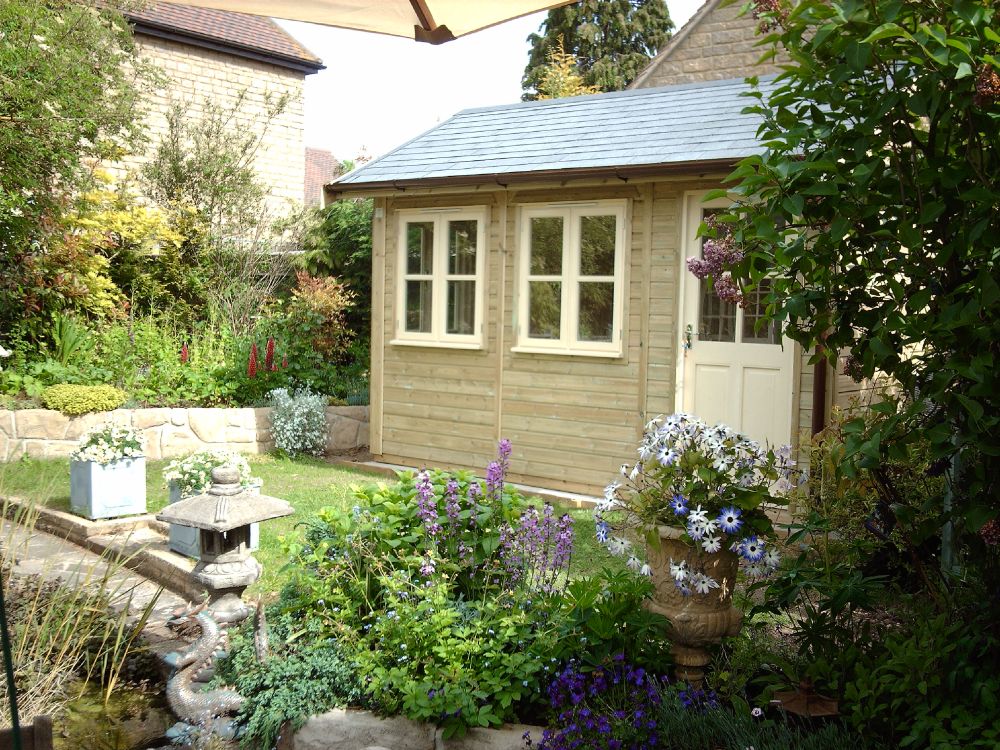 A garden office can be the perfect space to work from home, giving you a quiet, beautiful location nestled within your garden. The bespoke nature of a garden office means that you can fully customise both the dimensions of your building and the decoration of your interior.
In this guide to garden office ideas, we'll look at some of the best designs, covering both the design of the rooms, and the decoration of their interior. These ideas can show you the possibilities of a garden office, and the benefits they can bring to the experiences of working from home.
Garden Office Building Ideas
Whether already working from home, or looking to transition, it can be difficult to find a suitable space within your house. A garden room can be the perfect solution, creating a focused workspace within your garden. This will make a clear divide between your home and your office, and will give you additional living space without needing to move home or build an extension. The first decision to make when thinking about your perfect garden office is the size of building you need. This will depend on both your requirements in a workspace, and the size constraints of your garden.
A Small Garden Office For Personal Use
A small garden office can be the ideal space for a single person to work from home. With room for a chair, a desk, and a storage locker, a small home office can provide everything you need to work within a compact area, perfect for a city garden. Even on the cosier end, you can still experience the many benefits of a garden office, giving you a focused, attractive space to work from within your outside spaces.
A Larger Garden Office For a Small Business
A bigger garden office can be used as a workspace for multiple people, or even for the employees of a small business. When looking to establish a new company, renting or buying office space can be a huge expense. A garden office will allow you to have a professional, comfortable space for several people to work, all within your garden.
Garden Office Interior Ideas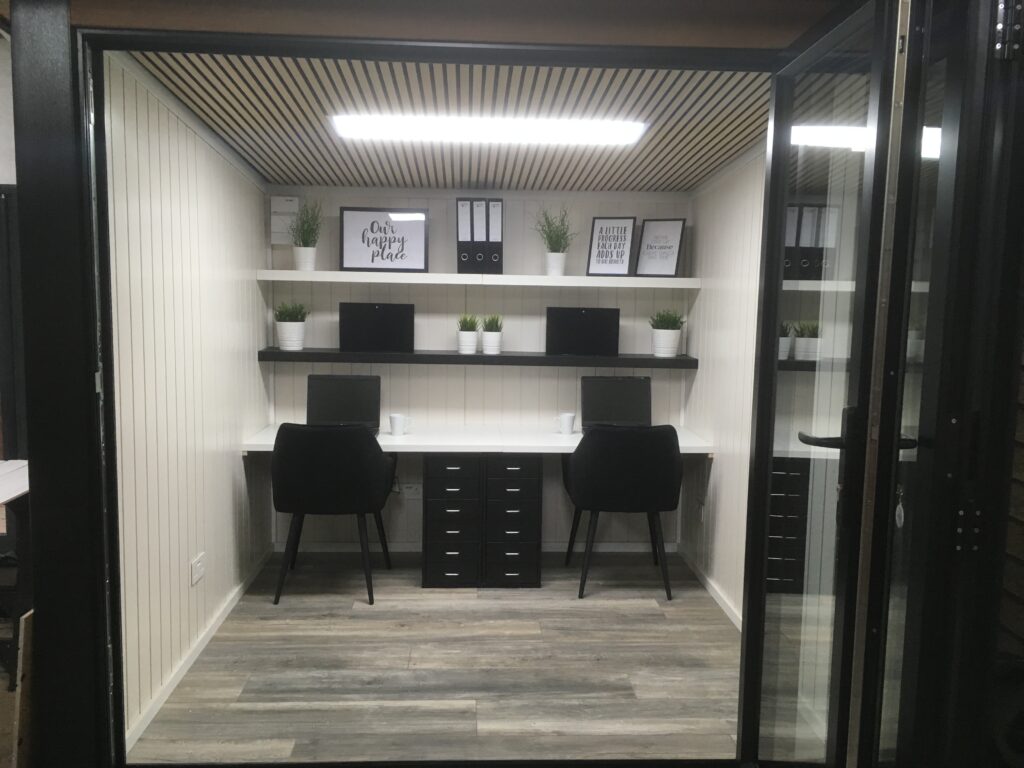 Once you've settled on the perfect garden building, it's time to pick out your interior, with furniture, decor, lighting, and storage options available. These garden office interior ideas will help you to craft a beautiful, functional workspace.
Garden Office Furniture Ideas
The furniture essentials for any home office will likely be a chair and a desk, and you'll have a few options on this front. A classic desk with drawers can offer style and practicality, available in a wide range of colours and capable of storing documents, equipment, or even snacks. If space is a bigger concern you can install a wall-mounted desk, which can be closed after use to give you extra space in your garden room, allowing you to relax after work. A great contemporary garden office idea is to install a standing desk, allowing you to improve your posture and boost your mood while working.
When looking for the ideal chair, you should prioritise function over style, as you will be sitting in it for many hours each day. An ergonomic office chair will offer comfort and protection, ensuring good posture while you work. For your computer, you can either use a laptop with a smaller desk, again prioritising good posture with a stand to place it at eye level, or alternatively install a larger monitor on your desk. Furniture choices can be a great way to express yourself, while also prioritising your comfort.
Garden Office Lighting Ideas
Adequate lighting is vital within a garden office, and thankfully there are many options available to you. Recessed lighting can be installed within the ceiling of your garden room, creating a consistent level of light around your room. Wall lights, whether recessed or attached, are a great alternative. You can also hang small spotlights from the ceiling, perfect for illuminating a desk. A desk lamp or floor lamp can also help to give you a focused source of light.
While artificial lighting is necessary for evenings and winter months, a great benefit of a garden room is capturing sunlight. You'll be able to plan the size and location of your garden room in advance, allowing you to make decisions about where to place windows in order to prioritise natural light in your workspace. If you're concerned about glare, then you can also position windows to avoid this. Having windows or glass doors will give you a stunning view of your garden, helping you feel surrounded by nature.
Garden Office Decor Ideas
One of the great things about a home office is that you can decorate it as you see fit. This means your choice of paint, rugs, desk colours, and wall hangings. A choice of brilliant whites or bold primary colours can make for a striking work environment. A colourful rug can bring a sense of comfort to the room, making it more homely. Your walls can be decorated with shelves of books and plants, or with framed posters of your favourite paintings.
Garden Office Storage Ideas
With much of the working world stored online the need for physical storage within your contemporary home office may be negligible. But for some professionals, a filing cabinet can be an essential interior idea, helping to organise receipts, paperwork, or other files. Another great storage idea is to install high shelves. These can be high enough to not block out any space within the room, and they can even be installed over a desk. These shelves can hold books, plants, or file boxes.
Other Garden Room Considerations
When planning a garden room, there are a few other things to consider. You should decide what desk items will be essential for you, as if you need a multi-screen setup or a printer this will require a large desk space. Both power and internet will be needed within a garden office, so you'll need to plan to connect both, or to connect power and install a Wi-Fi extender. It may also be worth considering whether you want a multipurpose garden office, doubling as a summer house or other outside space. Depending on the size of your garden office you may also need to acquire planning permission, though many fit within the bounds of permitted developments.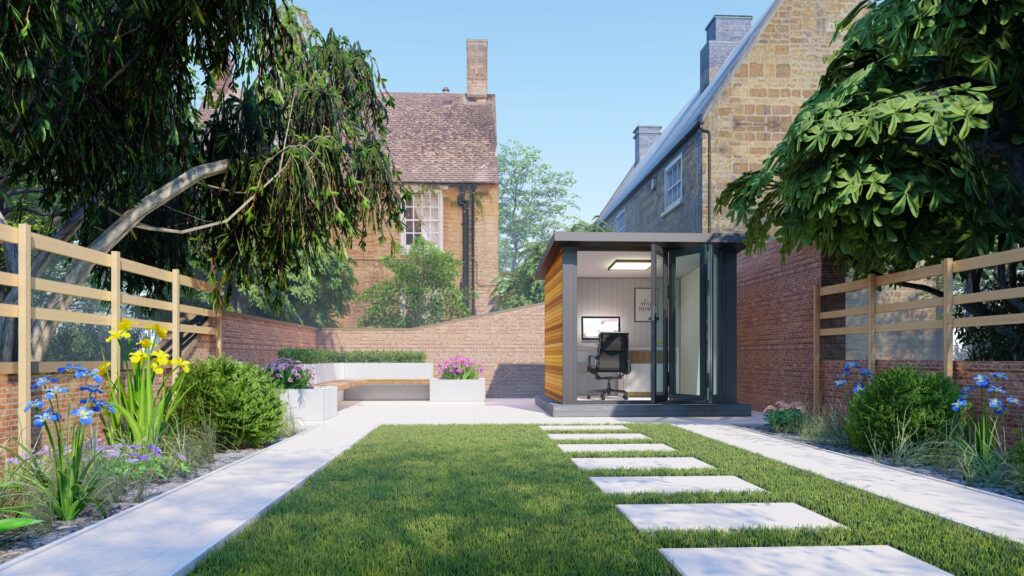 Interested in a Bespoke Garden Office?
Warwick Buildings produces custom garden offices for clients across the UK. Each aspect of your garden office design can be tailored, from the size of the building, to the number and placement of windows, to the interior flooring. This allows us to build both traditional and contemporary garden rooms. Through our website, we have a virtual garden room building tool, allowing you to design your own garden office, and giving you an instant quote. You can learn more about our beautiful range of garden offices through our website.