Practical and Attractive Garden Bar Ideas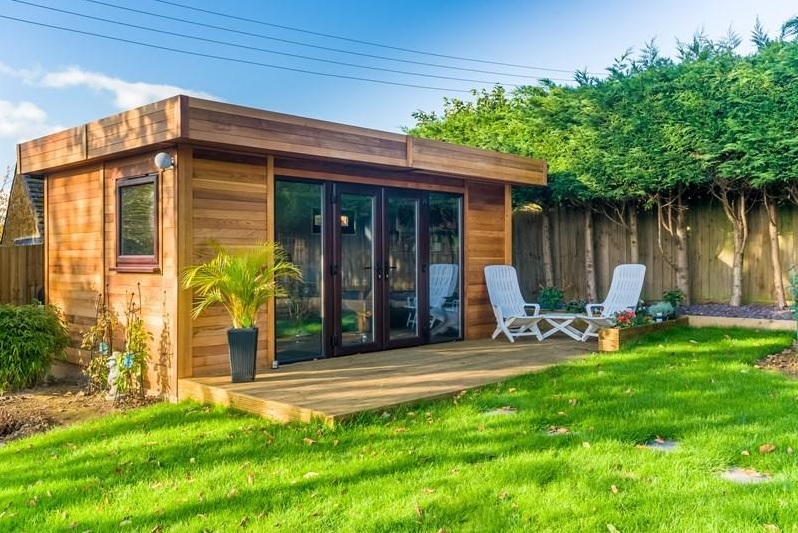 An amazing way to socialise, entertain, or relax within your own outdoor spaces, garden bars have experienced a huge growth in popularity over recent years. Whether a small garden bar with space for a couple of bar stools, or a larger garden pub with a table and chairs, you'll have a wide range of options in terms of the layout and decoration of your back garden bar. To give you some inspiration, Warwick Buildings has compiled some of the best garden bar ideas, helping you to create a beautiful and practical space, regardless of the size of your garden.
Garden Bar Layout Ideas
When looking for a garden bar, you'll first have to make some clear choices about sizing and layout. If your exterior space is limited, or your garden bar will be used by two or three people at most, then a small garden bar could be perfect for you. However, if looking to entertain more people or to take advantage of a larger garden, you can invest in a large garden pub building. Here are some layout ideas for your garden bar, with their own benefits and drawbacks.
A Small Garden Bar
A small garden bar can help you make the most of a city garden, creating a sociable outdoor bar for you and a few friends. There are a few popular designs, from a tiny pub, with a bar and one or two high chairs, to an open-walled bar with external seating. A tiny pub design can be used throughout the year, while your back garden may be inhospitable in UK winters or during rain.
A small garden bar can still contain enough space for the bar itself, a spirits shelf or trolley, and a keg of beer connected to a tap. If looking to have your bar open out onto a seating area you'll be able to fit more people, maybe positioning chairs around a fire pit to allow your bar to be used late into the night.
A Larger Garden Pub
Another great garden bar idea is to build a larger pub building within your garden. This can be a fully enclosed space, with a bar, table, chairs, and more. The space afforded by a larger garden room can help to create a cosy and comfortable area for entertaining friends and family. A larger garden pub can also contain the classic elements of the English pub, be that a pool table, a dart board, or a large TV for watching the big game. Modern UK garden rooms will be insulated for year-round use and fully wired to mains electricity.
A Garden Cocktail Bar
Whether a simple garden bar or a larger design, a garden cocktail bar can be a fantastic way to bring sophistication to your outdoor space. Whether serving drinks to those seated outside or gathering within a garden room, a larger bar area will be needed to house the full range of spirits, alongside cocktail shakers, a selection of glasses, and a small fridge freezer for ice and fruit. Having the full range of cocktails available within your own garden can make it the perfect location for a party, or for a couple of drinks with friends on a summer evening.
Garden Bar Decoration Ideas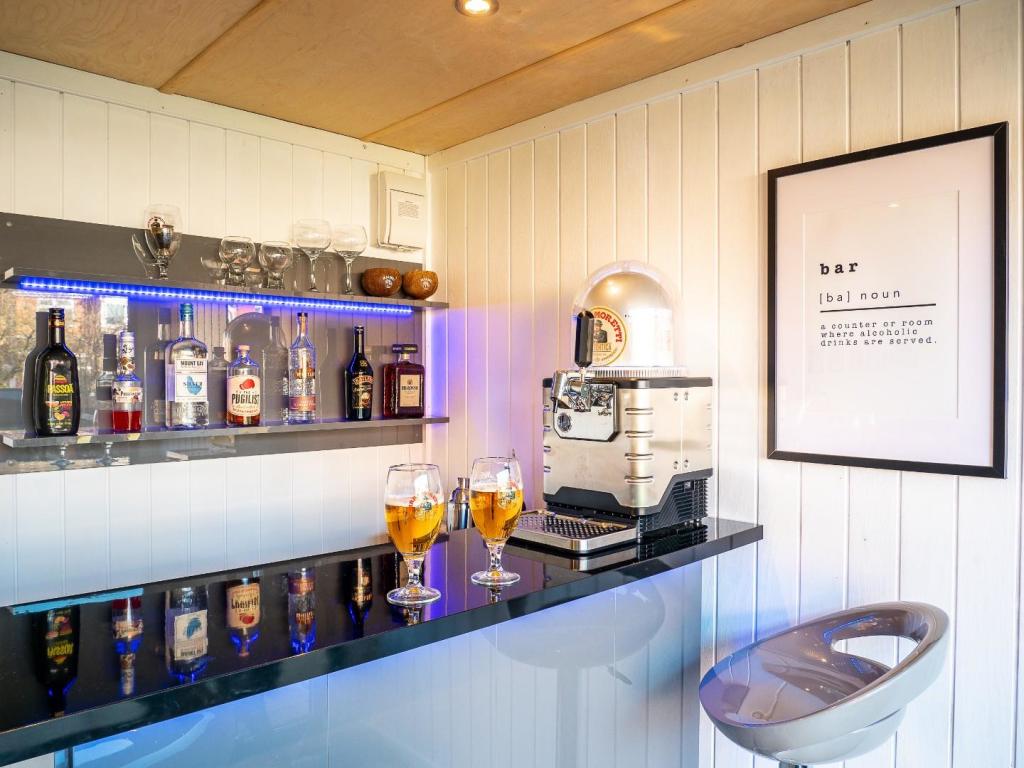 Once you've settled on the perfect design for your garden bar it's time to decorate it. Garden rooms are multipurpose spaces, which can be styled for a range of uses through wall art, furniture, and the use of plants. These garden room bar ideas showcase how to personalise your outdoor space.
Traditional Garden Bar Wall Decorations
Depending on what type of building you are looking to create, you can help to achieve the perfect look through wall decorations. In the case of a garden pub, you can create that look through antique beer posters, framed photographs, and signage. You can even have a custom pub sign created for the exterior. For a bar, a more minimalist look will likely create a better atmosphere, but wall-mounted spirits bottles and glasses holders will allow you to make the most of the space and create an authentic feel.
Garden Bar Furniture
When building your back garden bar it's crucial to give yourself a suitably large area to mix and prepare drinks. Whether you'll be looking to install taps for a range of real ales, or to slice lemons for a cocktail, having a large enough bar will save you from future headaches. Proper storage units will allow you to take full advantage of limited space. You can opt for shelving, or use a drinks trolley, sometimes called a bar cart.
When it comes to seating, you can opt for different choices based on the needs of the space, your intended uses, or other style considerations. For a small cocktail bar, a couple of high stools can take advantage of limited space, while creating an authentic vibe. If building a larger garden pub however, using bigger, comfier chairs will make for a comfier space to spend larger amounts of time. If looking for a small garden bar with outdoor seating you'll have a wide range of garden furniture options, such as placing garden sofas around a fire pit, or even creating a standing space with high tables, perfect for a garden party.
Decorating Your Garden Bar With Plants
Another excellent garden bar idea is to use plants as a decorative element, helping your garden bar blend within your garden, creating a lush and verdant social area. Whilst using artificial plants is certainly an option, visually they can't quite compare. The two main options when installing plants would be to use hanging baskets or climbing plants.
Hanging baskets come in a range of sizes, and allow you to choose from a huge selection of plants, bringing colour and scent to your cocktail bar when connected to an overhanging bar area. Climbing plants such as wisteria or clematis can be grown across the outside of your garden bar, creating a natural entrance. You can either opt for a climbing plant that flowers specifically in the summer, or combine different options for more year-round coverage.
Looking to Build Your Own Back Garden Bar?
A back garden bar can be many things in the UK, as these different ideas show. Whether looking to recreate a local pub or cater garden parties from your own cocktail bar, you'll be able to design and decorate your garden room to suit these purposes. Warwick Buildings sells a selection of bespoke garden rooms, with an online design tool allowing you to fully design your perfect garden bar, with instant quotes for manufacture, delivery, and installation from our skilled team. Whether looking for a smaller room for one or two people, or a larger garden pub, our contained garden rooms are fully insulated, wired for power, and designed to last.
Find out more about our range of garden room bars.