Bespoke Large Garden Rooms
A large garden room can transform your home, creating a luxurious large space that can be used for a wide variety of purposes. For those needing extra living space but wanting to keep their current home, a garden room can offer a long term solution, adding usable space to their property without the financial or time commitment that comes with an extension.
Build Your Large Garden Room
Warwick Buildings produces a range of bespoke wooden garden rooms, that can be built in larger sizes to suit many different applications, be that a shared home office, an entertainment space for friends and family, or a fully-featured home gym. Our straightforward online configurator tool allows you to customise our range of designs, setting elements like dimensions, height, and the size and location of windows.
Once you've designed your perfect garden building, you'll receive an immediate quote for the cost of construction and installation, with our skilled team often building each garden room within a day.
Explore our range of large garden rooms today.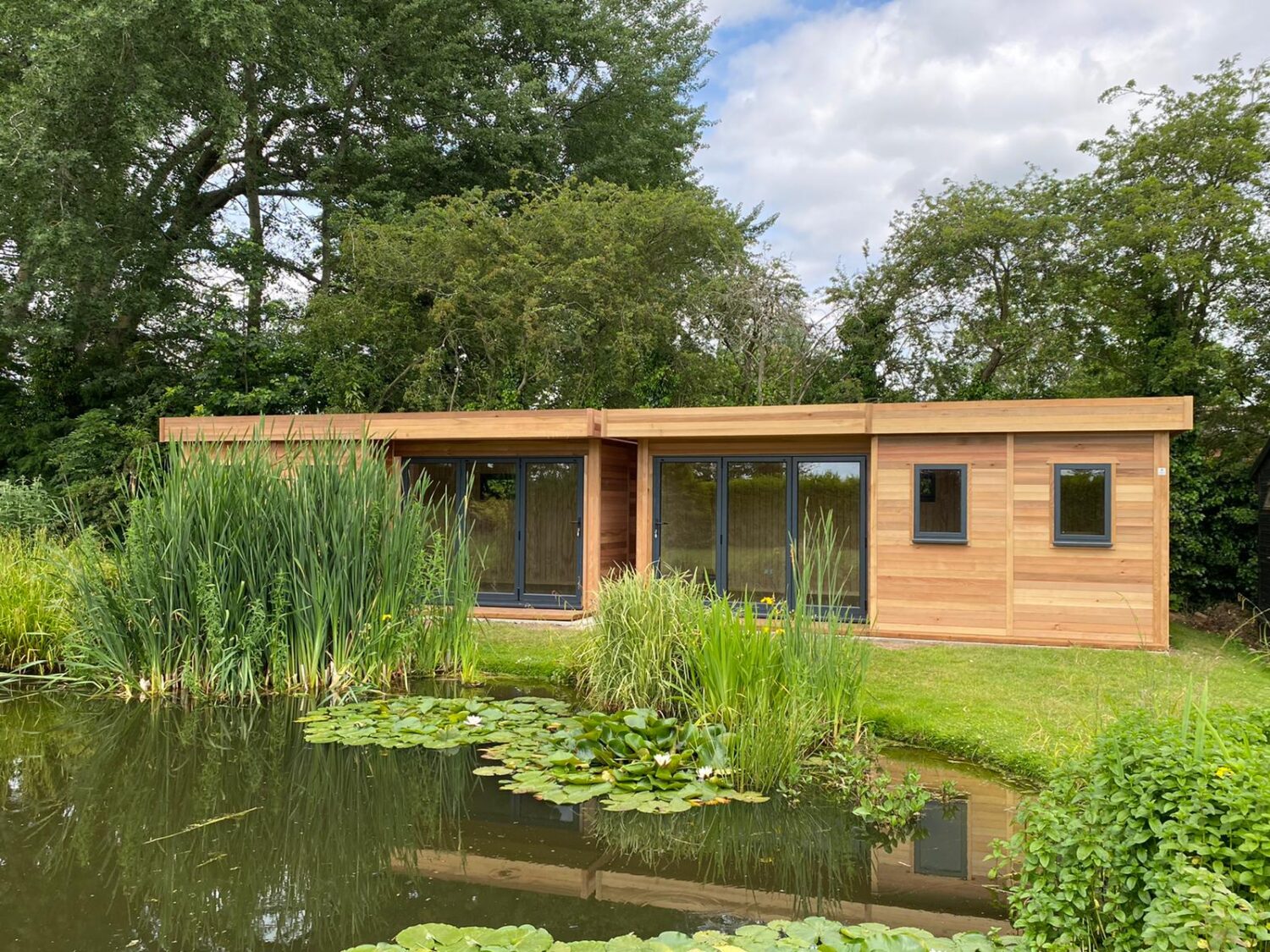 Our Large Wooden Garden Rooms For Sale
Customisable Online Design Process
Assembled by our Expert Team
Locally Sourced UPVC Windows and Doors
Sustainable Scandinavian Timber
Range of Cladding Options
Choice of Laminate Flooring
Lighting and Electrical Sockets as Standard
Fully Insulated as Standard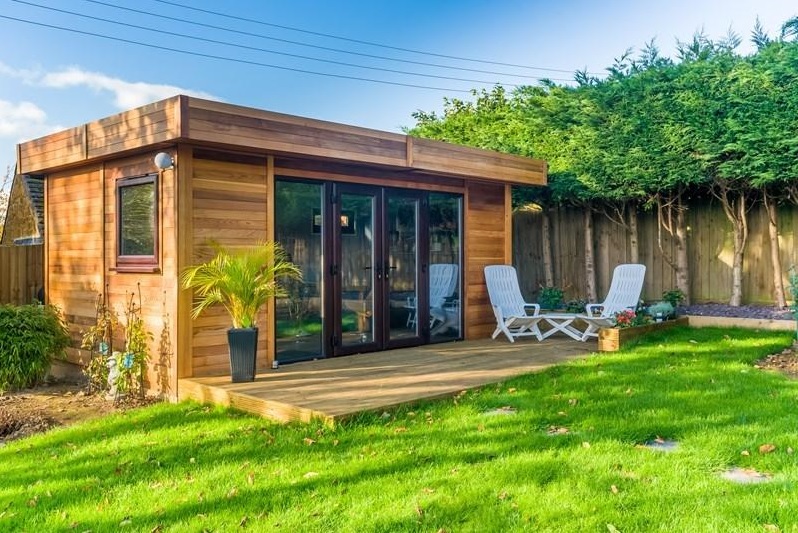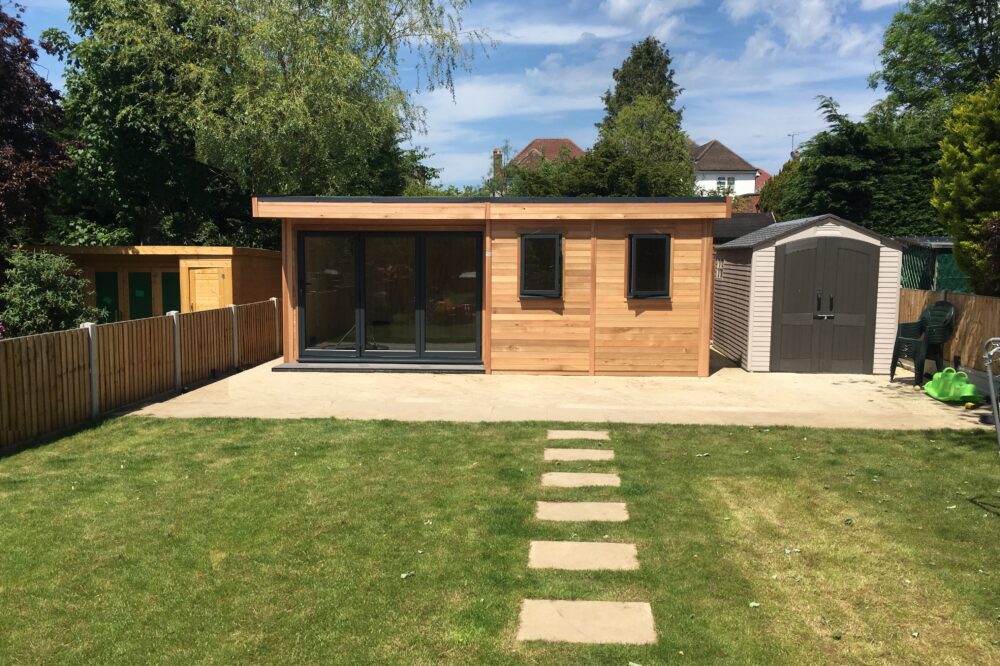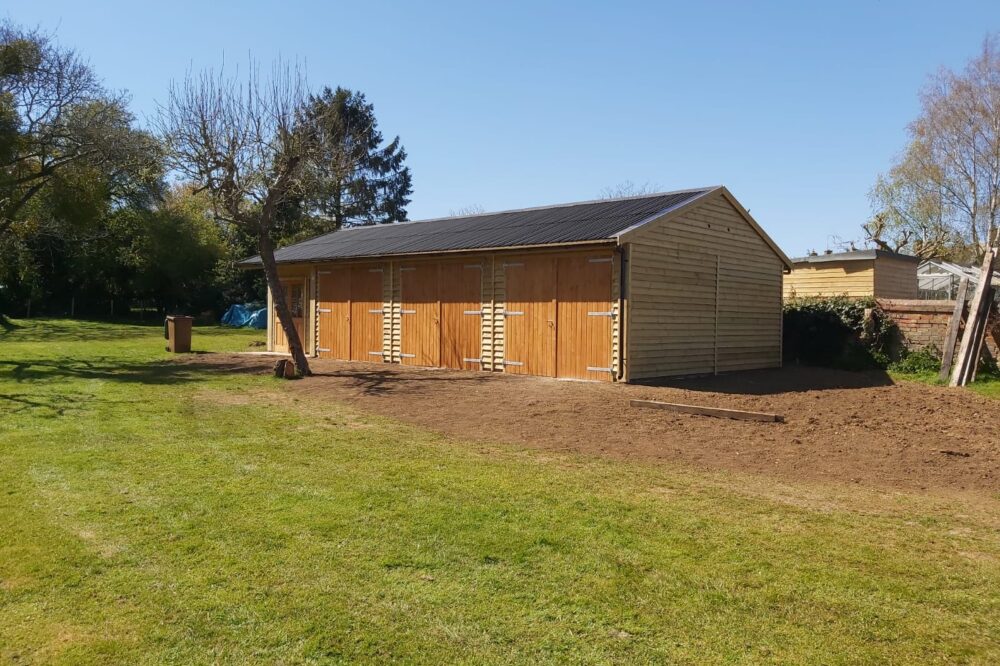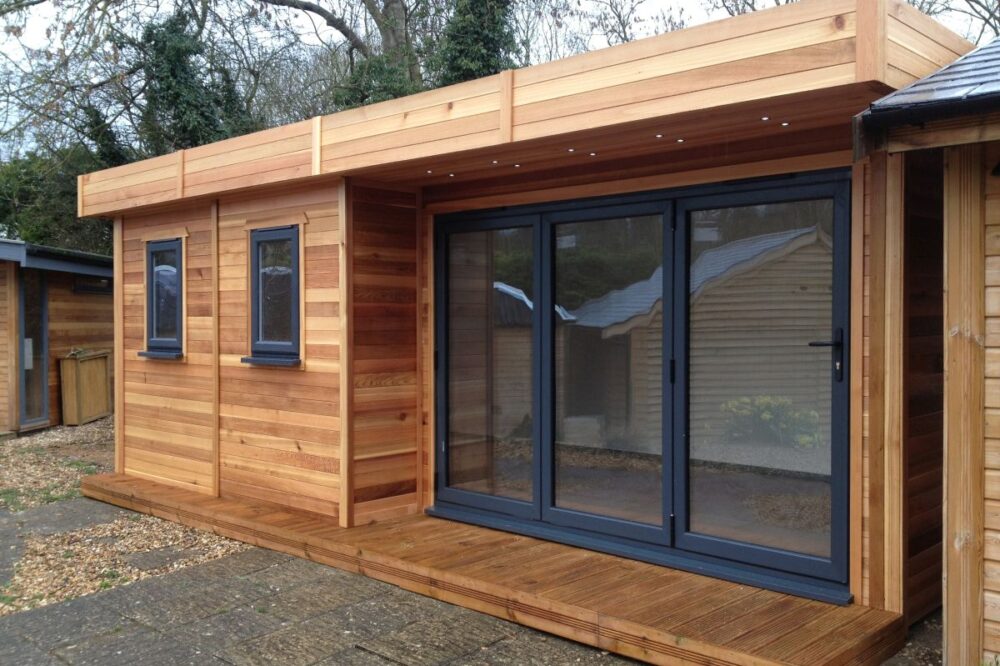 The Many Uses of a Large Garden Room
While smaller garden rooms can be excellent for a specific task, be that a compact garden office or a summerhouse for relaxation, a large garden room gives you a huge space that can be used in multiple ways. For those looking to work from home, a large garden room can be used to house multiple workstations, more elaborate set-ups, or even as the HQ of a small business.
For those needing an additional entertainment space, your larger garden room can be used to entertain friends and family, perhaps as a beautiful garden dining area. Alternatively, you can create your own garden pub, with a bar, chairs, and a pool table. A large garden room can make a fantastic social space for regular hangouts, whether that's relaxing on a summer afternoon or entertaining friends long into the night.
A garden room can serve a great many other purposes, from a fully-featured gym with cardio machines and weights, to a studio for art projects, the ultimate man cave, or a summerhouse for relaxation.
Our Bespoke Design Process
Warwick Buildings produces a wide range of garden room designs, each of which can be customised extensively through our online configurator tool. Many of our standard designs can be bought in larger sizes, with the Contemporary garden room available in up to 7.4m x 4.2m and others such as The Studio and the Traditional offered in 6.2m x 4.2m dimensions. Each of these designs will bring a distinct look to your garden, with the Contemporary offering a sturdy and sharp look perfect for a modern garden, while The Studio has a cosier look that can beautifully complement a more rustic natural space.
Through our configurator, you'll be able to choose the placement, size, and colour of the UPVC windows, allowing you to court sun or avoid it within your garden room. You'll be able to choose the cladding, wall lining, and laminate flooring within your garden room. There are also options for lighting and the number of power sockets. Our buildings come insulated as standard, with a choice of double or triple glazing in all doors and windows to add extra heat retention.
Through our design process, you'll be able to choose an extra-large garden room tailored to your desired uses and the dimensions of your garden.
Testimonials
The team were excellent.

The team putting up the room were excellent - polite and efficient. You were recommended by our daughter in law - and we will pass on the recommendations.

Mr & Mrs Goss

How amazing is that!

My garden room was 24 degrees this morning without heating on - how amazing is that!

Jean Clymer

Loving the office

Loving the office.  Quality product, thank you

John & Susan D

On site team fabulous.

Showroom excellent - Sales team efficient - On site team fabulous - Building magnificent - Coffee to die for (in showroom)

Ian Jones

First class

Mr dealings with the office and team who erected the building were first class

Miss M Samm
Our Commitment to Quality
Warwick Buildings has been producing quality timber rooms, garages, and outbuildings for over 30 years, thanks in part to our continuing commitment to high-quality products. All timber in our bespoke garden rooms is sourced directly from the mill in Sweden, ensuring the sustainability and high grading of our wood. In addition, all UPVC windows and doors are sourced from a local family-run business. We design and build our large garden rooms in the UK with longevity in mind, requiring only minor regular upkeep
The Cost of an Extra Large Garden Room From Warwick Buildings
A great feature of our configurator is that it will offer an immediate quote for the cost of parts and installation, giving you a clear cost including VAT for your new garden room. This means that you can create your ideal garden building, choosing your favourite design, and customising its dimensions, windows, and many visual features, before receiving an instant and exact price.
Explore Our Range of Large Garden Rooms For Sale Today
Warwick Buildings offers a fully bespoke design process, allowing you to design your ideal large garden room. Once designed, our skilled team can deliver and install your new building for you, often within a day. Our garden rooms are luxurious, insulated for year-round use and ready to be connected to mains power. Whether you want a spacious home office, a multi-purpose entertainment space, or many other uses, our extra-large garden rooms offer exceptional quality, delivered and installed by our team.
Take a look at our varied garden room designs today.
Build Your Large Garden Room