Garden Office Project Costs
To get an overall idea of the garden office costs, we'll break the stages up into manageable components and focus on each one individually.
The stages consist of
GROUNDWORK
DESIGN & BUILD
SPECIFICATIONS
CONSTRUCTION
DECORATION
FURNITURE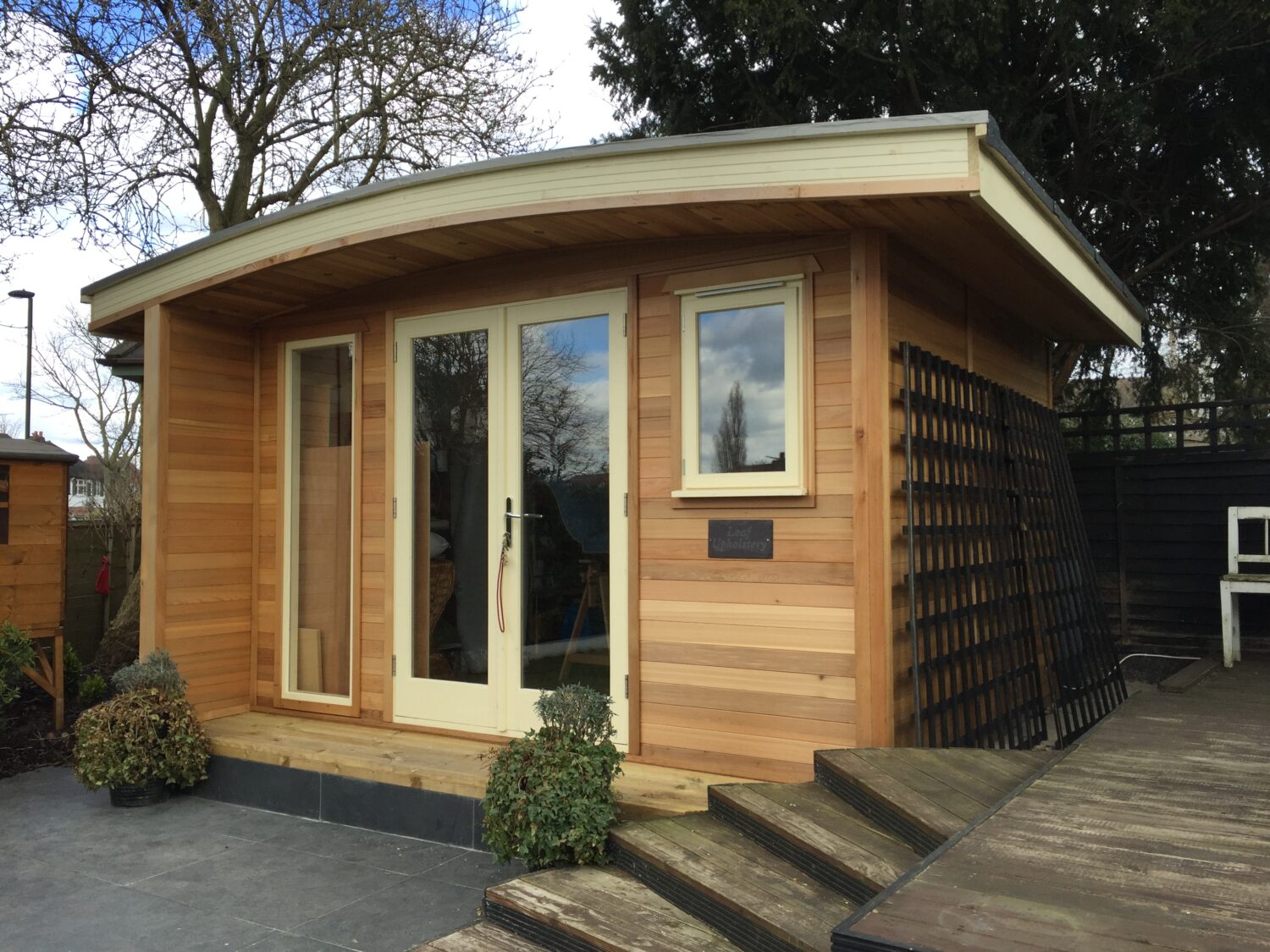 Garden Office Groundwork
Every garden office will need a base of some sort. It can either be ground supporting or a raised platform, both of which are suitable. Ground supporting bases are made of concrete or paving slabs, and require some digging out beforehand. This type of base is the most durable and stable, but it usually requires a local builder to install. In 2023 you would expect to pay £150 per square metre for a base of this type.
Raised platforms usually sit on ground screws, as this is a quick way to install the base. No requirement for digging or other site preparation, and no soil is taken away from site. This advantage allows a garden office company to provide an all inclusive price in a large radius as it is logistically easy. The down side is that the ground will dry out and move during the seasons, and may cause the frame and the screws to move with it. This is different to a concrete pad which is a raft that allows movement around it (like footings in a house).
Get a ground screw base price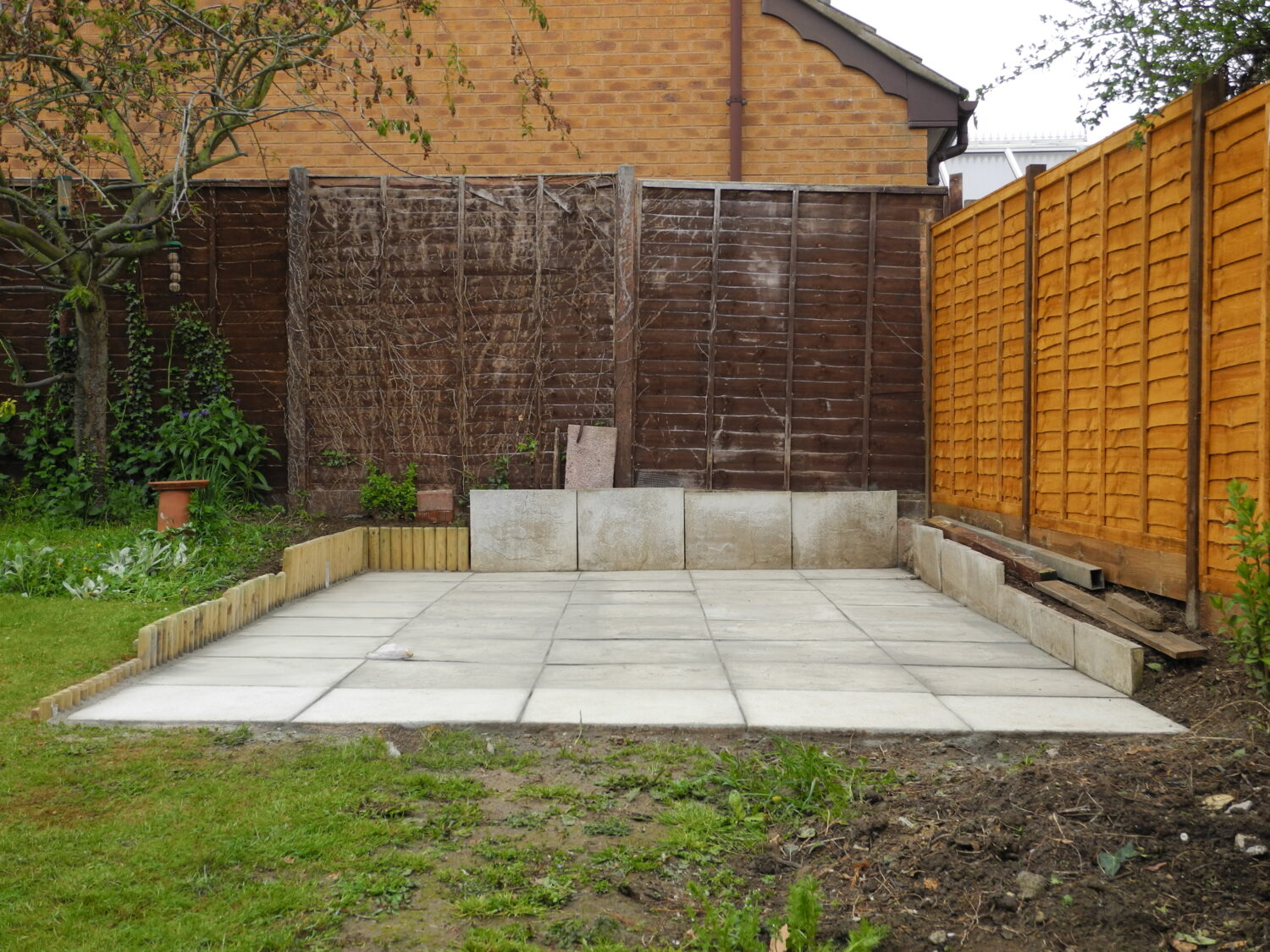 Garden Office Cost – Design and Build
This is usually the first step. Afterall, you are buying a garden office not a concrete base or a new office chair, and it's where you need to know where your money is best spent.
Insulation and double glazing are both big factors as your new garden office needs to be for year round use. The double glazing should have a 14mm spacer and filled with argon gas, to be up to standard. This is compared to the 6mm spacer that cheaper garden offices provide, which is not much better than single glazing.
PIR insulation is at least double in terms of efficiency compared to rockwool. And because you have limited space in a cavity, it makes much more sense to opt for Celotex or Kingspan.
Once you can tick those boxes, then your next stage is to choose a style that suits your taste. The choices are as follows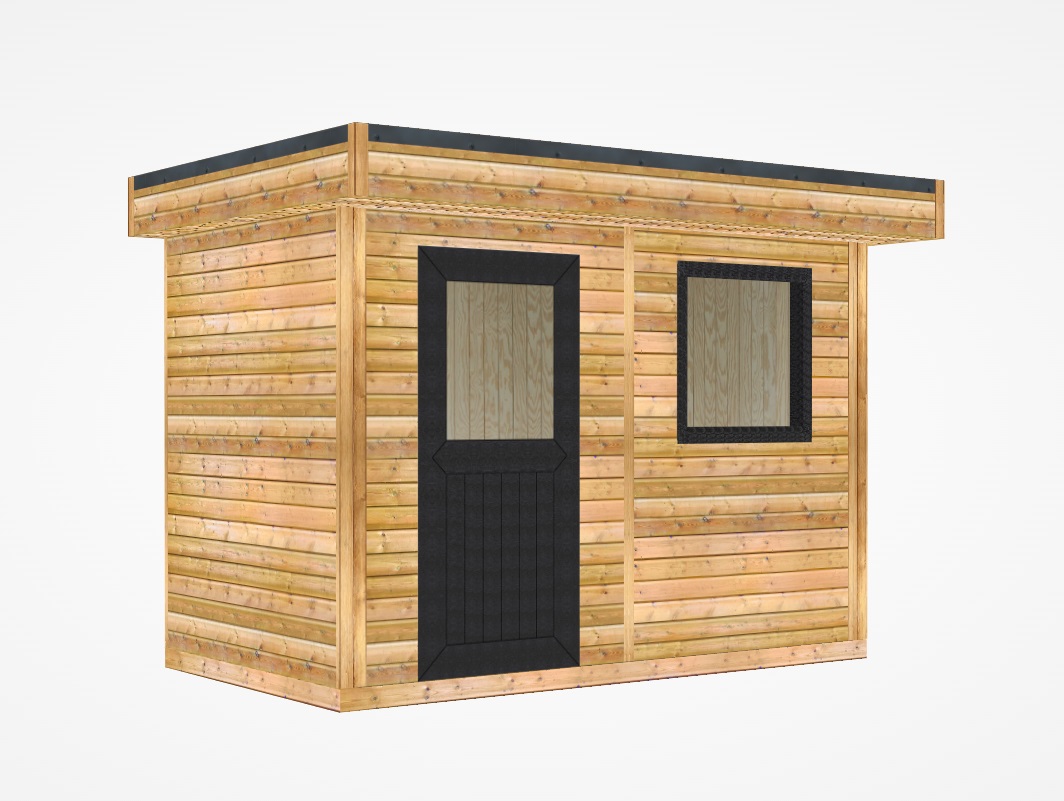 Are you an amateur or a professional?
As a rule, you tend to pay for what you get. So in terms of garden office costs, there are three garden office price brackets, each with a good selection of choice.
Cheap garden offices, tend to be the log cabins and garden sheds, as they don't include any insulation or pressure treated timber. It could be that your budget is limited, but if you would like it to last, and you want to use it all year round, then is quality better than quantity. For example, would you prefer a larger, untreated log cabin that isn't air tight, or a smaller fully insulated micro pod. The larger the building, then the less it has in terms of what you need for a work from home space.
Once you've spent your money it's too late, and you'll have to put up with rattling doors and windows, gaps in the corners, and no insulation. Then there's the surface mounted electrics, and the batten light screwed to the roof joists, which can only offer that homemade look to your working space. Of course that's fine if it's your intention.
Luxury garden offices are at the other end of the spectrum. They include everything from the groundwork, to the decoration, with the bespoke design and superior features included in the price. You certainly get the wow factor with this level, and it will no doubt help increase your sales if you are showcasing your business from a high end garden office. High end buildings come with superior quality aluminium doors and window, integrated wiring, and high spec finishes, often with a plastered finish or an Acupanel accent wall. The price for these can be anything from £35,000 upwards and can be easily found on google.
This is where we lead the field. We supply and install garden offices that are cost effective but with everything that is necessary to work from home. Celotex insulation is included, as are house quality double glazing, integrated wiring, laminate flooring and internal trims. We can even include the groundwork if you are within a 75 mile radius.
Micro Pods start at £7500, and the other garden office designs start at £10,000. This means we fit bang in the bracket of an outstanding product at a competitive price. To keep our garden offices out of the turn key solution level, we leave the internal decoration and the landscaping to be done by the customer.
That said, the natural beauty of wood, often means that the customers don't change the inside at all. Afterall, not only does the garden office 'shed' keep you naturally warm in the winter, the insulation maintains the heat so that it is cheap to run. Not only are they cost effective, they look beautiful either painted or unpainted. Fabulous in fact, especially with the laminate floor and the cedar external cladding.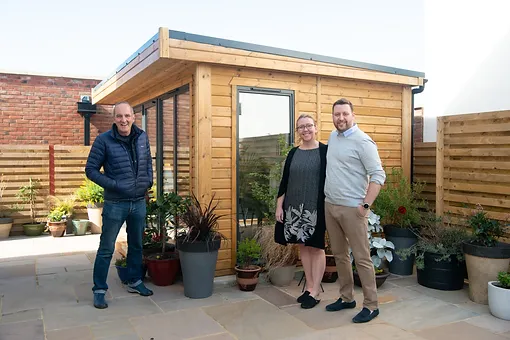 Garden Office Construction
There's not much of a choice here.  Either your buying a log cabin or a garden shed and you intend to save money by assembling it yourself, or you are intending the professionals to install it for you.
Building it yourself is a good option if you are looking to save money, as these buildings are relatively easy to install. They are however, time consuming, and often need pre-treating with wood preserver. You do get the satisfaction of completing your own grand design, even if the instructions have been thrown away. To give you an idea, three trained fitters can install a 5m x 3m garden offices in a single day. Compare this to the same 3 fitters taking three days to install the same sized log cabin. That's without adding internal insulation, secondary lining and electrics.
If you take into account that your time has a value, then it would be far better spent on decoration and building Ikea furniture. That's why we include assembly with all of our garden office prices.

Garden Office Heating
Providing it is fully insulated and double glazed, your garden office will be cheap to run. You might even find that it doesn't even need a heater if the winter sun and the spotlights give enough residual heat. If not, then a small electric heater will be suitable for a 5m x 3m garden office.
We tend to stay away from oil filled radiators, as they don't give out much heat. If you are looking for some 'off the wall' then these wall mounted heaters from Olympia could be jsut what you're looking for.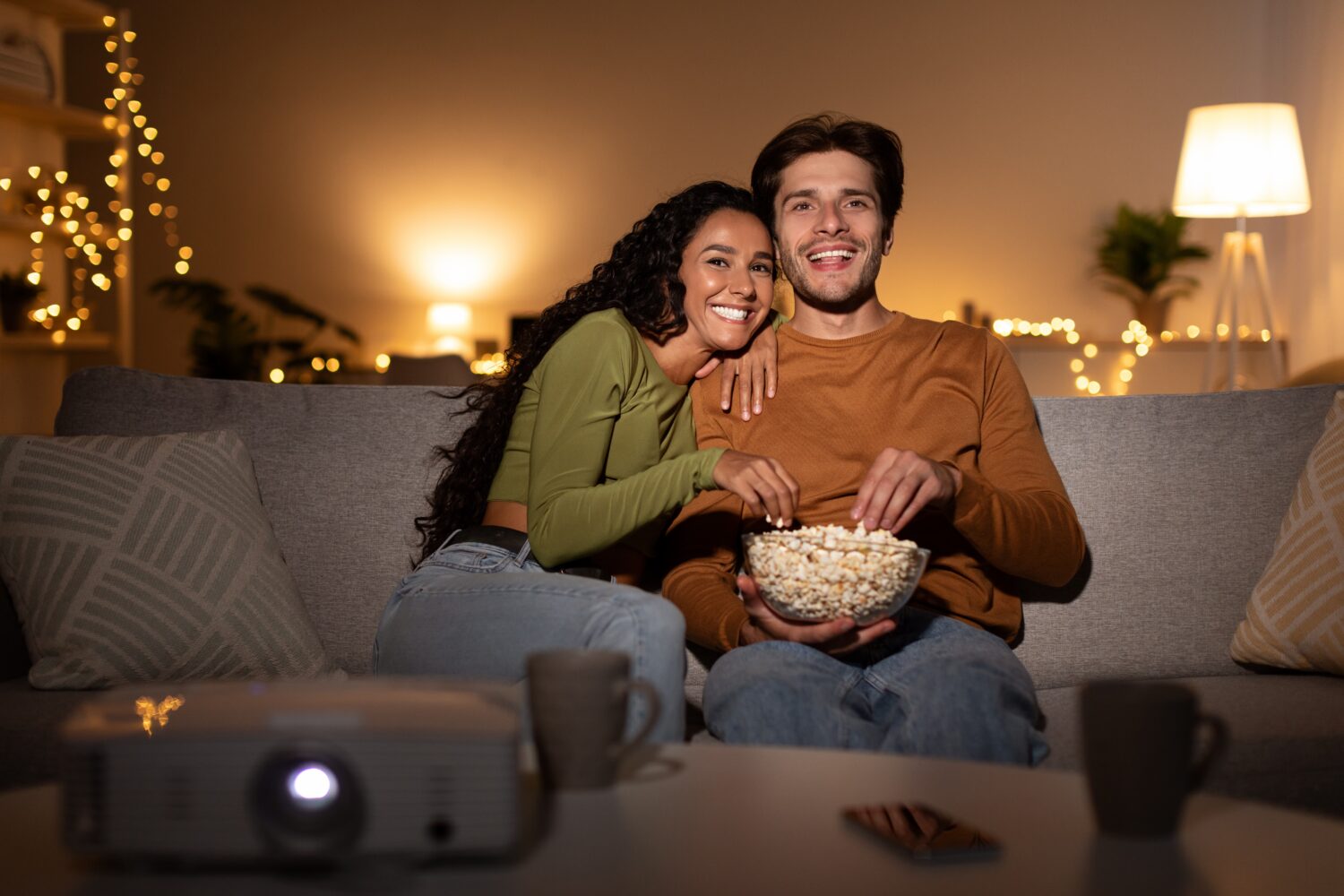 Garden Office Decoration
Now that your new garden office is in situ, the next stage is the interior design. Mind you, you'd be surprised how many people love the look that a wooden internal finish provides. For those who would like to go a step further, then painting the walls and ceiling is straight forward.
Most customers go for a white finish on the ceiling and the walls, with an accent colour also a popular option. We recommend a cheaper undercoat before a high grade top coat for painting wood, especially as two coats will be required. This is also true for garden offices that have a plastered finish.
To take your garden office interior up a notch, add some acoustic lining boards from Acupanel. This addition will dramatically change the look of your interior design and will certainly add a wow factor to your working environment.
Acupanel Wall Lining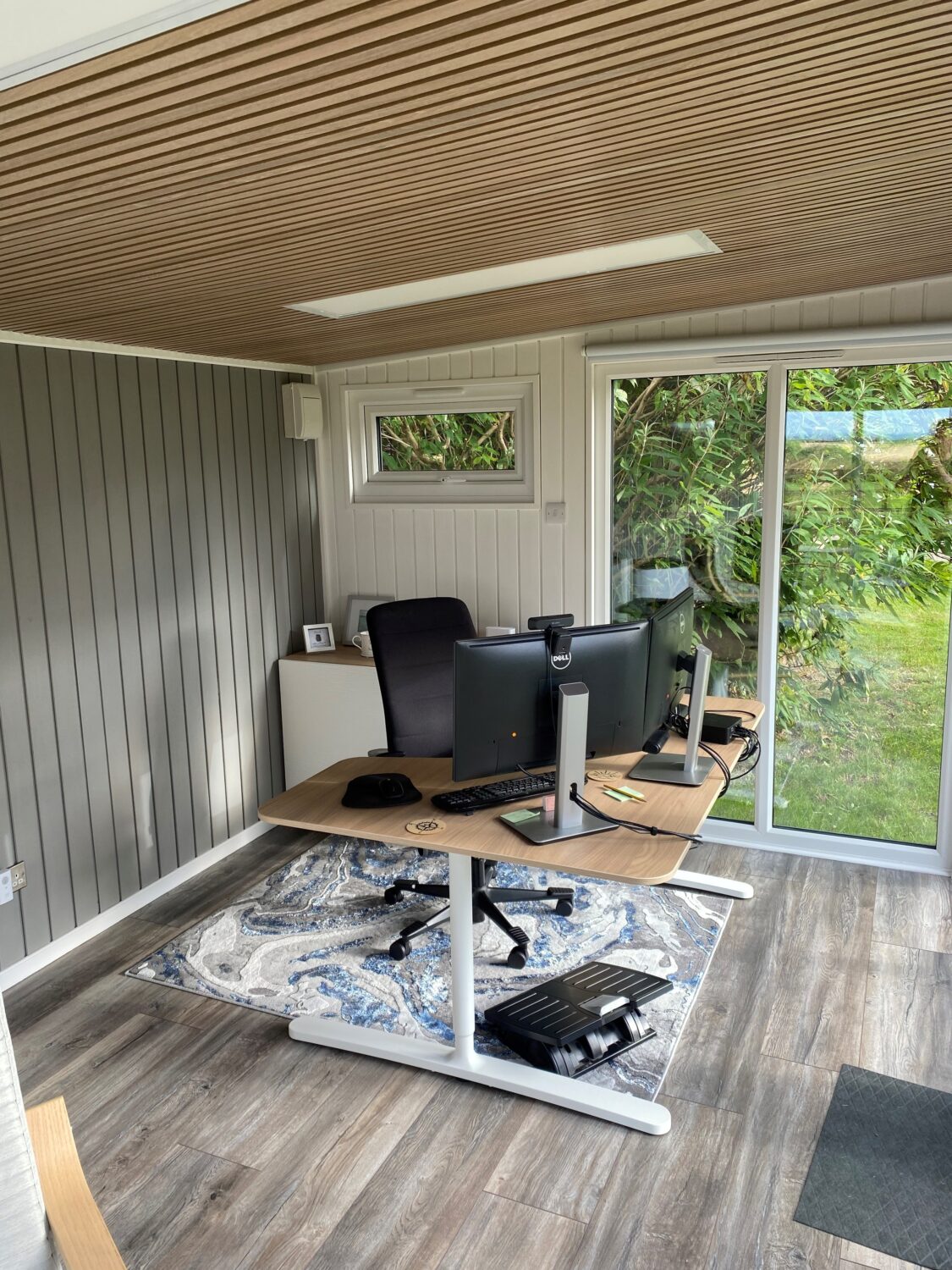 Garden Office Furniture
The final part of the project is adding the furniture and the finishing touches. To help you with this we suggest using the Ikea garden office planner, which shapes your room and adds the furniture. This clever bit of kit, helps you design the inside and also creates a shopping list as you go.
It might even shape the way you build your garden office, so you get the best out of where you sit in your garden. You might even change the position of doors and windows too.
PLAN YOUR GARDEN OFFICE WITH IKEA