Building a Photography Studio in Your Garden
Unlock your full creative potential and upgrade your work-from-home schedule with a bespoke garden photography studio. Available for installation anywhere in the UK, to exact specifications.
Explore Our Range of Garden Rooms
Garden Photography Studio
It is becoming increasingly popular for freelance photographers to set up a studio at home or more specifically, in their garden. Our garden photography studios are constructed from high-quality cedar cladding with a choice of solid oak or uPVC doors and windows for optimal natural light. All studios are fully insulated to ensure a warm and comfortable environment for you and your clients.
Combining our high-grade materials and craftsmanship and your unique specifications, we can create a dedicated space for your photography and help you to take the next step for your business and your craft.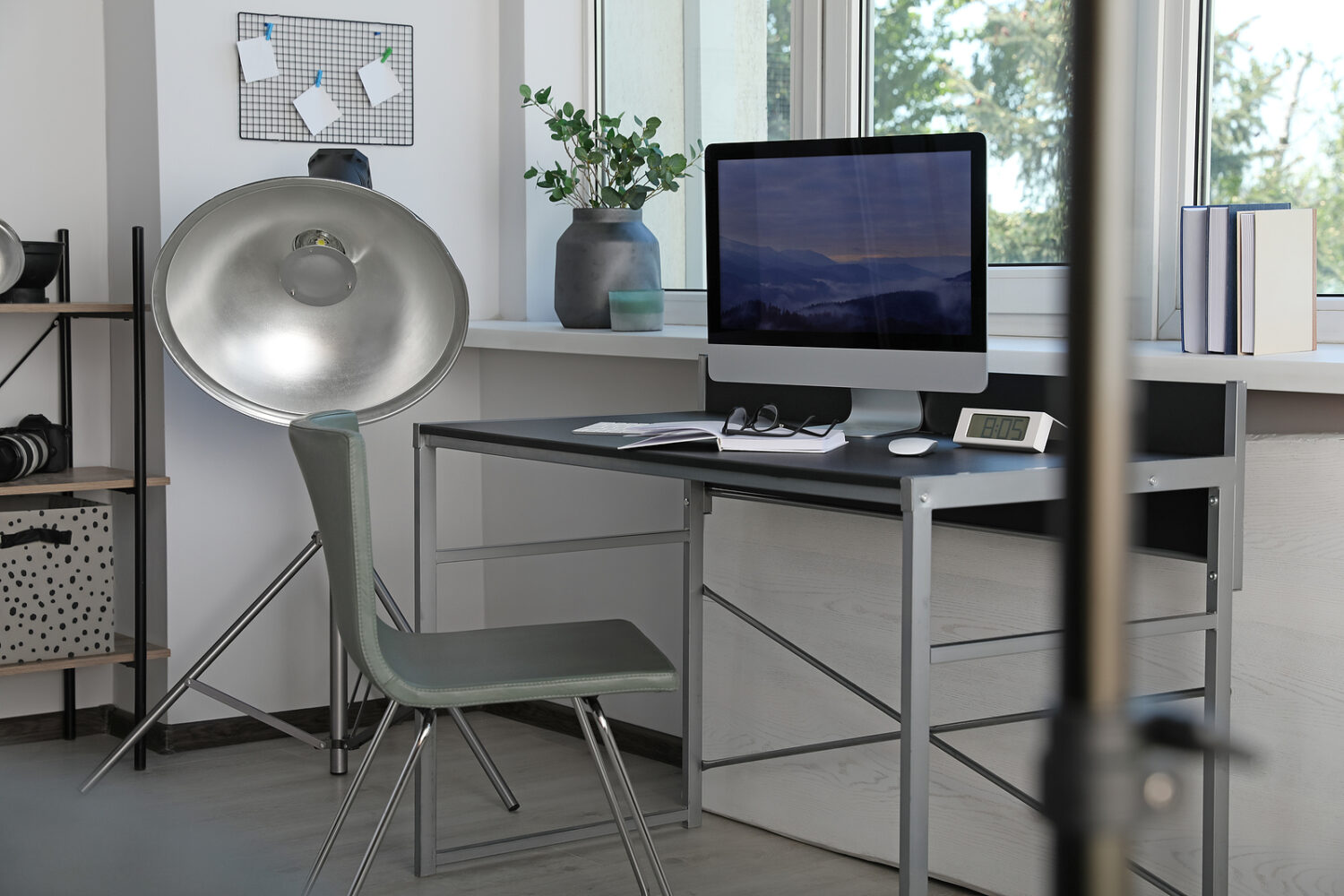 Garden Photography Studio
Prices start from £11,500 – or just £138 per month
Virtual Building Designer
Instant No-Obligation Quote
Custom Joinery, Flooring, and Cladding
Fully Insulated as Standard
Wired For Lighting and Mains Sockets
Built for You on Site
TRY OUR VIRTUAL BUILDER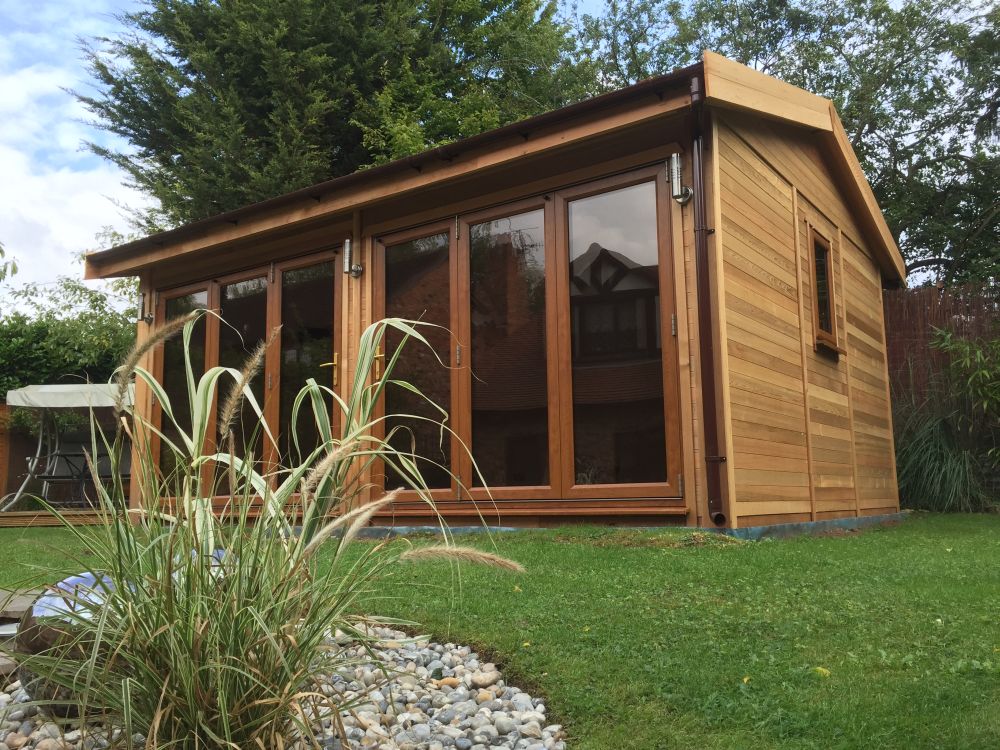 The Advantages of a Garden Photography Studio
With a garden photography studio from Warwick Buildings, you are guaranteed to:
Save Money on Studio Fees
Renting a public studio space can be ideal for a last minute shoot, or if you are working on location., but are not feasible in the long term. They are impersonal and if you need a specialist set-up, you will be required to bring all of your own equipment. They are also expensive, eating into the profits of each booking.
With your own garden photography studio, you not only have a place to store your equipment, without the stress of transportation, but also the benefit of having a space that saves you money. Our fast turnaround on projects, from design to installation, can get you up and running in – no time and your garden photography studio will begin paying for itself.
Create a Space That Suits Your Process
Our garden photography studios are fully customisable and come in a wide range of sizes. This includes compact options like 3.2 x 2.4 metres, perfect for a standing light box used for product photography and social media posts, or as spacious as 6.2 x 4.2 metres, ideal for portraiture and collaborative editorial work with clients.
You can also adjust the height of the eaves, from the standard 2.5 metres up to a lofty 3 metres, which is important if you want to install a full-length backdrop.
Reclaim Your Privacy
When working with people, especially as a portraiture photographer, it can be tricky to have clients coming and going from your house constantly – this can become disruptive to your family and work-life balance. But with a photography studio located in your garden, you can control the stream of clients and never have to worry about spring cleaning before and after every session.
Increase Your Property Value
Our studios are specifically tailored garden rooms, meaning they are incredibly versatile and hold the potential to be just about anything you, or a future tenant, requires. This also makes them an extremely lucrative investment for homeowners and freelancers.
So if you are planning to sell your home in the future, and are worried about making lasting changes to your property now, know that by installing a beautiful garden studio you are in fact adding value to your home.
Escape Planning Permission
Our standard studio builds are all considered permitted development. They are governed by the same building laws as garden rooms, so as long as your studio is no more than 2.5 metres high and positioned at least 20 metres from your home, you will not have to worry about applying for planning permission.
That being said, it would still be a good idea to check with your local council to make sure that your project fully complies before finalising your plans.
Key Features For Your Photography Business
There is no compromising on quality when it comes to our garden buildings, especially our garden photography studio. As a home for expensive equipment and a place to work with clients, our studios are designed with security and comfort in mind. As well as this, with a bespoke photography garden studio, you can: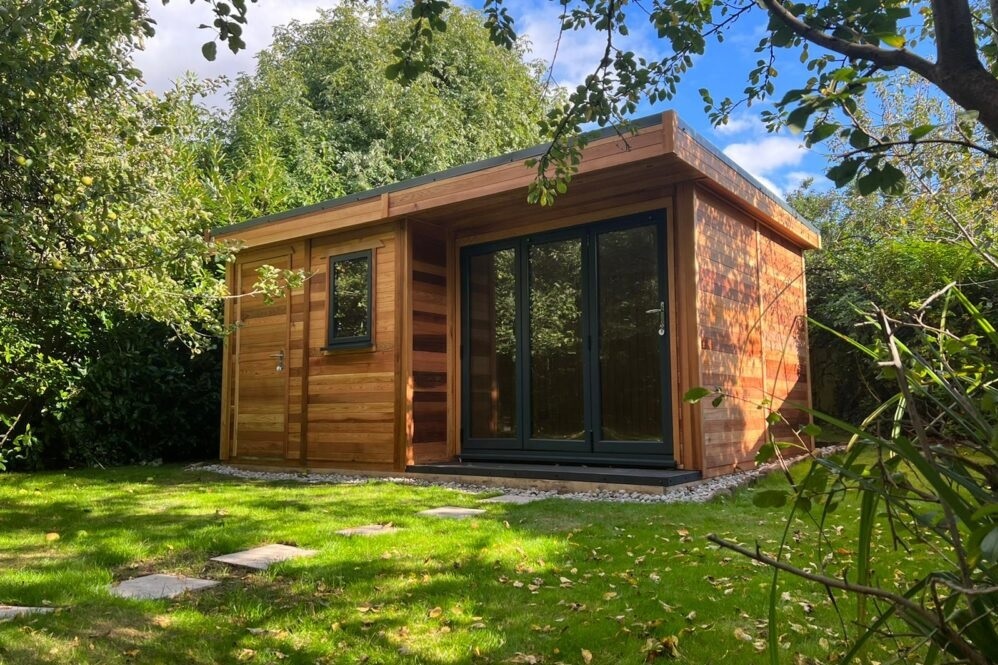 Create an Editing Suite or Dark Room
Using our virtual builder, you can easily add an internal wall to your studio and adjust its position. This sectional feature can create a much-needed divide between your studio and your office – ideal for editing shots, storing valuable equipment safely, and seeing to admin tasks.
Alternatively, if you predominantly rely on traditional photographic techniques, you could remove any additional windows and set up your very own darkroom at home.
Control Light Effortlessly
Taking light removal one step further, our whole range of double-glazed studio windows and French doors can be customised with blinds that fit seamlessly between the panes of glass, allowing for dynamic and efficient light control, as well as superior privacy.
Keep Clients Comfortable
No matter the structural dimensions you choose, all of our garden photography studios come with the option to add secure timber decking that runs along the full length of the build. This feature acts as an attractive finishing touch and a place to line up some seating, where portraiture clients can wait comfortably without disturbing the current session.
Flexible Financing
We understand the highs and lows of freelance life, and even more so how important it is to be vigilant with outgoings. This is why we also offer a reliable financing option that will allow you to spread the cost of your new studio and keep your expenses in order throughout the process.
Design Your Garden Photography Studio Today
With the advantages and benefits in mind, you are probably ready to start designing. In order to optimise the process, we have an intuitive virtual builder that anyone can use to map out their plans visually. Add windows and doors with the click of a button and choose exactly where you need them, browse our catalogue of cladding, flooring, roofing options, and more.
If you would like to customise your design even more so, you can contact our team for a consultation and receive an instant, no-obligation quote today.
TRY OUR VIRTUAL BUILDER