Garden Office Shed
High quality garden buildings that can be easily adapted for use as a garden office shed.
Garden Office Sheds
Built in a day
Superior quality – triple external layer with 70mm framing
Easy to insulate and line yourself
Built with double glazed doors and windows
Insulated heavy duty floor ready for year round use
Choice of Pitched, Flat or Pent roof designs
Create a clear separation between home and work
Tanalised Shiplap, Feather Edge or Cedar Cladding
Fully assembled or Supply Only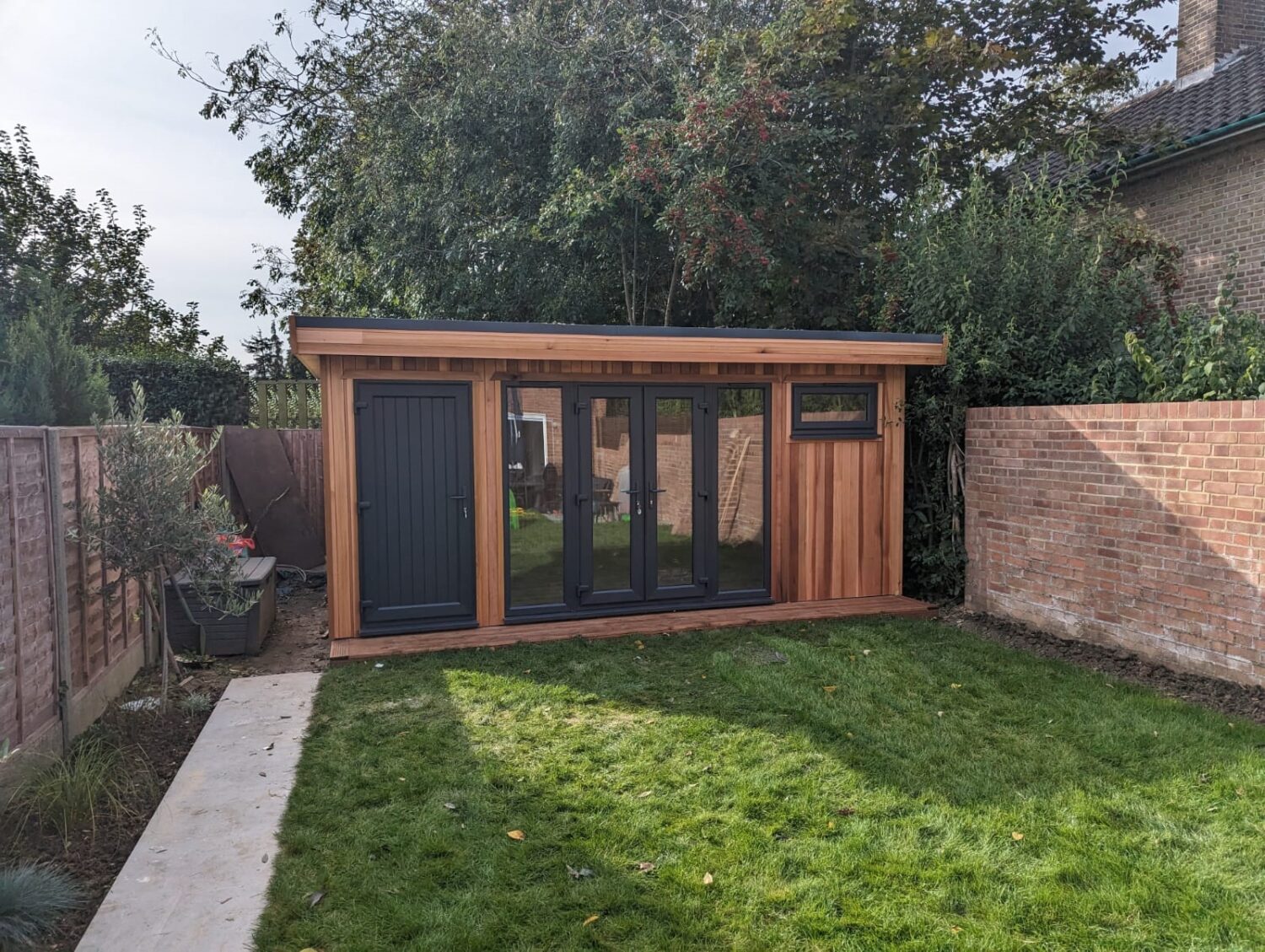 Benefits of a self build garden office
Adapting a garden shed so that you can work from home in, may not save you time, but it can certainly save you money. So with the end result being a quiet, warm and damp free environment to work from throughout the year. It makes sense to get the basics right at the start so forget spending your hard earned money on a log cabin or a cheap shed, as these buildings only give you headaches when trying to keep them airtight, watertight and warm. Make sure the framing is thick enough to provide a strong enough building, and a deep enough cavity for insulation. The cavity will then also provide the  and cables to go into.
If your aim is to create a structurally sound home working environment, then it pays to purchase the best shed on the market – one with an insulated floor and a vapour barrier to the walls. The wall framing should be deep enough for at least 50mm of foam board insulation, if you want to use it all year round, and don't forget the roof either. Cheap sheds come with cheap felt, which may well have deteriorate quite quickly. This could cause a problem if the internal boarding getting wet is the first time you spot a problem.
Whilst the cost savings of the DIY build, may outweigh the purchase price of a pre fabricated garden office, it makes sense not to skimp on the basic structure as the weather will be attacking the building from the outside.
Design ideas for internally lining a garden shed
Internal Lining:
OSB (sterling board) and plasterboard are the basic options for internal lining. Plasterboard is the cheapest but still needs finishing professionally, unless you are intending to skim the inside yourself. OSB is becoming trendy with the architects, due to it's cost and uniformed rustic appearance. Other alternatives are plywood, or tongue and groove boards which are a mid priced option. If you are looking for the top of the range look, then consider Multi-Panel as this is a pre-painted board (for bathrooms). This provides the same look as the inside of your home in an instant.
Internal finishes:
Wall linings can also be used on the ceiling, however if you want to create an amazing look then use Acupanel from the wood veneer hub. This can fit directly to the roof timbers, or lining boards that cover the ceiling.
Floor finishes: A majority of garden offices include laminate flooring due to their speed and ease of installation, however you could easily shop around and find an end of roll carpet. Discontinued laminate or vinyl offcuts are also an option if you need to squeeze under a specific budget.
Decoration:
A rustic approach can look good without decoration, as the natural finish of OSB and plywood can look amazing in the raw state. By adding a splash of colour with pictures or furniture, your new garden office can inspire you for years to come. If you intend to paint the inside, be aware that dry timber boards will soak up a lot of paint, so a cheaper undercoat will allow you to spend a bit more on a better quality top coat.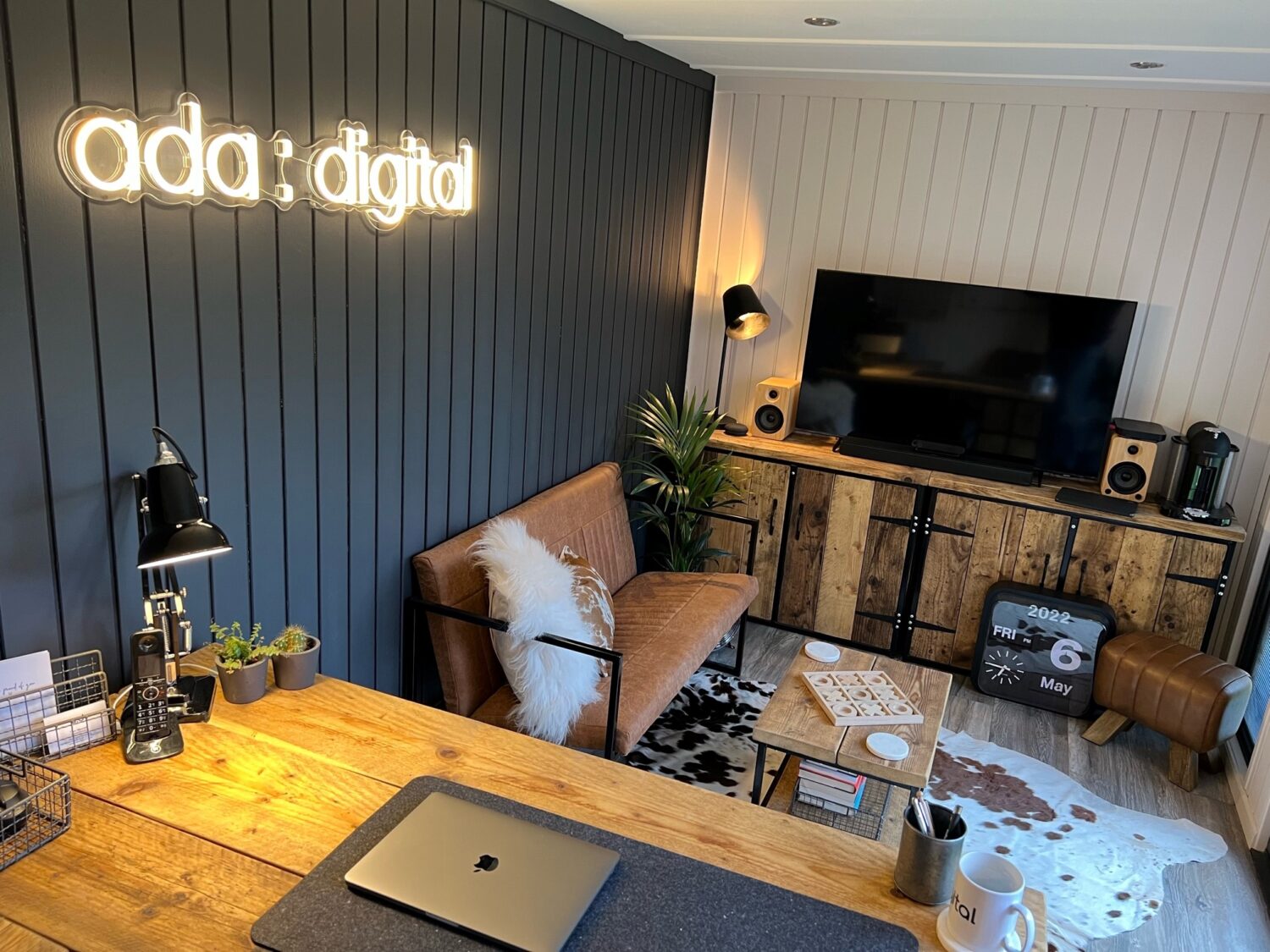 Get the basics right
External Construction:
We start with a external skin and the 70mm framing, you will have an excellent basis for transforming the inside of the building. This design is proven to stand the test of time even without any additional insulation or lining.
Insulation:
By using polystyrene insulation (jablite) you will benefit from a good level of insulation plus the bonus of an acoustic barrier that the solid sheets provide. We would recommend 50mm insulation, as this gives an area for the cables to sit once the insulation is in place, and an air gap for a cold air bridge. Rockwool and Celotex are an upgrade on the polystyrene and improve the thermal efficiency of the building. All of these options are a much better option than a foil wrap insulation, as the thin material offers poor acoustic defence to the outside noise.
Double Glazing:
This is a must in a garden office, as single glazing has poor insulative and acoustic properties. It makes sense to have these built into the structure during manufacture to ensure air and water tightness. If you are on a really tight budget, it may be possible to find doors and windows on eBay at a fraction of the cost, and you may be lucky enough to get matching windows. These will need to be fitted retrospectively however, so remember to factor in trims and labour costs if you prefer not to install yourself.
Wiring:
Before the internal lining is fitted, the wiring can be installed within the cavity to keep them nicely hidden. 2.5mm twin and earth is required for the sockets, and 1.5mm twin and earth for the lighting. To create a ring main, start at the location where the fuse board will be located, then simply loop the cable at the socket locations. Make sure the wires are in 'safe zones' and finish back at the fuse board.
Getting a price for a Garden Office Shed
The following table explains how to get a price for a garden shed that will be suitable for adaptation to a garden office.
Follow the steps involved to get an instant, up to date cost, and what steps are involved in taking it further.
Get a Price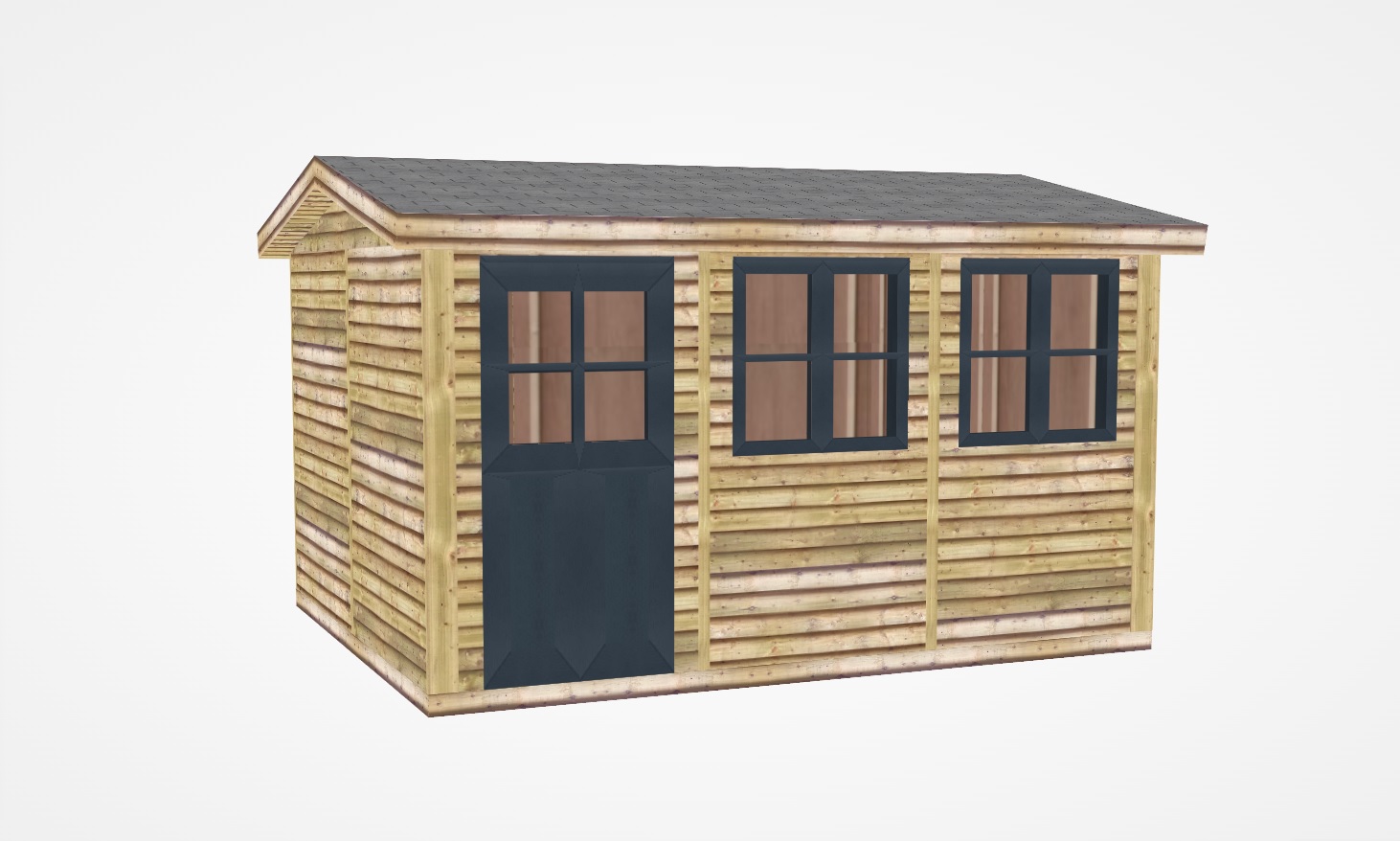 How much does a suitable shed cost
| | |
| --- | --- |
| How to get a price | Choose the model from our garden office range of buildings |
| Where are the garden office designs? | www.warwickbuildings.co.uk/garden-offices |
| Select the size and layout | This is on the drop down list at the start of the configurator |
| Add the doors and windows that you require and change the colours | This is on the second page - click next, and use the + on the layout to add windows (and doors) |
| Choose your external cladding | Choose from shiplap, feather edge or cedar, |
| Make it just a shed | Remove the internal lining and insulation, leaving you with an insulated floor. You can then calculate the cost for adding your own insulation and lining at a later date,. |
| Save your quote | When you save the quote, you will get a copy by email. We will then confirm that we have received your price submission. |
| Ordering your garden office shed | Simply call us or email to book yourself on the schedule. |