Buying guide: timber garages
Whether you need some extra storage space or want a secure place to keep your car, a timber garage could be an ideal solution. But how do you choose the right one? Here are some areas to consider.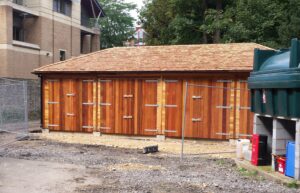 What size garage do you need?
Timber garages come in an array of sizes. It's important to get the right size for your property and needs. Measure how much free space you have before selecting a wooden garage. When calculating your available space, make sure you include a minimum clearance of 600mm around the building for cover strips and guttering.
How many vehicles do you need to store?
Is your main reason for buying a timber garage to keep a vehicle safe? Then that's the best starting point for choosing a size. Perhaps you just need space for a small family car. In that case, a single garage would be the most suitable option. If you have multiple vehicles, you might want to go for a double or triple timber garage. The last thing you want to do is squeeze your cars into a narrow space and cause damage!
Alternatively, you might have one car but wish to install a two or three-bay garage so you have space for household storage.
If you live in a larger household or manage a fleet of vehicles, you can explore quad garage options.
What's your budget?
Another area of consideration when choosing a timber garage is your budget. How much do you have to spend? As with any additional structure, you want to make sure you go for a top-quality timber garage, crafted from durable materials.
You may also wish to add extra features, such as internal roof lining, a different type of cladding or larger windows. All these will affect the price of your timber garage.
With our online design tool, you can choose the option that best suits your budget. You can select our standard designs or upgrade features if you wish to. For instance, we can offer Cedar Shingles or Tapco Slate roofing as an optional extra.
Does the supplier offer a warranty?
A timber garage is an investment, and you want to know it will be worth the money down the line. It's a good idea to find a supplier who offers a warranty, just in case anything happens to your structure.
To keep your wooden garage in great condition, you can always follow our maintenance tips for timber garages.
Will you need planning permission?
Your domestic timber garage will usually be classed as an outbuilding and fall into the category of permitted development. Whether or not you need planning permission depends on the size and location of your proposed structure.
Currently, planning regulations allow buildings close to the boundary to be 2.5m high. A small, single timber garage with a pitched roof is likely to fit within this limitation.
If you're looking for a larger structure, such as a double or triple timber garage, you'll need to look at roof options if you don't want to apply for planning permission. Our mono roof has a flat top so you can enjoy more space within permitted development.
Unsure whether you need planning permission? You can find more detailed guidelines on the Planning Portal's outbuildings page and may need to contact your local council for full clarification of your permitted development rights.
Quality and value with Warwick Buildings
At Warwick Buildings, we pride ourselves on offering value for money — quality design, construction and materials, all at a fair price. Whether you're looking for a small, single timber garage, a cart lodge, or a spacious quad timber garage, we can help.
Why not get in touch with our friendly team to design the perfect wooden garage for you?